Newsletter 1
Say Hello to Your Friends: The Life-Changing Effects of the Baby-Sitters Club
Katie MacBride and Jen Sherman are Book Riot's resident Baby-Sitters Club mega-fans, and both have written about BSC before. In this post, they talk about their memories and experiences of growing up with the BSC.
How did your relationship with the Baby-Sitters Club begin?
JS: My fondest childhood memories involve books. I devoured the books that were in classroom libraries, and was a regular patron of both the school library and public library. A lot were Australian authors, and some of my favourites were the Penny Pollard series by Robin Klein (plus some of her other standalones, like Hating Alison Ashley and The Enemies), the Selby series by Duncan Ball (about the only talking dog in Australia and perhaps even the world), and books by Colin Thiele.
The most influential and long-lasting series in my life, however, was the Baby-Sitters Club. I picked up one at random when I was 11, and never looked back. I don't even remember what drew me in initially, because I recognise that they are not great literary works, but at some point I became so immersed in the world of Stoneybrook, Connecticut and the lives of the baby-sitters that I couldn't leave. I'm still there today.
KM: My older sister was reading the BSC books when I was about seven years old and she started reading them to me. My mom thought I was too young for the books (the girls sometimes had boyfriends! *gasp*) but my sister—displaying the talent that now makes her an excellent lawyer—argued in my favor. The moment I got the green light, I devoured all the BSC (and BSC Little Sister) books I could. I roped my cousin into the depraved world of Stoneybrook, Connecticut and we read them obsessively, long after my sister had outgrown them.
Tell us about accessing the books. Were they from a school library? Did your parents buy them? Do you own any now as an adult?
JS: I read all the BSC books that were in the school library and that my teachers had in the classroom. We had the Scholastic Book Club at my school, and once a month, we would get the catalogue full of books. We'd take that home, go through it with our parents, and mark out which books we wanted to (or were allowed to) buy. Filled in the form, returned it with money, and on some magical day some time later, our books would arrive. I was a bit of a spoilt only child, so every month my parents would buy me a few books. BSC were always part of that.
When I was in my early 20s, I owned probably about two thirds of the full series (213 books in total at the time, before they released graphic novels and modernised versions of some of the originals). I decided I wanted the full collection, and set about scouring secondhand bookshops, op-shops, and eBay for missing titles. I remember I paid about $30 for one of the California Diaries on eBay, just to complete the collection, and wishing I bought it when it first came out when it cost $6.
I do now own the full set, but they aren't all with me. They're split between my parents' house in Sydney and my house in San Diego, and splitting up the collection was one of the harder aspects of moving to America.
KM: My parents were always really cool about letting my sister and me go into bookstores and were really generous about buying books for us. That said, when The Great and Powerful Ann M. Martin started coming out with one BSC book per month, they weren't thrilled. But, they saw that I reread them obsessively and held on to them as though they were the most precious objects, so I ended up owning most of them. Anything I couldn't get my hands on, my cousin would and we would swap ASAP.
In college, I went through a battle with my mom where she was giving away a bunch of my childhood stuff and I told her in no uncertain terms that she was not to get rid of any of my BSC books. Not unreasonably, she reminded me that I was a legal adult now and it was absurd to cling to books written in the 80s for 12 year-olds as though they were precious family heirlooms. But she saved them and at 32 years old, I still own and cherish them.
What were your experiences reading the BSC? Do you have any fond memories of reading them and how they impacted your childhood?
JS: Everything I knew about America I learnt from those books. I learnt about Thanksgiving, Halloween, the schooling system (the fact that you have elementary school, middle school, and high school), and the summers. The summers went on FOREVER. America was this great place where everyone knew their neighbours, kids rode bikes everywhere and had adventures, and ate foods that were completely unfamiliar.
Claudia's junk food was what always felt the most American to me. We didn't have Almond Joys, Three Musketeers, Tootsie Rolls, and Milk Duds in Australia, so I had no idea what they were. I also didn't know what ice cream sandwiches, jelly, and sloppy joes were, so many culinary delights were strange and wondrous things in my imagination. I learnt a lot about California and New York from Dawn and Stacey – but now that I actually live in California and see the reality versus the fictional portrayal, I'm starting to feel a bit misled. Not everyone here is a blonde, vegetarian hippie who wants to save the planet and turns down processed sugar. My childhood was a lie.
KM: It would not be an exaggeration to say that the BSC has had more influence on my life than any other media. The fact that Ann M. Martin (and a team of ghostwriters) churned out new BSC books, Super Specials, Mystery Series, Super Mystery Series, etc. on the regular may have been a burden on my parents' wallet but it truly shaped who I became as an adult. That sounds melodramatic, I know. But think about it: I wasn't that stoked on the idea of reading until my sister roped me into the BSC by reading them aloud to me. Then, I read them voraciously for years. Soon, I realized I had developed a love for not only reading but also writing. Now I am a librarian and writer. It's a pretty straightforward equation–-even Claudia could figure it out (zing!).
What were some of your favourite books and scenes? Do you have a favourite baby-sitter?
JS: I never really had a favourite baby-sitter. I loved them all at different moments throughout the series, and there wasn't even one I related to the most. My favourite scenes tend to involve food and shopping trips.
I loved Get Well Soon, Mallory! for the Thanksgiving feast at the Pikes' house, the fundraising efforts of the kids, and the shopping trip the baby-sitters and children went on for the gift baskets they took to the nursing home. I couldn't imagine a shop like what was described – and then I was introduced to Costco. I get it, now.
Dawn's Big Date was another loved one. I liked the descriptions of the food that Dawn and Mary Anne made for the NYE party they hosted, and the food that Dawn made Lewis try. I also really liked Dawn's makeover with hair, makeup and clothing.
A third favourite was Stacey's Big Crush, moreso for the descriptions of all her outfits. This book did have some awful cringey moments though, especially at the dance. Oh, Stacey. This book was used as a marker for how old I was. Wes was 22, and I remember thinking when I turned 22 that I was as old as Wes, which was old in the eyes of the BSC. That made me feel ancient. And of course now I'm probably the age of some of the parents, but let's not talk about that.
I also loved the Hobart family, because they were Australian. I didn't think the portrayal of their accents or slang was correct (no eleven year old would be using the word 'sheila'!) but I still really liked the fact that in the BSC universe, Australia existed.
KM: For some reason, I always loved the books where they went to the hospital. Claudia and the Bad Joke and Stacey's Emergency were two of my favorites. This is ironic because after a lengthy hospital stay/intestinal surgeries at the age of 21, I literally break into a cold sweat at the sight of a hospital gown. As a kid, though, hospitals just kind of seemed like the place you got to hang out and watch TV and wait for people to bring you presents, which sounded great. It's funny, I also loved Get Well Soon, Mallory and Dawn's Big Date. Get Well Soon, Mallory fell in line with my bizarre hospital fascination (I mean, she was sick at home but she still got to stay in bed and watch TV and have people bring her presents), like Jen mentioned above. I loved the descriptions of cooking in Dawn's Big Date as well, which is especially random because I know how to cook exactly one thing and I'm always too lazy to do it.
I always identified with Claudia because—other than reading—I struggled academically while my sister was in the after school "gifted" students program. I felt like an outsider in a family full of smarties and living through that experience with Claudia helped me feel less alone.
What are your experiences now of reading and loving the BSC as an adult?
JS: BSC are the ultimate comfort read. When I feel tired or overwhelmed by adult life, there is always Stoneybrook in which to retreat. I could go to Washington Mall and solve a mystery, write a prize-winning story with Mallory, go on a cruise to Disney World with all the baby-sitters, or attend a summer camp. There is also something really lovely about hanging out in these novels, a bit like seeing old friends you grew up with and who are still your friends today.
I own the new graphic novels (which are AWESOME), the Friends Forever series, and the new re-released modernised versions of the original books. But the physical objects most dear to me are the original books, with their alphabet block letters spelling out 'Baby-Sitters Club' and illustrations by Hodges Soileau. The pages are yellowing and some are falling out, many have my name written on the inside cover, and these are the most valuable books to me.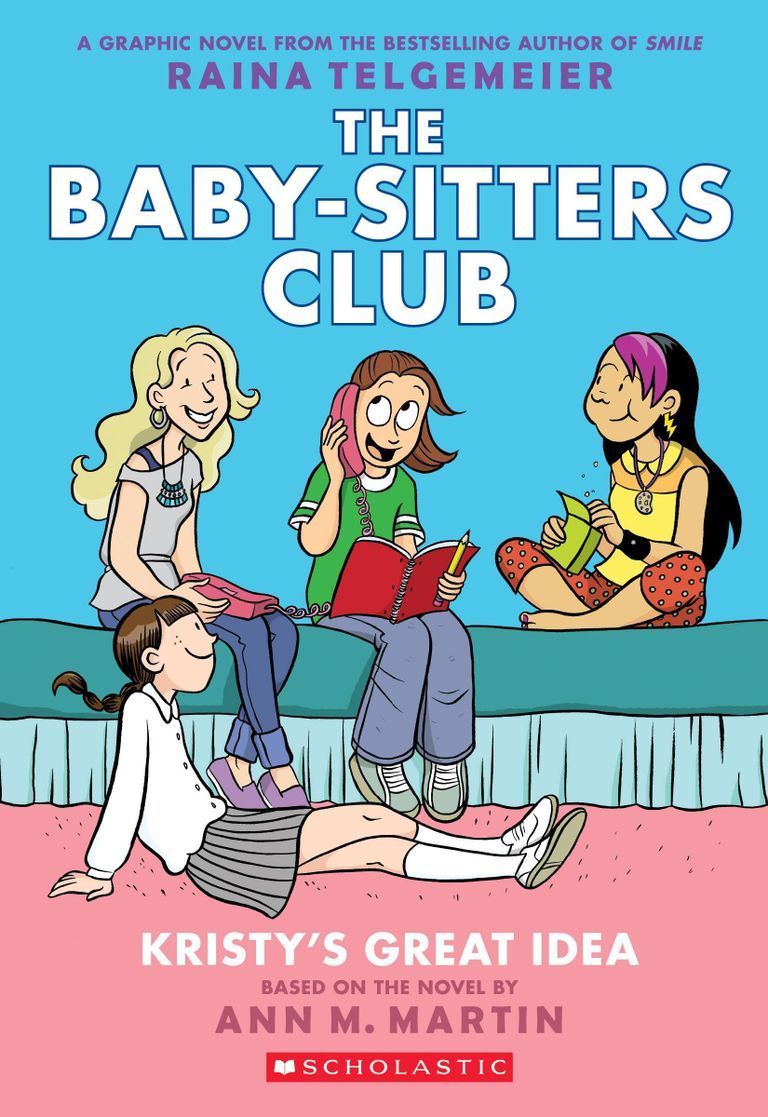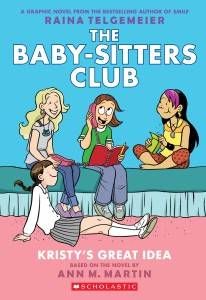 Katie also introduced me to the Baby-Sitters Club Club podcast, so as soon as I get my thesis revisions done, I'm diving back into Stoneybrook.
KM: Absolutely the BSC is a comfort read. I was at ALA (the American Library Association Conference) in 2015 and freaked out when I heard Ann. M. Martin was going to be there. Because the gods are cruel, she was scheduled to do a book signing while I was scheduled to give a presentation. Literally the one thing I couldn't miss. Still, I had a friend take her my copy of Kristy's Great Idea and tell her that I became a librarian and I writer because of her. In retrospect, it may be a good thing that I couldn't convey this personally because I likely would have freaked out so hard that security would have had to forcibly remove me from the building. So, silver linings.
Also, as I mentioned in a previous post and Jen alluded to, my love for the BSC has been reignited by the Baby-Sitter's Club Club podcast. Pretty sure those guys are in NYC. I'm going to be in NYC soon for Book Riot Live. Not saying they should invite me to hang out with them while they record or anything but… [JS: I'm already jealous that you're going to Book Riot Live! If you get to hang out with the Baby-Sitters Club Club podcasters, that would take envy to a whole new level. But it would be the most dibbly fresh thing to happen if it did.]
Do you have any other interesting anecdotes about you and the BSC you want to share?
JS: My husband and I went on our honeymoon this year to outback Australia, doing an overland trip from Alice Springs to Adelaide. It was a six day trip, and most of the days involved long drives between four and six hours. And because this was the middle of Australia, where we were travelling through vast stretches of desert and nothingness, there was often no internet or cell reception.
One of the ways I entertained myself was to write down every Baby-Sitters Club title I could remember. I managed 122 of 131 from the original series, all 15 Super Specials, all three Special Editions and six Portrait Collections, the four Super Mysteries, and about half of the 36 mysteries. My husband said he was both amazed and a bit worried.
KM: This is so funny. My sister and I used to play the same car game, where we would go back and forth listing BSC titles and the first person to come up short lost. This may have been the only time I have ever beaten my sister at anything (except SCRABBLE *mic drop emoji*).
I also had a lot of sweet BSC swag. You could join a fan club by sending in a form from the back of a BSC book along with a check for $12.99 or something. I believe I received both a t-shirt with the faces of all the girls on it as well as a pair of underwear (with the girls' faces on the butt). That last one seems incredibly strange in retrospect, but is still not as weird as most of the things Claudia wore.