This content contains affiliate links. When you buy through these links, we may earn an affiliate commission.
What to do while you wait for Netflix's Sarah Dessen Adaptations: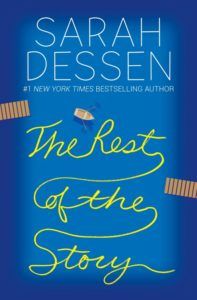 Obviously, get thee to a bookstore and read her newest novel The Rest of the Story. It is AMAZING. My favorite of hers in years and I love everything she writes. The new novel involves newly discovered family, recovered memories, classism, grief, and tons of fun beach scenes. Of course, a swoony romance is almost requisite. I mean, what is summer without a Sarah Dessen beach read? But this one goes a little deeper into addiction and class issues and is honestly reminiscent of some of her earliest novels.
The film first adaptation will be based on Dessen's 2009 novel Along for the Ride, which has a very special place in my heart since I read it the year after I graduated High School (and it takes place the summer after the main character graduated high school). It has bmx riders, swoony boys, insomnia, literary references, and of course a beach town. I think Auden might be one of the nerdiest characters and her insomnia is so very relatable even now. I have re-read it more than any other Dessen novel and I cannot wait to see it come to the screen.
Way back in 2003, two of Dessen's novels were made into a Mandy Moore film, How to Deal. Stream it immediately. It combines two of her novels, That Summer and Someone Like You, which was honestly a weird move but I love it in a fun 2003 kind of way. Mandy Moore was only 19 (!!) and it also features Alison Janney. Please ignore the Rotten Tomatoes score.
Follow Sarah Dessen on Twitter. I love following her because it feels like you really get a glimpse of her real actual life and the person who created all these mythic summer beach towns. Plus, she is funny.
Catch her on tour if she's coming to a city close by! Eek! I am super bummed I missed her in Austin, but I saw her in NYC a few years ago and it was super super fun. Book talks/signings, particularly with YA authors, are always SO fun.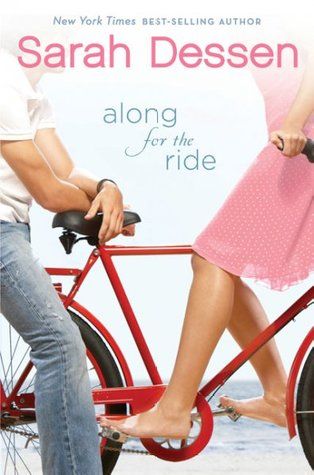 Re-read the rest of her books. She has somehow written 14 in total, so it should keep you busy for a while. If you cannot re-read all of them in order, which I think is a really worthy summer goal, do a highlights reel. Along for the Ride, Once and For All, and This Lullaby are coming to Netflix, so start there. Lock and Key and Just Listen are also great. Dreamland is not a fun book, but it is a pretty powerful depiction of an abusive relationship (definitely requires a TW for domestic violence though). You honestly cannot go wrong with any of them, so just get started. It is perfect pool side reading, obviously, and i can usually just download them from my public library so give that a shot before purchasing (Austin Public Library holla).
Watch all of the amazing Young Adult movie adaptations currently on Netflix (or Hulu or Prime or IiTunes). Dumplin' is hands down my favorite. But I am particularly partial to To All the Boy I love Before and The Hate U Give. But definitely make sure to watch The Kissing Booth as well as Love, Simon! It is basically peak teen romantic comedy at this point, with Netflix leading the glorious way. I just wish this happened when I was a teenager, but I guess I can bask in some sort of nostalgia.
Go to a beach town in the South, probably North Carolina. Stop at a gas station and get soda and snacks. Go on a walk while distractedly thinking about life. Fall in love. It works in the novels, right?
Don't miss the episode of Hey YA featuring Sarah Dessen as a guest host, either!