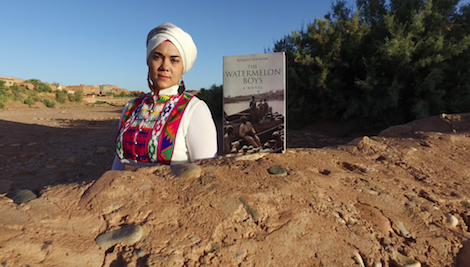 Fiction
Ruqaya Izzidien on Making a Fun, Film-Like Book Trailer 
This content contains affiliate links. When you buy through these links, we may earn an affiliate commission.
Ruqaya Izzidien's (‪@RuqayaIzzidien‪) debut novel, The Watermelon Boys, was released at the end of August—the same time as her debut book trailer. The book is set in WWI-era Iraq, and its characters caught between Ottoman rule, the new British invaders, and a desire for independence.
Yet the short film is not entirely about her book. Instead, it focuses more on other books that have mis-depicted the region.
WHY A TRAILER?
What made you decide to do a book trailer?

Ruqaya Izzidien: I have some experience in shooting video and photo, and a little in video editing. Also, conveniently, my partner is a photographer. So I thought, how hard could it be? Extremely hard, as it turns out! Especially since we were shooting in the desert in summer, so had to film exclusively at sunrise and sunset.
Do you watch a lot of book trailers? What do you think it adds for the viewer?
RI: Not that many, but I have seen a few. I tend to find the ones that are a little more inventive to be more intriguing and memorable. For instance, the trailer for B.J. Novak's One More Thing.
Since we live in a visual world that values quick, easy-to-access media, trailers are a good medium for authors and publishers to get the word out in an accessible way.
THE MAKING OF
Can you tell us about how you shot it, edited it, and put it together?
RI: It was shot over the course of 2–3 days in Morocco. It required a sacrifice and stamina. Sacrifice, since I was in a region of Morocco that I hadn't visited before. I gave up exploring the nearby movie studios and Game of Thrones filming locations. And stamina because it felt like we were filming non-stop, at really exhausting hours!
Why film in the desert?

RI: I wanted to satirize the one-dimensional portrayal of Arabs that has permeated pop culture through films, literature and, more obviously, music videos, in which outsiders play dress up in dishdashas and niqabs. It is considered edgy for non-Muslim artists to appropriate Middle-Eastern clothing. But when Muslims wear the niqab they get fined, harassed and maligned. I wanted to parody some of the incomplete and exploitative imagery used by people who are exempt from the effects of Islamophobia, but who, indirectly, profit from it.
What did you learn during the process? If you were going to do a trailer for your next book, what would you do differently?
RI: Give yourself more time. I was really restricted as I had my flights booked to region, and there was only one bus per day between the two filming locations. So if we didn't get the shot we wanted, there were no second chances.
I'd also remind myself not to get distracted from the original concept. The end product lacks a lot of the social commentary that I wanted to include.
FUN OR NOT?
Was it fun??
RI: Retrospectively, yes, but it didn't feel fun at the time. I probably found the creative side – concept, filming technicalities, writing – more fun than the actual shooting, which was quite grueling, particularly on the days when we were filming in the desert. There was a lot of equipment to haul over dunes. And we even had to run back through the desert, luggage and equipment in tow, in order not to miss the bus.
I expected to feel extremely awkward when we were shooting in Ait Ben Haddou – the fortified mud village you'll see in the trailer – since it's a major tourist attraction. But when you put so much work into a creative piece there's not really room or time to waste feeling self-conscious. So I was able to ignore some of the camera clicks coming my way.
HOW IT RELATES TO THE BOOK
It's an unusual format for a book trailer, no? Why didn't you want to make more of a "commercial" for the book? Like, uh, stage a WWI re-enactment?
RI: I knew I wanted to create a video that wasn't obviously a book trailer on first sight. I also wanted to address a lot of the colonial tropes that I encountered while researching the book – as well as the exoticism and stereotyping of Arabs today.
I also don't have James Cameron's filming budget…so I never really considered something as direct as a reenactment.
So what's the relationship between the trailer relate and the book?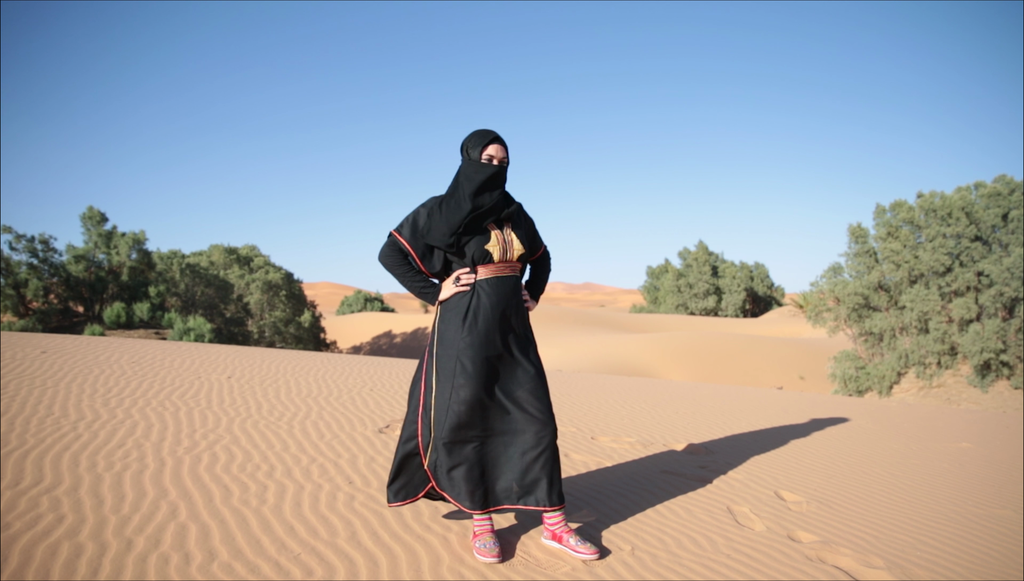 RI: The first half of the trailer directly highlights some of the abominable attitudes demonstrated by the British towards Iraqis under British rule.
Iraqis were referred to as savages, semi-civilized and incapable of politics. The British called Arabs Budoos as a racist insult. Women were routinely described as simultaneously revolting and enchanting.
The trailer's lyrics also refer to some of the crimes the British authorities committed during the Arab revolt against the British. For instance: inviting envoys for discussion only to kidnap them, collective punishment of entire villages, and shooting at fleeing civilians.
Tell us more about the other books that feature in your trailer.
RI: I was hesitant to call out other books. But, ultimately, I think it's a message that needs to be heard. So many of us are tired of the fetishization of Arab women that adorns half the books about the Arab world. There's also something telling about the fact that these books sell really well.
All of the books that feature in this trailer have offensive covers that present Arabs as untrustworthy savages, meek women in need of saving, or a sexy exotic creature for your amusement. None of these presentations should be acceptable in any circumstance. But it's particularly shameful when writers and publishers who profit off the Arab context of these books are responsible for the stereotyping and misrepresentation of an entire race.