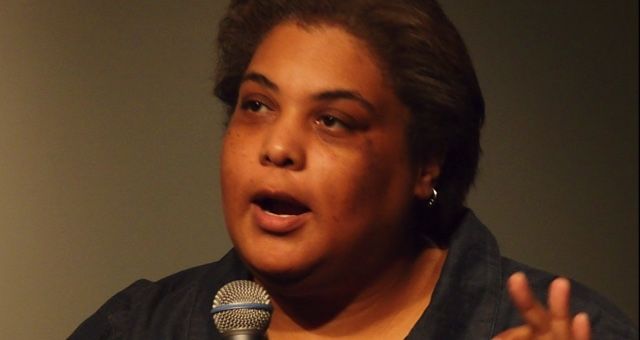 Lists
50 Must-Read Books Recommended by Roxane Gay
This content contains affiliate links. When you buy through these links, we may earn an affiliate commission.
Is it just me, or are we all just biding our time until the next piece of work by Roxane Gay is released? Whether she's writing fiction, nonfiction, short stories, comics, or screenplays, her writing makes an unforgettable impact.
Not only is she an impressive writer, but she is a prolific reader, as well. Luckily for us, she makes no attempts at hiding the books she reads. If she loves a book you will either find a review on her Goodreads page, a tweet with current favorites, or a blurb on the cover of a book. So I've rounded up 50 books endorsed by Roxane to tide us over until we can get our fix of her next piece of incredible writing.
If you want to read what Roxane has to say about the books listed below, be sure to visit her Goodreads page!
Synopses provided by Goodreads.
How to Write an Autobiographical Novel is the author's manifesto on the entangling of life, literature, and politics, and how the lessons learned from a life spent reading and writing fiction have changed him. In these essays, he grows from student to teacher, reader to writer, and reckons with his identities as a son, a gay man, a Korean American, an artist, an activist, a lover, and a friend.
One Sunday afternoon in Southern California, Bert Cousins shows up at Franny Keating's christening party uninvited. Before evening falls, he has kissed Franny's mother, Beverly—thus setting in motion the dissolution of their marriages and the joining of two families.
Spanning five decades, Commonwealth explores how this chance encounter reverberates through the lives of the four parents and six children involved.
I Am a Magical Teenage Princess is a thematically linked collection of short stories celebrating and re-examining 1960s and contemporary culture, magnifying such popular icons as Betty and Veronica and Wonder Woman through a literary lens of wit and pathos.
In 'Surfer Girl', the title character drifts through time, tormented by the bizarre cliches of drive-in B-movies. 'Another Girl, Another Planet' depicts a reluctant teenage astronaut idling away her post-apocalyptic adolescence huffing gasoline and fooling around with her five brutish shipmates, all named Tommy.
Two half-sisters, Effia and Esi, are born into different villages in eighteenth-century Ghana. Effia is married off to an Englishman and lives in comfort in the palatial rooms of Cape Coast Castle. Unbeknownst to Effia, her sister, Esi, is imprisoned beneath her in the castle's dungeons, sold with thousands of others into the Gold Coast's booming slave trade, and shipped off to America, where her children and grandchildren will be raised in slavery.
One thread of Homegoing follows Effia's descendants through centuries of warfare in Ghana, as the Fante and Asante nations wrestle with the slave trade and British colonization. The other thread follows Esi and her children into America. From the plantations of the South to the Civil War and the Great Migration, from the coal mines of Pratt City, Alabama, to the jazz clubs and dope houses of twentieth-century Harlem, right up through the present day, Homegoing makes history visceral, and captures, with singular and stunning immediacy, how the memory of captivity came to be inscribed in the soul of a nation.
Sunburn by Laura Lippman
They meet at a local tavern in the small town of Belleville, Delaware. Polly is set on heading west. Adam says he's also passing through.
Yet she stays and he stays—drawn to this mysterious redhead whose quiet stillness both unnerves and excites him. Over the course of a punishing summer, Polly and Adam abandon themselves to a steamy, inexorable affair. Still, each holds something back from the other—dangerous, even lethal, secrets that begin to accumulate as autumn approaches, feeding the growing doubts they conceal.
Then someone dies. Was it an accident, or part of a plan?
Anjali Sachdeva's debut collection spans centuries, continents, and a diverse set of characters but is united by each character's epic struggle with fate: A workman in Andrew Carnegie's steel mills is irrevocably changed by the brutal power of the furnaces; a fisherman sets sail into overfished waters and finds a secret obsession from which he can't return; an online date ends with a frightening, inexplicable disappearance.
Sachdeva has a talent for creating moving and poignant scenes, following her highly imaginative plots to their logical ends, and depicting how one small miracle can affect everyone in its wake.
Three years into her graduate studies at a demanding Boston university, the unnamed narrator of this nimbly wry, concise debut finds her one-time love for chemistry is more hypothesis than reality. She's tormented by her failed research–and reminded of her delays by her peers, her advisor, and most of all by her Chinese parents, who have always expected nothing short of excellence from her throughout her life.
Eventually, the pressure mounts so high that she must leave everything she thought she knew about her future, and herself, behind. And for the first time, she's confronted with a question she won't find the answer to in a textbook: What do I really want?
Lucky and her husband, Krishna, are gay. They present an illusion of marital bliss to their conservative Sri Lankan–American families, while each dates on the side. When Lucky's grandmother has a nasty fall, Lucky returns to her childhood home and unexpectedly reconnects with her former best friend and first lover, Nisha, who is preparing for her own arranged wedding with a man she's never met.
As the connection between the two women is rekindled, Lucky tries to save Nisha from entering a marriage based on a lie. But does Nisha really want to be saved? And after a decade's worth of lying, can Lucky break free of her own circumstances and build a new life?
When Myriam, a French-Moroccan lawyer, decides to return to work after having children, she and her husband look for the perfect nanny for their two young children. They never dreamed they would find Louise: a quiet, polite, devoted woman who sings to the children, cleans the family's chic apartment in Paris's upscale tenth arrondissement, stays late without complaint, and hosts enviable kiddie parties. But as the couple and the nanny become more dependent on one another, jealousy, resentment, and suspicions mount, shattering the idyllic tableau.
Heavy by Kiese Laymon
In Heavy, Laymon writes eloquently and honestly about growing up a hard-headed black son to a complicated and brilliant black mother in Jackson, Mississippi. From his early experiences of sexual violence, to his suspension from college, to his trek to New York as a young college professor, Laymon charts his complex relationship with his mother, grandmother, anorexia, obesity, sex, writing, and ultimately gambling. By attempting to name secrets and lies he and his mother spent a lifetime avoiding, Laymon asks himself, his mother, his nation, and us to confront the terrifying possibility that few in this nation actually know how to responsibly love, and even fewer want to live under the weight of actually becoming free.
"I feel like I can't tell one story about a giant mustard penis because it's not about a mustard penis only, but about all of these incidents together, in context, and through time." So begins the title story in Renee Simms's debut short story collection, Meet Behind Mars—a revealing look at how geography, memory, ancestry, and desire influence our personal relationships.
The stories in this collection span forty years and two continents and range in structure from epistolary to traditionally structured realism, with touches of absurdity, humor, and magic.
This highly-anticipated debut boldly confronts addiction and courses the strenuous path of recovery, beginning in the wilds of the mind. Poems confront craving, control, the constant battle of alcoholism and sobriety, and the questioning of the self and its instincts within the context of this never-ending fight.
Keiko Furukura had always been considered a strange child, and her parents always worried how she would get on in the real world, so when she takes on a job in a convenience store while at university, they are delighted for her. For her part, in the convenience store she finds a predictable world mandated by the store manual, which dictates how the workers should act and what they should say, and she copies her coworkers' style of dress and speech patterns so she can play the part of a normal person. However, eighteen years later, at age 36, she is still in the same job, has never had a boyfriend, and has only few friends. She feels comfortable in her life but is aware that she is not living up to society's expectations and causing her family to worry about her. When a similarly alienated but cynical and bitter young man comes to work in the store, he will upset Keiko's contented stasis—but will it be for the better?
Curtis Sittenfeld has established a reputation as a sharp chronicler of the modern age who humanizes her subjects even as she skewers them. Throughout the ten stories in You Think It, I'll Say It, Sittenfeld upends assumptions about class, relationships, and gender roles in a nation that feels both adrift and viscerally divided.
It hasn't been easy being Michael Arceneaux. Equality for LGBT people has come a long way and all, but voices of persons of color within the community are still often silenced, and being black in America is…well, have you watched the news?
With the characteristic wit and candor that have made him one of today's boldest writers on social issues, I Can't Date Jesus is Michael Arceneaux's impassioned, forthright, and refreshing look at minority life in today's America. Leaving no bigoted or ignorant stone unturned, he describes his journey in learning to embrace his identity when the world told him to do the opposite.
How far would you go to protect your child?
Our narrator faces an impossible decision. Like any father, he just wants the best for his son Nigel, a biracial boy whose black birthmark is growing larger by the day. In this near-future society plagued by resurgent racism, segregation, and expanding private prisons, our narrator knows Nigel might not survive. Having watched the world take away his own father, he is determined to stop history from repeating itself.
There is one potential solution: a new experimental medical procedure that promises to save lives by turning people white.
Thick by Tressie McMillan Cottom
This bold compendium, likely to find its place on shelves alongside Lindy West, Rebecca Solnit, and Maggie Nelson, dissects everything from beauty to Obama to pumpkin spice lattes. Yet Thick will also fill a void on those very shelves: a modern black American female voice waxing poetic on self and society, serving up a healthy portion of clever prose and southern aphorisms in a style uniquely her own.
McMillan Cottom has crafted a black woman's cultural bible, as she mines for meaning in places many of us miss and reveals precisely how—when you're in the thick of it—the political, the social, and the personal are almost always one and the same.
Friday Black by Nana Kwame Adjei-Brenyah
In the stories of Adjei-Brenyah's debut, an amusement park lets players enter augmented reality to hunt terrorists or shoot intruders played by minority actors, a school shooting results in both the victim and gunman stuck in a shared purgatory, and an author sells his soul to a many-tongued god.
Adjei-Brenyah's writing will grab you, haunt you, enrage, and invigorate you. By placing ordinary characters in extraordinary situations, Adjei-Brenyah reveals the violence, injustice, and painful absurdities that black men and women contend with every day.
Written in her trademark unfiltered and singularly witty style, Robinson's latest essay collection is a call to arms. She tackles a wide range of topics, such as giving feminism a tough love talk in hopes it can become more intersectional; telling society's beauty standards to kick rocks; and demanding that toxic masculinity close its mouth and legs (enough with the manspreading already!), and get out of the way so true progress can happen.
Robinson also gets personal, exploring debt she has hidden from her parents, how dating is mainly a warmed-over bowl of hot mess, and maybe most importantly, meeting Bono not once, but twice. She's struggled with being a woman with a political mind and a woman with an ever-changing jean size. She knows about trash not only because she sees it every day, but also because she's seen about one hundred thousand hours of reality TV and zero hours of Schindler's List.
With its deeply personal and seamless blend of memoir, cultural history, literary criticism, and journalistic reportage, The Recovering turns our understanding of the traditional addiction narrative on its head, demonstrating that the story of recovery can be every bit as electrifying as the train wreck itself. Leslie Jamison deftly excavates the stories we tell about addiction–both her own and others' — and examines what we want these stories to do, and what happens when they fail us.
Far too often, Black women's anger has been caricatured into an ugly and destructive force that threatens the civility and social fabric of American democracy. But Cooper shows us that there is more to the story than that. Black women's eloquent rage is what makes Serena Williams such a powerful tennis player. It's what makes Beyoncé's girl power anthems resonate so hard. It's what makes Michelle Obama an icon.
Eloquent rage keeps us all honest and accountable. It reminds women that they don't have to settle for less.
For the first time, Gucci Mane tells his story in his own words. It is the captivating life of an artist who forged an unlikely path to stardom and personal rebirth. Gucci Mane began writing his memoir in a maximum-security federal prison. Released in 2016, he emerged radically transformed. He was sober, smiling, focused, and positive—a far cry from the Gucci Mane of years past.
Late one spring night, as Driss Guerraoui is walking across a darkened intersection in California, he's killed by a speeding car. The repercussions of his death bring together a diverse cast of characters: Guerraoui's daughter Nora, a jazz composer who returns to the small town in the Mojave she thought she'd left for good; his widow, Maryam, who still pines after her life in the old country; Efraín, an undocumented witness whose fear of deportation prevents him from coming forward; Jeremy, an old friend of Nora's and an Iraqi War veteran; Coleman, a detective who is slowly discovering her son's secrets; Anderson, a neighbor trying to reconnect with his family; and the murdered man himself.
As the characters–deeply divided by race, religion, and class–tell their stories, connections among them emerge, even as Driss's family confronts its secrets, a town faces its hypocrisies, and love–messy and unpredictable–is born.
In the wake of a fever that decimated the earth's population—killing women and children and making childbirth deadly for the mother and infant—the midwife must pick her way through the bones of the world she once knew to find her place in this dangerous new one. Gone are the pillars of civilization. All that remains is power—and the strong who possess it.
A few women like her survived, though they are scarce. Even fewer are safe from the clans of men, who, driven by fear, seek to control those remaining. To preserve her freedom, she dons men's clothing, goes by false names, and avoids as many people as possible. But as the world continues to grapple with its terrible circumstances, she'll discover a role greater than chasing a pale imitation of independence.
This is not your mother's memoir. In The Chronology of Water, Lidia Yuknavitch expertly moves the reader through issues of gender, sexuality, violence, and the family from the point of view of a lifelong swimmer turned artist. In writing that explores the nature of memoir itself, her story traces the effect of extreme grief on a young woman's developing sexuality that some define as untraditional because of her attraction to both men and women. Her emergence as a writer evolves at the same time and takes the narrator on a journey of addiction, self-destruction, and ultimately survival that finally comes in the shape of love and motherhood.
Citizen by Claudia Rankine
Claudia Rankine's bold new book recounts mounting racial aggressions in ongoing encounters in twenty-first-century daily life and in the media. Some of these encounters are slights, seeming slips of the tongue, and some are intentional offensives in the classroom, at the supermarket, at home, on the tennis court with Serena Williams and the soccer field with Zinedine Zidane, online, on TV-everywhere, all the time. The accumulative stresses come to bear on a person's ability to speak, perform, and stay alive. Our addressability is tied to the state of our belonging, Rankine argues, as are our assumptions and expectations of citizenship. In essay, image, and poetry, Citizen is a powerful testament to the individual and collective effects of racism in our contemporary, often named "post-race" society.
In the early 1900s, teenaged Sunja, the adored daughter of a crippled fisherman, falls for a wealthy stranger at the seashore near her home in Korea. He promises her the world, but when she discovers she is pregnant–and that her lover is married–she refuses to be bought. Instead, she accepts an offer of marriage from a gentle, sickly minister passing through on his way to Japan. But her decision to abandon her home, and to reject her son's powerful father, sets off a dramatic saga that will echo down through the generations.
Foxcatcher meets The Art of Fielding, Stephen Florida follows a college wrestler in his senior season, when every practice, every match, is a step closer to greatness and a step further from sanity. Profane, manic, and tipping into the uncanny, it's a story of loneliness, obsession, and the drive to leave a mark.
A dazzlingly accomplished debut collection explores the ties that bind parents and children, husbands and wives, lovers and friends to one another and to the places they call home.
In "Who Will Greet You at Home," a National Magazine Award finalist for The New Yorker, A woman desperate for a child weaves one out of hair, with unsettling results. In "Wild," a disastrous night out shifts a teenager and her Nigerian cousin onto uneasy common ground. In "The Future Looks Good," three generations of women are haunted by the ghosts of war, while in "Light," a father struggles to protect and empower the daughter he loves.
In Her Body and Other Parties, Carmen Maria Machado blithely demolishes the arbitrary borders between psychological realism and science fiction, comedy and horror, fantasy and fabulism. In this electric and provocative debut, Machado bends genre to shape startling narratives that map the realities of women's lives and the violence visited upon their bodies.
Reset by Ellen Pao
In 2015, Ellen K. Pao sued a powerhouse Silicon Valley venture capital firm, calling out workplace discrimination and retaliation against women and other underrepresented groups. Her suit rocked the tech world–and exposed its toxic culture and its homogeneity. Her message overcame negative PR attacks that took aim at her professional conduct and her personal life, and she won widespread public support–Time hailed her as "the face of change." Though Pao lost her suit, she revolutionized the conversation at tech offices, in the media, and around the world. In Reset, she tells her full story for the first time.
From one of the fiercest critics writing today, Morgan Jerkins' highly-anticipated collection of linked essays interweaves her incisive commentary on pop culture, feminism, black history, misogyny, and racism with her own experiences to confront the very real challenges of being a black woman today. Morgan Jerkins is only in her twenties, but she has already established herself as an insightful, brutally honest writer who isn't afraid of tackling tough, controversial subjects.
Heart Berries is a powerful, poetic memoir of a woman's coming of age on the Seabird Island Indian Reservation in the Pacific Northwest. Having survived a profoundly dysfunctional upbringing only to find herself hospitalized and facing a dual diagnosis of post-traumatic stress disorder and bipolar II disorder; Terese Marie Mailhot is given a notebook and begins to write her way out of trauma.
The Belles by Dhonielle Clayton
Camellia Beauregard is a Belle. In the opulent world of Orléans, Belles are revered, for they control Beauty, and Beauty is a commodity coveted above all else. In Orléans, the people are born gray, they are born damned, and only with the help of a Belle and her talents can they transform and be made beautiful.
But it's not enough for Camellia to be just a Belle. She wants to be the favorite—the Belle chosen by the Queen of Orléans to live in the royal palace, to tend to the royal family and their court, to be recognized as the most talented Belle in the land. But once Camellia and her Belle sisters arrive at court, it becomes clear that being the favorite is not everything she always dreamed it would be. Behind the gilded palace walls live dark secrets, and Camellia soon learns that the very essence of her existence is a lie.
Gabourey Sidibe skyrocketed to international fame in 2009 when she played the leading role in Lee Daniels's acclaimed movie Precious. In This is Just My Face, she shares a one-of-a-kind life story in a voice as fresh and challenging as many of the unique characters she's played onscreen. With full-throttle honesty, Sidibe paints her Bed-Stuy/Harlem family life with a polygamous father and a gifted mother who supports her two children by singing in the subway. Sidibe tells the engrossing, inspiring story of her first job as a phone sex "talker." And she shares her unconventional (of course!) rise to fame as a movie star, alongside "a superstar cast of rich people who lived in mansions and had their own private islands and amazing careers while I lived in my mom's apartment."
Silencer by Marcus Wicker
A suburban park, church, a good job, a cocktail party for the literati: to many, these sound like safe places, but for a young black man these insular spaces don't keep out the news—and the actual threat—of gun violence and police brutality, or the biases that keeps body, property, and hope in the crosshairs. Continuing conversations begun by Citizen and Between the World and Me, Silencer sings out the dangers of unspoken taboos present on quiet Midwestern cul-de-sacs and in stifling professional settings, the dangers in closing the window on "a rainbow coalition of cops doing calisthenics around/a six-foot, three-hundred-fifty-pound man, choked back into the earth for what/looked a lot, to me, like sport."
In Lindsay Hunter's achingly funny, fiercely honest second novel, Eat Only When You're Hungry, we meet Greg—an overweight fifty-eight-year-old and the father of Greg Junior, GJ, who has been missing for three weeks. GJ's been an addict his whole adult life, disappearing for days at a time, but for some reason this absence feels different, and Greg has convinced himself that he's the only one who can find his son. So he rents an RV and drives from his home in West Virginia to the outskirts of Orlando, Florida, the last place GJ was seen. As we travel down the streets of the bizarroland that is Florida, the urgency to find GJ slowly recedes into the background, and the truths about Greg's mistakes—as a father, a husband, a man—are uncovered.
The Awkward Thoughts of W. Kamau Bell is a humorous, well-informed take on the world today, tackling a wide range of evergreen issues, such as race relations; fatherhood; the state of law enforcement today; comedians and superheroes; right-wing politics; failure; his interracial marriage; his upbringing by very strong-willed, race-conscious, yet ideologically opposite parents; his early days struggling to find his comedic voice, then his later days struggling to find his comedic voice; why he never seemed to fit in with the Black comedy scene . . . or the white comedy scene; how he was a Black nerd way before that became a thing; how it took his wife and an East Bay lesbian to teach him that racism and sexism often walk hand in hand; and much, much more.
Sometimes you just have to laugh, even when life is a dumpster fire. Whether talking about how her difficult childhood has led to a problem in making "adult" budgets, explaining why she should be the new Bachelorette–she's "35-ish, but could easily pass for 60-something"–detailing a disastrous pilgrimage-slash-romantic-vacation to Nashville to scatter her estranged father's ashes, sharing awkward sexual encounters, or dispensing advice on how to navigate friendships with former drinking buddies who are now suburban moms–hang in there for the Costco loot–she's as deft at poking fun at the ghosts of her past self as she is at capturing powerful emotional truths.
When freelance writer Nikole Paterson goes to a Dodgers game with her actor boyfriend, his man bun, and his bros, the last thing she expects is a scoreboard proposal. Saying no isn't the hard part–they've only been dating for five months, and he can't even spell her name correctly. The hard part is having to face a stadium full of disappointed fans…
At the game with his sister, Carlos Ibarra comes to Nik's rescue and rushes her away from a camera crew. He's even there for her when the video goes viral and Nik's social media blows up–in a bad way. Nik knows that in the wilds of LA, a handsome doctor like Carlos can't be looking for anything serious, so she embarks on an epic rebound with him, filled with food, fun, and fantastic sex. But when their glorified hookups start breaking the rules, one of them has to be smart enough to put on the brakes.
Kelly Sundberg's husband, Caleb, was a funny, warm, supportive man and a wonderful father to their little boy Reed. He was also vengeful and violent. But Sundberg did not know that when she fell in love, and for years told herself he would get better. It took a decade for her to ultimately accept that the partnership she desired could not work with such a broken man. In her remarkable book, she offers an intimate record of the joys and terrors that accompanied her long, difficult awakening, and presents a haunting, heartbreaking glimpse into why women remain too long in dangerous relationships.
The Pretty One by Keah Brown (August 6th, 2019, Atria)
From the disability rights advocate and creator of the #DisabledAndCute viral campaign, a thoughtful, inspiring, and charming collection of essays exploring what it means to be black and disabled in a mostly able-bodied white America.
Keah Brown loves herself, but that hadn't always been the case. Born with cerebral palsy, her greatest desire used to be normalcy and refuge from the steady stream of self-hate society strengthened inside her. But after years of introspection and reaching out to others in her community, she has reclaimed herself and changed her perspective.
The Book of X tells the tale of Cassie, a girl born with her stomach twisted in the shape of a knot. From childhood with her parents on the family meat farm, to a desk job in the city, to finally experiencing love, she grapples with her body, men, and society, all the while imagining a softer world than the one she is in.
Haunted and haunting, Jones's memoir tells the story of a young, black, gay man from the South as he fights to carve out a place for himself, within his family, within his country, within his own hopes, desires, and fears. Through a series of vignettes that chart a course across the American landscape, Jones draws readers into his boyhood and adolescence—into tumultuous relationships with his mother and grandmother, into passing flings with lovers, friends and strangers. Each piece builds into a larger examination of race and queerness, power and vulnerability, love and grief: a portrait of what we all do for one another—and to one another—as we fight to become ourselves.
In this powerful and imaginative debut poetry collection, Fatimah Asghar nakedly captures the experiences of being a young Pakistani Muslim woman in America by braiding together personal and marginalized people's histories. After being orphaned as a young girl, Asghar grapples with coming-of-age as a woman without the guidance of a mother, questions of sexuality and race, and navigating a world that put a target on her back. Asghar's poems at once bear anguish, joy, vulnerability, and compassion, while exploring the many facets of violence: how it persists within us, how it is inherited across generations, and how it manifests in our relationships with friends and family, and in our own understanding of identity. Using experimental forms and a mix of lyrical and brash language, Asghar confronts her own understanding of identity and place and belonging.
Teenage Joon is a Korean immigrant living in the Bronx of the 1980s. Her parents have crumbled under the weight of her father's infidelity; he has left the family, and mental illness has rendered her mother nearly catatonic. So Joon, at the age of thirteen, decides she would be better off on her own, a choice that commences a harrowing and often tragic journey that exposes the painful difficulties of a life lived on the margins. Joon's adolescent years take her from a homeless shelter to an escort club, through struggles with addiction, to jobs selling newspapers and cosmetics, committing petty crimes, and, finally, toward something resembling hope.
A young Swedish boy finds himself penniless and alone in California. He travels east in search of his brother, moving on foot against the great push to the west. Driven back over and over again on his journey through vast expanses, Håkan meets naturalists, criminals, religious fanatics, Indians, and lawmen, and his exploits turn him into a legend. Díaz defies the conventions of historical fiction and genre (travel narratives, the bildungsroman, nature writing, the Western), offering a probing look at the stereotypes that populate our past and a portrait of radical foreignness.
It's late. The phone rings. The man on the other end says his daughter is missing. Your daughter. The baby you gave away over fifteen years ago. What do you do?
Nora Watts isn't sure that she wants to get involved. Troubled, messed up, and with more than enough problems of her own, Nora doesn't want to revisit the past. But then she sees the photograph. A girl, a teenager, with her eyes. How can she turn her back on her?
But going in search of her daughter brings Nora into contact with a past that she would rather forget, a past that she has worked hard to put behind her, but which is always there, waiting for her . . .
Lilith, but dark reveals a series of confessions and penances, exploring a southern black woman's tour through lover's lament. It explores intimacies from home to the schoolyard to the bedroom. It is a journey through tornado alley, a search for power and peace in the eye of a southern storm.
Don't Call Us Dead opens with a heartrending sequence that imagines an afterlife for black men shot by police, a place where suspicion, violence, and grief are forgotten and replaced with the safety, love, and longevity they deserved here on earth. Smith turns then to desire, mortality the dangers experienced in skin and body and blood and a diagnosis of HIV positive. Danez Smith is a groundbreaking force, celebrated for deft lyrics, urgent subjects, and performative power.
---
For more recommendations by Roxane Gay, check out this list of books she's recommended on Twitter!