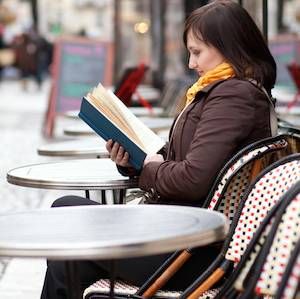 News
A Round-Up of NYPL's #IReadEverywhere
The NYPL recently started a hashtag campaign to promote literacy (as well as their services): #IReadEveryWhere. It's worth checking out on Twitter just for fun AND for some great book recommendations.
People are reading on the train!
#IReadEverywhere on metro north! pic.twitter.com/OJlF6laLSD

— Christopher D Platt (@kkersplat) August 4, 2014
And while chillin' at home!
#ireadeverywhere @nypl @BookRiot @SimonBooks @micheleyosto pic.twitter.com/rbJ9zulndl

— Michele Young-Stone (@micheleyosto) August 5, 2014
With offspring!
Yes, #IReadEverywhere…even cuddling with Faulkner and my newborn son circa 1984 pic.twitter.com/itj3EnnVaa

— David Abrams (@ImDavidAbrams) August 6, 2014
This gal combined two of my favorite things:
#ireadeverywhere my favorite: a good bar with drinks and snacks! pic.twitter.com/BnPkB04tlx

— carmela d (@carmelad) July 31, 2014
Some celebrities also got into the action, as was documented in the WSJ. Here's a few more you may have missed:
Comedian Jim Gaffigan looking very serious in his photo (click his link to see it):
When I'm not eating or chasing my screaming kids, #ireadeverywhere @nypl https://t.co/UDHRwAQwRU

— Jim Gaffigan (@JimGaffigan) August 6, 2014
The great LeVar Burton reading on a plane:
.@LeVarBurton reads everywhere, esp. on planes. (Did you ever doubt it?) @nypl #IReadEverywhere https://t.co/X1qWIQUohW

— Reading Rainbow (@readingrainbow) August 7, 2014
Even Hillary Clinton shared a special moment:
For #IReadEverywhere w/ @NYPL, I'm reminded of moments reading to Chelsea when she was little. Let's #closethewordgap pic.twitter.com/7vMK91D1J8

— Hillary Clinton (@HillaryClinton) August 6, 2014
But I think my favorite one of all came from my librarian friend Meghan:
Where do YOU like to read?