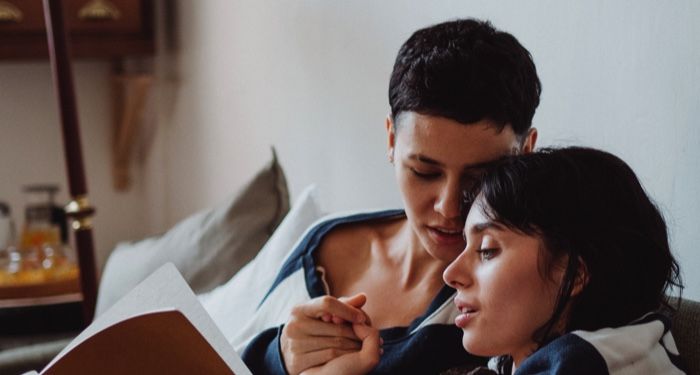 Lists
Oh, They Were Roommates! A List of Roommate Romances
This content contains affiliate links. When you buy through these links, we may earn an affiliate commission.
Once upon a time I used to write romance novels. And by once upon a time, I mean back in middle school when I first started reading romance novels. I'm certain I've shared this before but that background is important here. The first one I wrote was a roommates one. It was about a college-bound girl who ended up in a boy's dormitory due to a typo. And of course romance ensued.
I know, it's a great premise, right? Tragically, I have no idea where this book is now. And of course there is more than a little bit of sarcasm there because I'm sure it was terrible. To be fair, I wrote it on a Brother Word Processor, saved to a floppy. Both of those pieces of technology have since gone the way of the dodo. I don't think even the friend who was my beta reader at the time still has it. But the point is that the roommate setup is something that has always been a trope for me. There is just something about that situation that is ripe for romance.
Part of that is likely due to getting to know someone else's personal habits firsthand. This is a hard learning curve for some newlyweds who didn't live together prior to marriage. Knowing your partner's little quirks can be tiresome no matter how much you love them. For example, mine has a bad habit of leaving cans, cups, and bottles everywhere. And he hates how I sometimes leave my shoes in the middle of the entryway.
Another thing is the close proximity factor. This set-up allows for previously ignored feelings to develop and grow. You can start looking at someone in an attractive new light. Or strangers may find their one true love.
Whatever the case, these are still delightful romances to read. Here are a few to add to your TBR pile, if you're one who also looks this type of set-up.
---
And that is all I have for y'all today. If you have any other favorite roommate romances that didn't make the list, let us know over on social media. For more great romance, check out 20 of the most influential romances, or even these reality show romances. Happy reading!