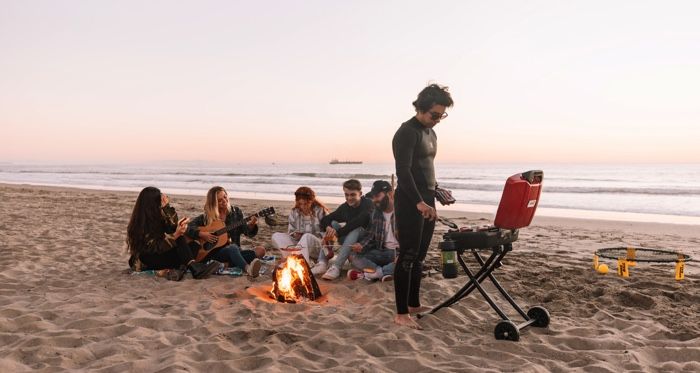 Lists
3 Romantic YA Beach Reads for the Summer
This content contains affiliate links. When you buy through these links, we may earn an affiliate commission.
Summertime is here, and with it comes an array of adorable books that are perfect for reading poolside or at the beach. Don't have any of those amenities nearby? Trust me, a nice porch swing or backyard, with an iced tea on hand, also works as the perfect backdrop for reading these books! From heartbreakers and fakers to cute couples getting together, these YA books have enough romance, drama, and quirky characters to entertain you while you kick back and relax on a hot summer day. Read on for three romantic YA beach books that will capture your heart.
XOXO by Axie Oh
This adorable novel follows cello master Jenny, who has ambitious goals in mind. One of them is to become a student at a prestigious music conservatory, and she will let nothing additional, including love, get in the way.
But, when cute Jaewoo shows up at her uncle's karaoke bar one fateful night, Jenny is smitten and decides to throw caution to the wind and spend an unforgettable evening with him. Why, not? She's sure she will never see him again, so it won't put a damper on any of her carefully curated plans for her professional life.
But she's wrong about not seeing him again. Jenny's grandmother is sick, so she heads to South Korea to take care of her. There, Jenny is enrolled at an elite academy, and she's determined to make the best of it until, one day, Jaewoo appears. It turns out he's also a student there. Not only that, he's a huge K-Pop star who's strictly not allowed to date. What's a girl to do?
This book, while romantic, also teaches lessons about spontaneity and living one's life to the fullest. As Jenny realizes she's still crushing on Jaewoo, will she give up her perfectly prepped dreams for romance?
From the author of one of my favorites, Best Laid Plans, comes a story filled with friendship and romance, following a popular girl who thinks she has it all planned out, only to have fate throw a wrench in her seemingly perfect life and planned out future.
Penny Harris kisses Kai Tanaka. Kissing is not the issue, the issue is that she is dating the "perfect" boyfriend, Jordan Parker, so she should not be smooching anyone else besides him. Once she wakes up on the lawn of Jordan's house, after a party, she gets flashbacks of the evening and her mistake, and feels like she has completely ruined her life. No more invites to parties. No more ruling the school with her bestie, Olivia. Because Kai is not just a random boy…he's Olivia's boyfriend.
What follows in the novel are hijinks sure to make you LOL and feel for both Penny and Kai, who go to great lengths to try to save their respective relationships. This includes pretending to be a couple, which might turn out to not be so fake after all when they realize they just might have feelings for each other.
Lund is a great writer and her funny take on this otherwise dramatic situation will have you happy that you picked up this book.
Quinn is an intricate planner and list-maker. Nothing in her life is unscripted or stressful, as she writes down everything — from times that she has ugly cried to boys she has crushes on — and takes solace in her lists. Her journal is her everything.
But, uh-oh, her journal has just gone missing! What will she do now? She panics when a secret Instagram account is created, revealing the contents of her journal and all of her secret lists. Not only is the creator super mean, but this person blackmails her to face seven of her biggest fears, or else her journal and all of its contents will go fully public for the whole world to see.
She decides to team up with Carter Bennett, the last guy who saw her journal. Together, they try to face Quinn's fears, only to realize that maybe her journal going missing was the best thing that ever happened to her. She lives in the moment, she faces the unfaceable, and maybe, just maybe, she might fall in love.
This book is the cutest read and it will surely leave you feeling for Quinn and her sudden debacles, as she tries her best to be brave.
---
What other romantic reads do you recommend we pick up this summer? I'm in need of more! Let us know on Twitter @BookRiot or let me know directly @AuroraMiami.