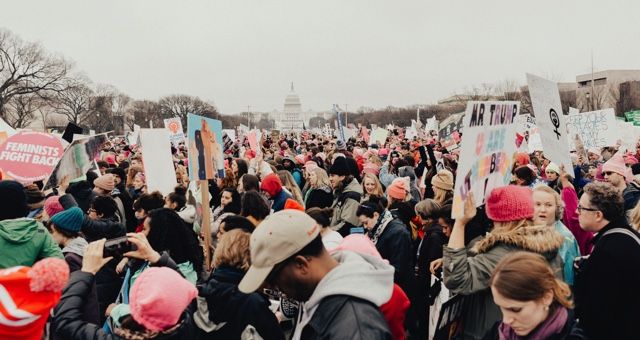 Lists
Love and Action: Activism in Romance
This content contains affiliate links. When you buy through these links, we may earn an affiliate commission.
I love reading about people who want to do what's right, and doing it while falling in love is just awesome. Here are some of the ones I've loved and a couple I can't wait to read.
If you haven't gotten to this book yet, I absolutely recommend reading it wildly soon. Our lovers, Sofie and Ivan, were friends as kids, and are reunited when Sofie is in need of a bit of saving. It's an adorable story about finding love and finding your voice—with some learning about the Freedom Riders, too! (P.S. if you liked this one, you can also check out Let Us Dream, which is another of Alyssa's novellas. That one takes place during the Suffragist era!)
Originally published as "Grassroots" in Rogue Desire, this is an extended version that digs deeper into the story of Veronica Cruz, a canvasser, and the secretive guy whose door she knocks on. She makes an impression on him, and he wants to promise her more than his vote. Luckily, he has the resources to do something about what they both want.
If you haven't checked out Rogue Desire and the subsequent five volumes, all featuring shorts and novellas about protagonists involved in political activism of some kind, you're totally missing out. Rogue Nights, the most recent, includes stories by Talia Hibbert, Robin Covington, and Annabeth Albert, among many others. Featured resisters in this volume include journalists, volunteer escorts, legislators, and more!
While it's not the first book in the Brothers Sinister series, which is chock full of activist-type people (the protagonist in The Duchess War, for example, is interested in the rights of factory workers), The Suffragette Scandal is particularly focused on the rights of women and of the working class, and nobody pulls any punches to get their points across. Because of the time period and the subject matter, CW for Victorian Dudes being Victorian Dudes. And also deception. Because spies.
Trust Me by Farrah Rochon
Farrah Rochon has been on my radar forever, but the cover of this book was what drew me to the Holmes Brothers series. And then I discovered that the protagonist, Mackenna, is on city council. After watching the most recent season of The Bold Type, I can't help but need more stories of black women looking to use the system to break the system. While this story also features a reporter looking to expose political corruption—which Mack has no part in—her goals and desires are still central.
(Bonus: If you want to read about another badass using the system to break the system, check out American Fairytale by Adriana Herrera.)
While there is more sex than sedition happening in this novel (and more feelings than literally anything else), this book also deserves a mention. It not only features protagonists on opposing sides of the law—who don't actually know that when they start falling in love—but was the first I'd ever picked up that featured a bookseller/publisher creating pamphlets and the like regarding the horrors happening in the northern factory villages at the time. It makes a great companion to go with A Duke In Disguise, Cat Sebastian's recent book about a publisher and a duke's heir who would rather be anyone else.
Natalie Chin-Williams is heading to a wedding and begs her BFF to go along as her date. On their trip, long-buried chemistry comes back and they have to navigate their relationship. While this is the core of the story, Natalie's work as a climate expert is worth mentioning. She might not be an activist in the same way that some other protagonists in this list are activists, but she does what she knows to be right for a cause she believes in. And that's what matters, right?
---
The romance genre is a ripe place for people fighting for what they believe in, and this is just the tip of the iceberg. I look forward to seeing the directions our heroes go in the future.
---
Note: Much of this content first appeared in Kissing Books, Book Riot's twice-weekly romance newsletter. Interested in more like it? Subscribe!