Audiobooks
9 Romance Audiobooks for Valentine's Day
Over the past few years, I've fallen head-over-heels in love with romance novels on audio. From Talia Hibbert to Jasmine Guillory to Helen Hoang — there's no end of fantastic romance novels published every year. So if you're looking for some romance novels this Valentine's Day, be sure to check out some of these incredible love stories.
A Girl Like Her by Talia Hibbert, Narrated by Rupert Channing
Evan Miller retires from the military and moves into Ravenswood looking for a quiet life. But he doesn't expect to have a very opinionated neighbor: Ruth Kabbah. The town says Ruth is trouble, but Evan can't figure out why. To him, she just seems lonely, incredibly beautiful, and VERY into comic books.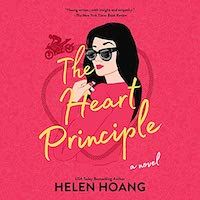 The Heart Principle by Helen Hoang, Narrated by Brian Nishii and Natalie Naudus
Anna Sun's boyfriend decides he wants an open relationship. She says she's up for that, too, but is she really? To convince herself, she decides to have a series of one-night stands. But when Quan Diep shows up, she worries this might be more than just a fling.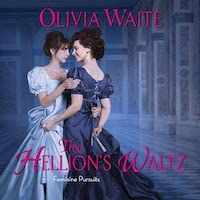 The Hellion's Waltz by Olivia Waite, Narrated by Morag Sims
In this historical romance, Sophie Roseingrave and her family lost their piano shop to a con man, so when con woman Maddiew Crewe shows up in her life, things seemed doomed from the start. But when Maddie finds her next mark, she's distracted by Sophie, the new girl in town.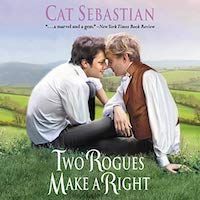 Two Rogues Make a Right by Cat Sebastian, Narrated by Joel Leslie
Will Sedgwick searches for his best friend for months only to find him in an attic barely alive. When Martin Easterbrook wakes up after being rescued, he's startled to find Will nursing him back to health. As he recovers, he worries that Will might see the truth: Martin has only ever loved Will.
The Perks of Loving a Wallflower by Erica Ridley, Narrated by Moira Quirk
Thomasina Wynchester can disappear into a crowd, easily disguising herself as whatever suits her schemes. But when she meets no-nonsense, bluestocking Philippa York, not even she can hide her infatuation.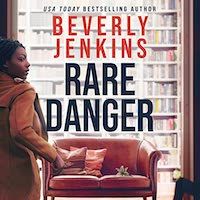 Rare Danger by Beverly Jenkins, Narrated by Kim Staunton
Jasmine Ware loves curating books for her exclusive clientele. But when a rare manuscript goes missing, Jasmine and Air Force veteran Torr Noble must band together and search for the thief. As their search draws them closer, will their partnership become more than professional?
While We Were Dating by Jasmine Guillory, Narrated by Janina Edwards
Marketing professional Ben Stephens lands the account of his dreams featuring Anna Gardner, one of America's best actresses. But when Anna's father ends up in the hospital, everything he's worked towards might be in jeopardy. Ben volunteers to drive Anna to the hospital and to ensure her safe return so they can resume filming. But what starts out as a road trip for business reasons, soon turns into something more.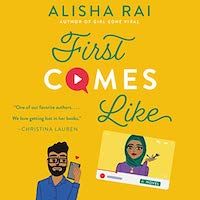 First Comes Like by Alisha Rai, Narrated by Saira Ayers and Neil Shah
Makeup influencer Jia Ahmed is determined to make her mark on the beauty world. But when a man shows up in her DMs, unaware of who she is, Jia can't help but be intrigued. Bollywood star Dev Dexit has no idea that the woman he's been flirting with is actually a huge influencer. Can they get past their own careers to grow their relationship into something deeper?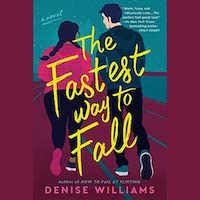 The Fastest Way to Fall by Denise Williams, Narrated by N'Jameh Camara, Teddy Hamilton, and Denise Williams
Body positive writer Britta Colby is pretty skeptical when she's asked to review a new fitness app. But Britta finds herself drawn to the CEO of FitMi Fitness, Wes Lawson, and as weeks pass, she begins to suspect that she and Wes might be a little more than "just friends."
---
For even more romantic listens, check out Romance on Audio: Ten Terrific Narrators and 8 Great Contemporary Romance Audiobooks.