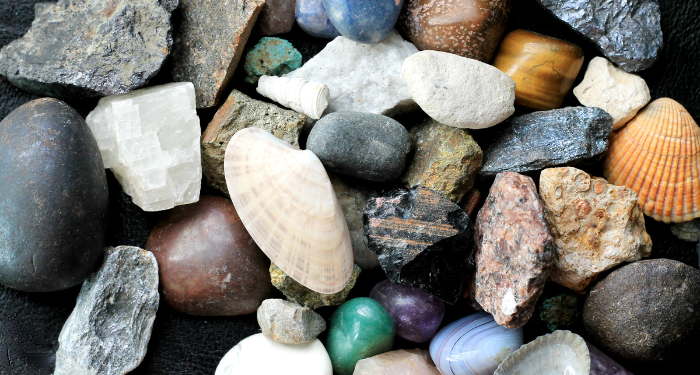 Nonfiction
These Books Rock: 10 Books about Rocks, Minerals, Gems, and Crystals
This content contains affiliate links. When you buy through these links, we may earn an affiliate commission.
If you're looking to pick up a new hobby for 2023, let me suggest starting with some rocks and minerals books. There are lots of ways to go. You can get into rock collecting and/or rockhounding. Rockhounding meaning the rocks you collect are ones you find yourself out in nature. You can also learn more about geological features without having to collect anything. After all, all of us are living on a geological formation of some sort, assuming we're not at sea. The barrier to entry is so low! All you have to do is go out to local parks and other natural spaces, and let your curiosity guide you. And there may be no better way to satisfy curiosity and relieve aggression than taking a hammer to an interesting-looking rock.
Beyond the science of geology, there's a ton of history, culture, and art to examine as well. Why are some rocks considered valuable? What do the meanings we ascribe to different gems and crystals say about humanity? If you get deep into rock collecting, you may find related hobbies like rock tumbling or lapidary art, learning about the ways we prepare rocks to adorn our bodies and homes. If you're on TikTok, go seek out the rock tumblers. I think they might be having the most fun with rocks.
If you're someone who spends time around kids, sharing some rocks and minerals books is a fantastic way to get them connected to the place where they live. So I've included some books for younger readers that appeal to budding rockhounds. Warning: they may, like me, become the kind of kid who asks their grandmother to pick up a rock for them on her Caribbean cruise with her church friends.
Rocks and Minerals Books for Younger Readers
---
If you're interested in some bookish guidance from a field geologist, I recommend this charming little guest post from a few years back. We've also got more recommendations if you like trees (classic companion to rocks, honestly) and the natural world in general. I'll see you out on the trail, rock hammer and field guide in hand.