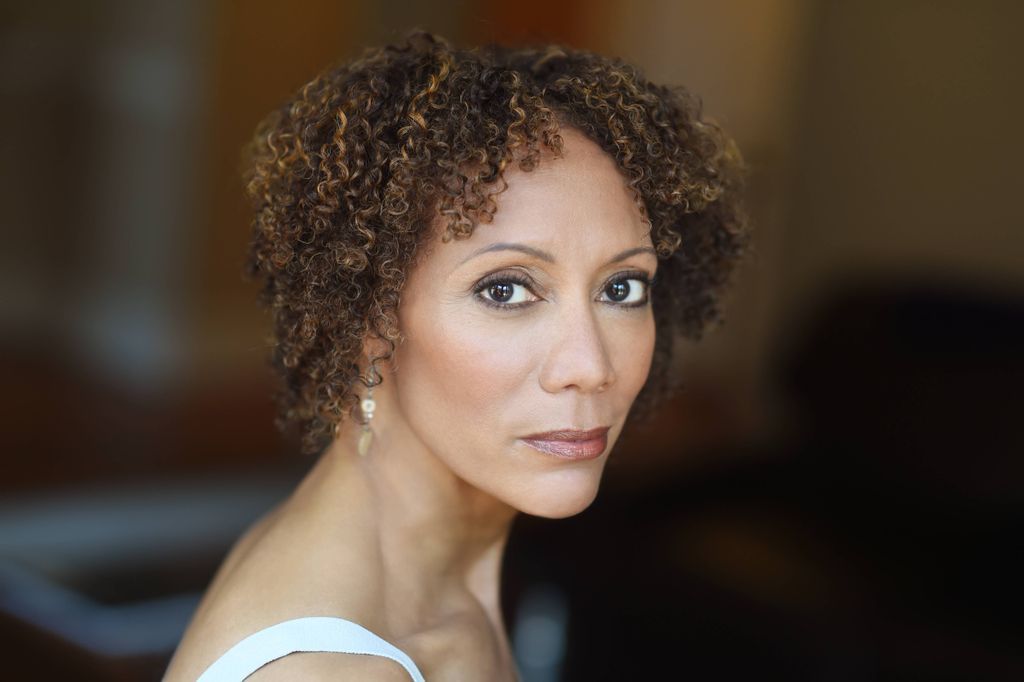 This content contains affiliate links. When you buy through these links, we may earn an affiliate commission.
Sponsored by Macmillan Audio
Harry Tabor is about to be named Man of the Decade, a distinction that feels like the culmination of a well-lived life. He gathers in Palm Springs to celebrate with his wife, Roma, a distinguished child psychologist, and their children: Phoebe, a powerful attorney; Camille, a brilliant social anthropologist; and Simon, a big-firm lawyer. But immediately, cracks begin to appear in this smooth facade. Narrator Jonathan Davis alternates between the five Tabors in this gorgeously rendered audiobook from Cherise Wolas, acclaimed author of The Resurrection of Joan Ashby.

 Listen to an excerpt!
---
Robin Miles is a queen among audiobook narrators, the gold standard to which I compare all other narrators. I have never listened to a book she narrated that I didn't love. Even when I don't love the book itself, her narration always takes it up a notch. Her voice is fluid and natural, never forced or awkward. She inhabits characters like she knows them inside out. She's mastered a staggering array of voices and accents, across gender, culture, age, and nationality. I am convinced there is literally nothing she can't handle. When I'm at a loss for what to listen to next, I always know I can find a Robin Miles audiobook to fit whatever mood I'm in.
She's narrated a vast number of books in just about every genre. She does classics, children's books, memoir, science fiction, fantasy, romance, light fiction, serious fiction, history. Whether you're craving a thriller or a romance, a lighthearted middle grade adventure or a work of literary fiction, a collection of essays or a historical novel, there's a Robin Miles audiobook for every mood.
When you're in the mood for a classic:
Passing by Nella Larson
First published in 1929, Nella Larson's classic novel about the friendship between two black women, one of whom has spent much of her life passing as white, is as relevant today as it ever was. Through the lens of a complicated and sometimes fraught relationship between two women, Larson delves into issues of race, gender, sexuality, class, parenting, and marriage. The prose is sharp and elegant; Robin Miles brings it effortlessly to life.
When you're in the mood to learn something:
Even if you've already seen the excellent movie, this book offers a fascinating look into an important bit of often forgotten history: the black women mathematicians who worked for NASA in the 1950s and 1960s, doing the hard work that would actually put rockets into space. These women, known as human computers, were an instrumental part of the space program, but haven't gotten the recognition that their white male colleagues have. The sheer amount of information in this book can be overwhelming, but Robin Miles's clear and steady narration makes it easy to follow.
In this gorgeous and intricate book of narrative nonfiction, Isabel Wilkerson tells the story of the Great Migration—the decades-long movement of black Americans from the South to northern cities in search of opportunities.
Barracoon by zora neale hurston
Published posthumously in 2018, Barracoon tells the story of the last survivor of the Atlantic slave trade, Cudjo Lewis. Hurston interviewed Lewis in 1927, and this book is based on the in-depth conversations she had with him.
bell hooks is one of the great feminist thinkers of our time, and in this volume, she turns her keen gaze to a range of issues facing feminists today—race, reproductive rights, sexuality, class. Her writing is both analytical and accessible, and her vision of a future free from racist, homophobic, and patriarchal ideas is one we'd all do well to pay attention to.
When you're in the mood for serious fiction:
Told in gorgeous prose and full of emotion, his sweeping work of historical fiction tells the story of Lilith, a woman born into slavery on a sugar plantation in Jamaica at the end of the eighteenth century.
In this collection of stories, Gay delves into the lives of women dealing with all manner of the difficult and painful (and sometimes just the ordinary). The stories are hard and beautiful, but in the best way—they illuminate all the messy contradictions of what it means to be a woman in the world today
Like all of Danticat's work, this novel shimmers with beautiful, lyrical prose. It tells the story of Sophia, a young Haitian girl who travels from her small village in Haiti to New York, where she is reunited with a mother she hardly knows. The emotional journey that follows leads her through the US and Haiti, and into the charged realm of family secrets.
When you're in the mood for something short:
This middle grade novel, based on Caribbean folklore, is full of magic and adventure, and steeped in the lush landscape of a small Caribbean island. It's about a young girl named Corinne, who discovers one day that jumbies, the spirits she's always assumed were just stories parents told their kids to frighten them, are much more real than she imagined. This warmhearted book is all about family and friendship, and Robin Miles brings all the characters—both human and non-human—perfectly to life.
This short and beautiful book reads almost like a dream—in the best possible way. Robin Miles's perfect narration adds to the lilting, musical quality of the writing itself. When August runs into an old friend she hasn't seen in years, it sets off memories of her childhood and adolescence in Brooklyn, and the friendships that were at the center of her life. Told in a series of fragmented memories, it's a quiet book about girlhood in the city.
Kincaid's essay about her home island of Antigua is honest, sharp, and beautiful. Kincaid speaks with both love and frustration about the place she grew up, and makes clear the impact that colonialism and tourism has on this tiny island. It's the best kind of place-based writing: complicated and many-layered. Kincaid articulates many truths—about racism and resort communities and the things that visitors often chose not to see about places they visit—in a short and very readable book.
When you're in the mood for a memoir:
Negroland by margo jefferson
In Negroland, Jefferson writes with elegance and precision about her upbringing among Chicago's black elite. Through the lens of her own family and childhood, she sheds light on many aspects of America culture, as well as the ways that race, class, and gender weave their way through every strata of American society. Jefferson's prose is beautiful, and her gift for analysis—both as a cultural critic and as a person reflecting on her own particular life—is on full display.
When she was six years old, Clemantine Wamariya and her fifteen-year-old sister fled the Rwandan genocide and spent the next six years traveling throughout several African countries, seeking safety. When they were finally granted asylum in the U.S., Wamariya began another journey—this one into her own past. This searing and poignant memoir is about the lasting traumas of war, and about the myriad ways people find and claim their identities, even in the most devastating circumstances.
when you're in the mood for YA or middle grade:
When Fabiola and her mother arrive in the US from Haiti, her mother is detained by immigration, leaving Fabiola to adjust to life in Detroit with her loud, unfamiliar American cousins and aunt all by herself. This YA novel is fresh and relevant, taking a hard look at the realities of US immigration, and the cost the myth of the American Dream levies on families.
This coming-of-age novel follows two sisters, Phaedra and Dionne, who are sent from Brooklyn to spend the summer with their grandmother in Barbados. The book beautifully captures the small village that the sisters suddenly find themselves a part of, and the intricacies of family and growing up.
This middle grade novel about the big, loud and loving Vanderbeeker family is full of so much heart and joy. The Vanderbeekers have always lived in their beloved brownstone on 141st street, so when their landlord decides not to renew their lease, the five siblings must come up with a plan (in only eleven days!) to stay in their home and convince their grumpy landlord just how fabulous they are.
When you're in the mood for a bit of magic:
The Broken Earth series is hands-down one of the best fantasy/science fiction series I've ever read. The world-building is perfect and the characters are full of a depth and complexity that is rare even in realistic fiction. There is so much rich emotional material in these books, but the plot is also imaginative and full of creative twists and turns. Robin Miles brings this incredible world and its characters to life with an astounding range of voices and accents. I could listen to her read these books forever.
This novel is full of what I love most about science fiction—dystopian elements, fascinating AI and genetically altered humans, complex characters, and that creative overlap between magic and science. It's about Phoenix, a woman raised alongside other genetic experiments. She's two years old, but she has the mind and body of an adult. When a tragic event causes her to rethink everything she knows about the place she was raised, she begins to plan an escape—which, in turn, changes her life, and the world itself.
Midnight Robber, part science fiction, part fantasy, begins on the Caribbean-colonized planet of Toussaint during Carnival. Tan-Tan has always enjoyed donning the costume of the Robber Queen at Carnival—until a crime her father commits gets them both entangled in a dangerous new world, full of mythological beasts and human outcasts.
When You're in the Mood to Read About Awesome Historical Women:
This work of historical fiction looks at the life of Frederick Douglass—but through the eyes of the women who were important to him. But it's not only a novel about Douglass himself and the role his wife and mistress played in his life, but about the lives of these women in their own right.
Benjamin Franklin is one of the most famous figures in American history, but the life of his sister, Jane, has been largely forgotten. Drawing on their extensive correspondence, as well as a slew of other documents and objets, Jill Lepore has woven a fascinating history of a little-known woman. Jane Franklin was political and observant, an avid reader and talented writer. This book illuminates her extraordinary life, and reveals the holes that often exist in historical narratives that are only told from one perspective.
When you're in the mood for true crime:
This book examines a whole lot of big issues—the juvenile justice system, race, gender, and sexuality, and the ways that various identities intersect when it comes to how we view (and persecute) crime. The lives of two teenagers were forever changed one day on the 57 bus in Oakland: Sasha, who is white and gender nonconforming, and Richard, a sixteen-year-old black boy. Richard held a lighter to Sasha's skirt; they suffered severe burns and Richard was charged with a hate crime. The story that follows is one about the aftermath of this act. Slater writes with deep compassion for both teens, highlighting the fact that most such stories are not just two-sided, but multi-sided.