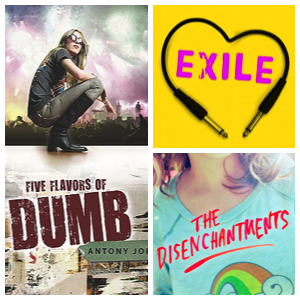 From Road Trips to Pop Punk Hits: Eight Young Adult Novels That Rock
This content contains affiliate links. When you buy through these links, we may earn an affiliate commission.
If I'm reading a book and the story gets me in the mood to listen to… oh I don't know, The Format and New Found Glory… well, that book is a good book in my, er, book. At 31, I'm one of those scene kids who never quite grew up, still rambling about seeing Saves the Day in a church basement or Brand New at a VFW Hall.
I totally did, you guys. Seriously.
After reading Kevin Emerson's excellent Exile, a novel about a girl that wants to (and does) manage rock bands, I started thinking about books that talk about indie bands, punk rock shows, and touring in small, cramped vans.
So go ahead and open your to-read list, add these, and get to work on your next Spotify playlist.
Exile (Kevin Emerson): See above!
And apparently the audiobook version of this novel features original songs from inside the book? What an awesome perk.
You can also download these off the author's website.
The Vinyl Princess (Yvonne Prinz): A protagonist who's a blogger and publishes zines? Just like that, I'm teleported back to high school.
Download the Empire Records soundtrack and give this book a read. As a massive Nick Hornby / High Fidelity fanboy, this is a great YA companion.
The Disenchantments (Nina LaCour): Road trips! Music! Touring! Complicated friendships! LaCour's novel introduces readers to The Disenchantments, a band hitting the road right out of high school. It's a heartbreaking, lovely book about chasing dreams and growing up, and it will make you want to hug the narrator again and again. Also, you'll want to listen to some Heart.
On an unrelated note, who does LaCour's covers? Because seriously all of her covers are just gorgeous.
Audrey, Wait! (Robin Benway): What happens when you break up with the singer of a small rock band, and then find yourself the subject of a massively popular hit single? This.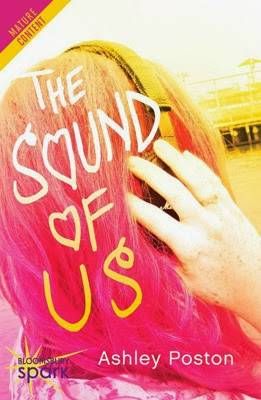 The Sound Of Us (Ashley Poston): Junie, the owner of a failing dive bar, loathes pop music. Especially a group called Roman Holiday, who currently have a nation of fans mourning their breakup. And surprise! She meets the lead singer, sparks fly, and a charming, funny story unravels.
Amplified (Tara Kelly): With a wealthy cardiologist father, Amplified's protagonist, Jasmine, is definitely a young girl of means with a promising college career ahead of her. But, she doesn't want what's been placed out in front of her, and drives off to pursue her dreams of playing in a band.
YA and rock music is an ongoing theme in Tara Kelly's books. Scope out Harmonic Feedback as well.
Five Flavors Of Dumb (Antony John): A teenager seeks to wrangle up a rock band, with the promise of becoming their manager and sharing their profits. The issue? She's deaf.
The book is a fun, unique ride through the world of rock and roll.
So Punk Rock (And Other Ways To Disappoint Your Mother) (Micol Ostow): I freaking love the title of this book. Haven't read this one yet, but it is definitely on my to-read list. Especially since the jacket copy talks about ska.
I'm going to have to pick-it-up pick-it-up pick-it-up… ugh. I'm sorry.
—
What are some of your favorite music-heavy YA books?
____________________
Expand your literary horizons with New Books!, a weekly newsletter spotlighting 3-5 exciting new releases, hand-picked by our very own Liberty Hardy. Sign up now!