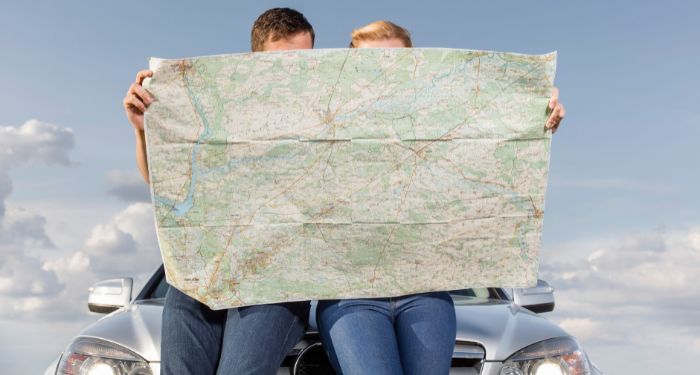 This content contains affiliate links. When you buy through these links, we may earn an affiliate commission.
There's something so romantic about road trips. There's so much potential romance fodder. Two people alone in a car for hours, beautiful scenery changing outside (perhaps even as the character's hearts change), tensions inevitably escalating over the course of the trip. Then there's a disagreement about the playlist or snack choices or which route to take that pushes one person too far and the conflict explodes all over the inside of the windshield and even gets stuck in the cup holders. But there's nowhere for the characters to go in this middle place. They aren't home, they're not at their destination yet, so the only choice is to deal with the messy emotions before the journey ends.
Just like when they have to unexpectedly make an overnight pit stop, the only choice is to share the last remaining bed the motel/inn/bed and breakfast has. It's just good sense, as Sarah MacLean says. The forced proximity makes tough emotions that have been buried surface in an expedited way that not much else can.
Road trip romances put the main characters in a pressure cooker. There's a firm end to this arrangement, and if they don't figure out their feelings by the time they get where they are going, it might be too late.
---
If you're looking for even more road trip and travel recommendations to keep you company on all your long trips this summer, you should check out 8 romantic YA road trip stories and 9 feel good road trip books.