Censorship
Rising to the Challenge: How The Book Internet Delivered Books to Teens
Earlier this summer, we talked about a book challenge that took place at West Ashley High School in Charleston, South Carolina. Though it wasn't the first nor will it be the last book challenge we talk about here, this one hit me in a way that others I've read about or experienced hadn't: Some Girls Are by Courtney Summers is a book about bullying, about girl-on-girl violence, and about sexual violence. It's the kind of book that teens — especially teen girls — would benefit from picking up, reading, and more, talking about during their first classes in their first year in high school. The book was not an assigned title, but rather, it was one of the choices the teens could pick to read. No one forced them to read it. Leila's post above, as well as this piece from the National Coalition Against Censorship, break down the pieces of how one upset parent forced the hand of the school to ignore their own challenge policy and remove the title from the list.
I'm a former teen librarian, and over the course of my career, I had two parents bring issues to me with materials available in the library. In one instance, a parent was upset that her 12-year-old was listening to a book where the main character's father was a playboy father and called it completely and utterly inappropriate for her child. In response, I wrote that parent a letter and agreed with her: perhaps it was inappropriate for her child. But my responsibility as a teen librarian is to serve the diverse array of readers using the public collection, not to parent her child. I would be doing nothing about the book.
In the second instance, an award-winning and well-revered graphic novel was returned with a letter from a parent to my library director. This parent felt that the book's manner of referencing a character's erection was completely inappropriate for a fourth grader. Because this letter left me speechless, I kept a copy of it. Here it is:
I recently was alerted to a book by my 10-year-old daughter that is extremely inappropriate for the target age it was published for.

The first 1/4 or so of the book makes continual reference to the young superhero's public humiliation via an erection that showed through his tights, as a result of his attraction to a girl.

It's not just a mention — it's a glorification of it over and over.

I can't imagine that this has a place in the children's section, or that young adults would be interested as the cover seems juvenile.

Please consider discarding this book permanently — I'm all for honesty and kids have info about sexuality — but in a responsible manner. This is not it! Thanks so much for your attention.
The juvenile cover of the book was because it's a juvenile book. The publisher's recommended age range for the book is 8 and older, thus it was shelved in the juvenile section. Please note the language of the letter: the parent requested the book be discarded permanently because her 10 year old was introduced to what happens when someone's body does something it naturally does in an age appropriate manner.
My boss, rather than having my back on this, suggested I listen to the letter and pull the book from shelves all together. I told her she was wrong, and I put the book back into the juvenile section.
It is not, nor will it ever be, one parent's duty to parent for the entirety of a group of children. Their job is to watch their child an their child alone. In the instance of Some Girls Are, one parent managed to get a book pulled as an option from a list because she felt it was "smut." Where it would make sense to tell her child to instead read a different book, she could find no peace in that. She wanted this book removed as an option for all readers.
I've been out of libraries now for over a year, but I remain as dedicated as ever to teenagers and their rights. They are already subject to so much contempt culturally, and in all of my experiences, the bulk of teenagers are amazing human beings. They're wild, awkward, funny, and even when it doesn't seem to be the case, they really are interested in earning your adult approval. Teens face enough barriers every day, and to have a book that so carefully explores these barriers and so thoughtfully says I see you and I recognize how hard it is to be you, pulled from their hands — I fumbled mentally for what I could do to make some kind of difference for these kids. I'm privileged to have a platform here on Book Riot, as well as on my personal blog and Twitter, and because I've been outspoken and passionate about teens, libraries, and intellectual freedom, I had an idea. I could send down a box of 15 or 20 copies of the book for some of the kids who wanted to get the book to pick up a copy for free to keep.
As my gears began turning, I thought about the public library and wondered if I knew someone down there. Andria Amaral's name stood out in my head after what she and her library said and did following the tragic loss of their coworker Cynthia Graham Hurd in the Charleston shooting.
I picked up the phone, called her, and asked if she'd be up for trying something out. Without hesitation, Andria was in.
On July 30, I put out a call to my readers at STACKED, asking if they'd be willing to donate a copy or two of the book. The book was available for $1 at Book Outlet, and I said I'd be happy to send any amount of books down there on my own dollar. Andria would receive them all, then she'd distribute to the teens.
The response was phenomenal: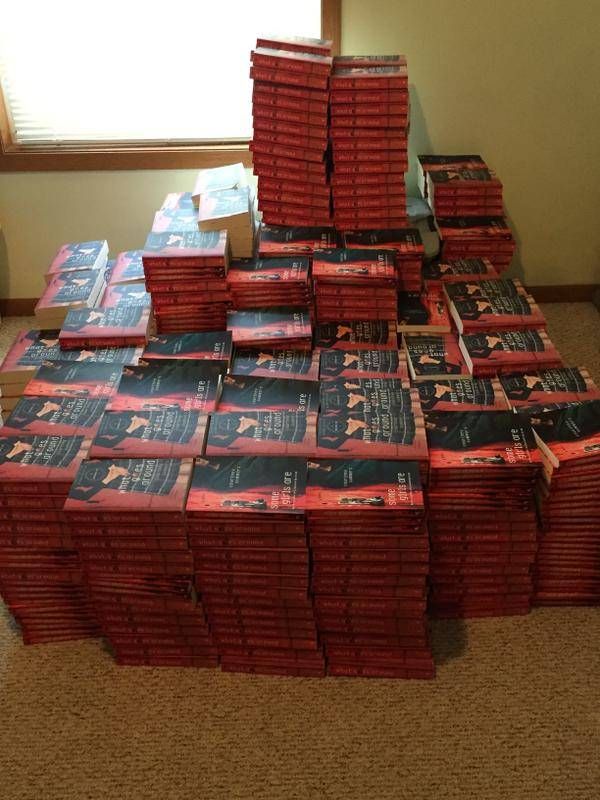 Books began rolling into my house by the box. I took daily trips to the post office, where they tossed my mail into a laundry-style cart and rolled it out to the loading deck for me to pop into my car.
Over 830 copies of Some Girls Are (which is also part of a bind-up called What Goes Around, thus explaining the two different titles here) piled up in my guest bedroom. I suddenly realized that my ability to pay shipping for the books may be out of reach.
So I put out another call, asking if anyone would be interested in helping with shipping costs. I could box them, tape them up, address them, and cover a chunk of mailing costs.
Over $600 poured into my Paypal account from those who donated anything they could to help the cause.
I labeled, taped, and numbered 32 boxes and shipped them down to Charleston over the course of four days in August. The boxes were between 20 and 45 pounds each, and thanks to improved methods of media mail shipping, I felt comfortable going the cheapest route sending them down. It came out to a little over $500 for the books to be sent down.
With the leftover donation money, I purchased 100 additional copies of the book and sent them directly to Andria.
One of the things brought up while planning this out was the inclusion of a letter that could be printed and included in each of the books, explaining what was going on. Andria suggested I write something — why I wanted to do this and how I did it — but I immediately suggested instead of some stranger telling these teens their stories and lives matter, why don't I get the author to do something?
Courtney Summers penned this beautiful message, which was printed and included in each copy of the book:
When I found out Some Girls Are was removed as a title for West Ashley High's summer reading program following the complaints of one parent, I was saddened and disappointed. One of the reasons I write my novels is so that teenagers living the harsh realities depicted in them will read them and feel less alone. We don't protect teens by censoring their reality and in doing so, we often deny them a lifeline. Books provide us with the opportunity to empower teens by letting them have a say and a choice in what is relevant to their lives.

I'm deeply grateful to Andria Amaral of Charleston County Public Library, Kelly Jensen of Stacked Books, and the countless people who donated copies of Some Girls Are for giving that say and that choice, back to you, the students of West Ashley High.
Books began rolling into Andria's office, where she's distributing copies at the main library, two branch libraries near the school, as well as library outreach events around the city. The photos really tell the story: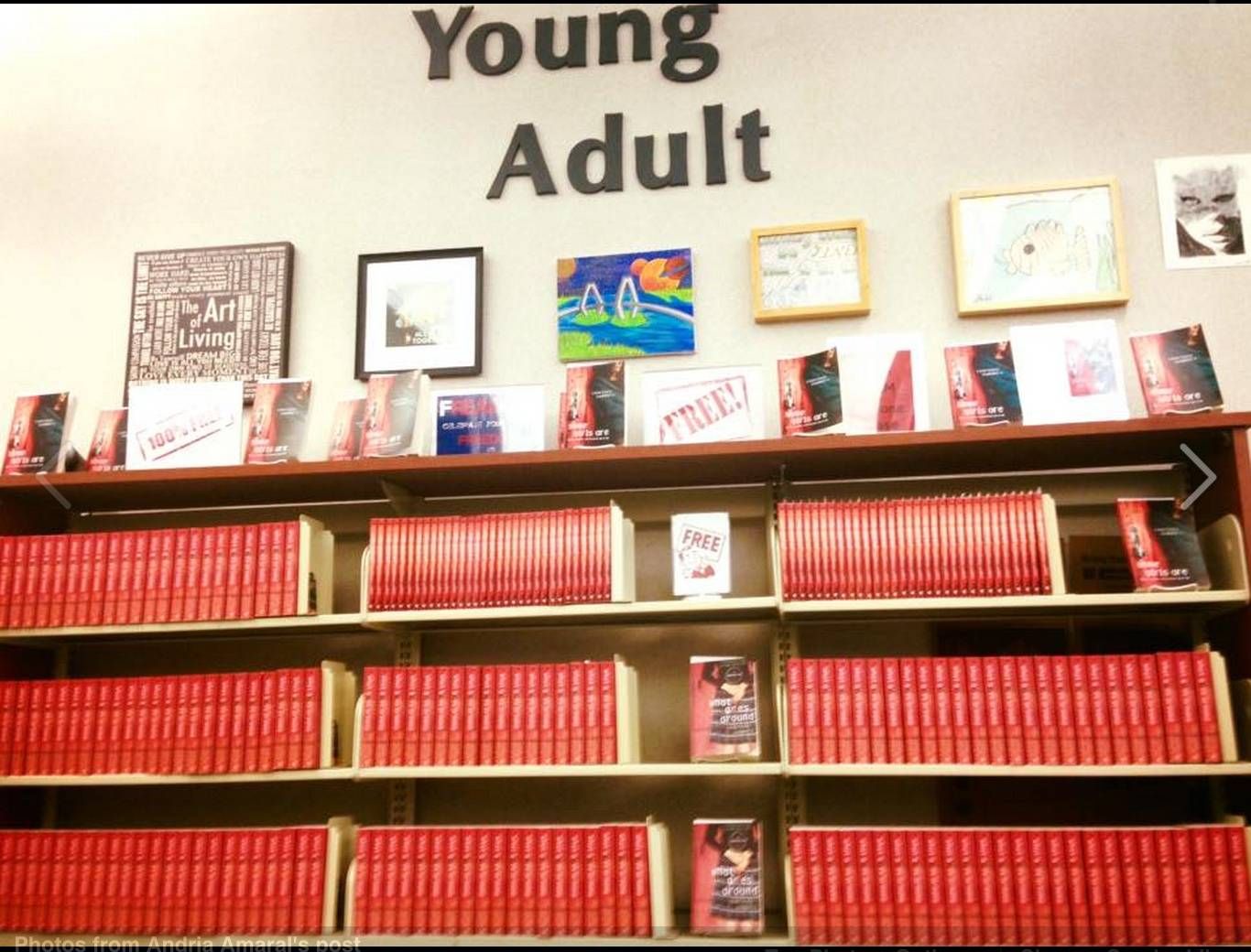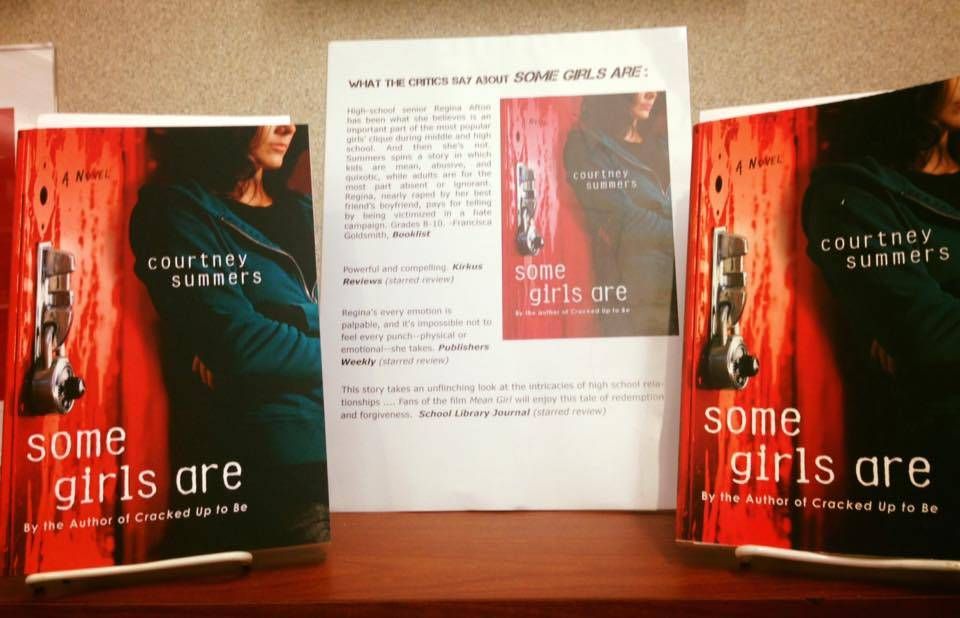 While the images here are outstanding — to see that many books, ALL donated from the generosity of those on the bookish internet — the real money shots are these:
The image of teenagers being able to pick up this book, read it, and decide for themselves how they think — it's powerful. And I can only imagine how excited they are when they learn that they not only get to read the book, but they get to keep it.
This donation drive had an incredible, generous response. But the thing that hits my heart the hardest, and the reason it was totally worthwhile, is that it shows teenagers that there are people out there, in their very own community, who care about them, who care about their voices, and who want to make sure they acquire the skills and tools to think and make choices for themselves.
What a powerful gift to get.
I wanted to end this post with a huge thank you to those who helped out by donation to the cause or sharing it. But more, I wanted to end it with an incredibly hopeful ending: the Charleston County Schools had hired a new superintendent while this was happening, and the initial decision by the principal was knee-jerk. The new administration has formed a committee and will be revisiting the decision made over this according to their policies later this month. Their goal is to resolve this via the policy they have in place and ensure that this sort of decision making doesn't happen outside the proper channels again.
Now we wait and hope they decide to give teens their freedom to choose.