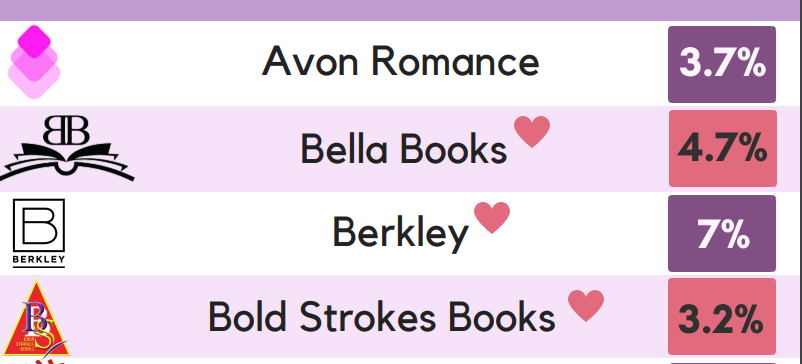 News
The Ripped Bodice's 2017 Diversity in Romance Report
The Ripped Bodice in Culver City, California, is the only romance-only brick and mortar bookstore in the United States. Owner-sisters Bea and Leah Koch will celebrate the store's two-year anniversary on Sunday. I visited recently and the store is absolutely delightful, with a wide variety of books on offer ranging from feminist children's books to the latest big name romance, with a used books room full of classics. They sell gifts made by local artists and the environment is warm and inviting. Also they have the best shop dog in the business.
Bea and Leah are also taking on the romance publishing industry by publishing a yearly report on the state of racial diversity in romance, focusing on authors. They would be the first to say that racial diversity is not the only kind of diversity that matters, but it's where they chose to start and their reports—in my opinion—do not make publishers look great.
We reported on last year's report here, and Jess and Trisha also discussed it on this week's When In Romance. Out this morning, this year's report (PDF) shows a decline in percentage of books by AOC (authors of color), and notes that the response from publishers has largely been silence, with a side of deflection. The Koch sisters firmly believe that this is an issue that must be addressed by the gatekeepers—the publishers themselves—and is not (fully) the responsibility of readers and authors themselves, as some publishers have implied or outright stated.
Only Crimson Romance (Simon and Schuster), whose percentage of titles by AOC shot up from 12.2 to 29.3, published a percentage of books by AOC that is anywhere close to accurately reflecting the world we live in (the USA is approximately 40% POC, according to the 2016 U.S. Census). Several other publishers' percentages of AOC also grew, though none by anywhere near as much; about half of publishers' percentages dropped or stayed the same (including one with 0% AOC), and the overall trend was a drop in the percentage of AOC, from 7.8 to 6.2,despite a 5.5% increase in total romance titles.
In addition to reporting numbers, the Report addresses several excuses given for the lack of racial diversity, and delivers this stunner:
60% of The Ripped Bodice's 2017 bestsellers are written by authors of color.
More of the only brick and mortar romance bookstore in America's top-selling books are by authors of color than are by white authors. It's time for publishers to start listening and take action.
View the entire report, in a lovely graphic, here.