Lists
Rioters' First Doorstopper Books
This content contains affiliate links. When you buy through these links, we may earn an affiliate commission.
I recently finished watching A Discovery Of Witches—witches! vampires! demons!—which I absolutely was obsessed with, so naturally I immediately asked fellow Rioters if Deborah Harkness's trilogy was a must-read. One comment involved not having finished yet because one book was a doorstopper (ya know, a book so big it can be used as a doorstopper!) and I thought, "Aw well, I'll just keep on with the series." But that thought bothered me. Why did I care how many pages were in a book when I clearly already loved the story and characters? I don't have any negative memories of reading doorstoppers, my first having been Circle Of Friends by Maeve Binchy, which I read half of while floating in an inner tube in a lake in high school. As I kept trying to figure out why I was avoiding doorstoppers—spoiler, it turns out I cared more about how many books I could read in that time, like count mattered more—I went back to my fellow Rioters with another question. What was your first doorstopper read? Because surely this would inspire me to stop being ridiculous about number of pages and just read. (Place your bets now on how many were by Stephen King.)
I read the unabridged version when I was fourteen. Why? Firstly, I was in a musical theatre production that had a Les Mis medley number. It became a challenge amongst the cast to see who could read the whole book first. Secondly, I also had my first major knee surgery around the same time which left me with a lot of down time for reading. Do I remember any of the book? No, absolutely not. I was on pain medication when I read it. I do however, still remember the entire medley by heart.
—Courtney Rodgers
I was farrrrr too young to read The Stand when I did. Luckily, most of the R-rated content went over my head as I focused on the epidemic and the travels of the various characters. But I must admit, one of the main reasons I attempted this book at the age I did was simply for bragging rights. I've since read it several more times and while I now get all the sex stuff, it's definitely still a book that you don't want to fall asleep and drop on your face.
—Elizabeth Allen
I'm pretty sure I read this one as a tween because someone told me I was supposed to. I remember thinking it was all very romantic and tragic and that a good number of men were trash. One of those things is still true, as was reinforced when I voluntarily read Jane Austen a few years later.
—S.W. Sondheimer
My brother and dad were BOTH reading this behemoth of a book, and they could not stop talking about it, so I demanded to borrow the copy of whoever finished first. I had never tackled anything quite that large, and it was my very first Stephen King book, and I was FURIOUS when I finished it. I don't remember exactly why, only that I had invested so much time and emotional work to the characters and storyline, and…something happened in the end (that I've now tragically forgotten)? I tried to watch the television series, but all the characters in the book were on the wrong side of the dome when it started, and I got mad I wasn't going to be watching my favorites. I'm still scared to pick up books that long—mostly because I don't want to be mad at it by the end or forget what happened in the beginning.
—Cassie Gutman
I still laugh when I think about my first encounter with The Iliad. My dad and I had just seen the movie Troy (2004), and I remember being unhappy about the fate of my favorite character, Hector, and making my feelings known to my parents. My mom let me know what the movie was actually based upon a book, which I dove straight into, hoping that maybe it ended differently. I was too young to read it, because I remember being bored out of my mind at times (so I was clearly not impressed by the violence and missed a lot of the subtext). To top it all, I was disappointed to find out ended basically the same way. Well, since then, I reread it every few years, and have been enjoying a few of its retellings as well, so there was a silver lining, despite what happened to Hector.
—Blaga Atanassova
Maia by Richard Adams
At around 13, I decided I needed to read a book over 1,000 pages. This was one of my adult goals. Real adults read real big books. If I wanted to be a grownup, I needed to up my reading game. And I knew I could do it. I'd already read Rebecca, Little Women, and Jane Eyre by that point, as well as many Stephen King novels. But none had hit that 1,000+ page mark. So I explored my parent's shelves and came up with a couple of options. My first attempt was with War and Peace. I couldn't make it to the end. My second and successful attempt was with Maia by Richard Adams. You probably know Richard Adams from Watership Down, and I had also already read that book. But my child brain rarely noticed authors, a phenomenon I find bewildering now. So I'm not sure I actually realized I'd already read books by Richard Adams. At 1,062 pages, this hardback was often literally used to hold doors open in our house and to flatten out crinkled homework. It's also a fantasy novel with a teenage girl protagonist, so it appealed. It's the second book in a series, and while I did later read book 1, Shardik (a measly 604 pages), I didn't read them in order. I made up for it by rereading Maia several times, despite (or maybe even because of) its length. I enjoyed it, but I hesitate to give it a recommendation since I haven't read it in 20 years and while I still remember basic plot points, I don't remember anything about the quality of writing or whether it's sexist.
—Margaret Kingsbury
When I was 12, I decided I needed to read this book primarily because I adored the movie, and thought it would be fun to try to read a book this long. I found a few copies that were in the 700 pages range, but all of them said that they were "abridged" and I figured if I was going to read a 700 page book already I might as well read the "real" version. I think I finally made my local Barnes and Noble order the full length version for me. When it arrived, it was over 1300 pages. I was slightly regretting this decision, but was too proud to admit I was intimidated. I carried this book around for at least a month, slogging my way through. The book was punctuated by truly engaging, beautiful writing and thrilling scenes, followed by pages and pages of long descriptions. I did really enjoy parts of it, but I was beginning to understand why the abridged version was the one most bookstores sold—this book did truly need some editing. Finishing this book was one of my proudest moments and a huge weight (literally) off my shoulders.
—Katherine Packer
It by Stephen King
When I was in high school, I read the Harry Potter books and ONLY the Harry Potter books. I've always been weirdly single-minded about my entertainment. While waiting for new installments from Rowling, I used reading almost like I use ASMR now—not necessarily reading for content, but as a kind of therapy. I'd pick up anything sitting around and use it to give my brain a break from theater, homework, younger siblings, and everything my sophomore self found stressful. I read a ton of my mom's Mary Higgins Clark paperbacks, back issues of Reader's Digest, and, after a random trip to my stepfather's bookshelves, the unabridged version of It. I was fifteen, and it was a huge mistake. I somehow slogged through all of it, even the weird child-porn section at the end, which I completely convinced myself was a figment of my imagination, because we wouldn't all be celebrating a book that had THAT in it, would we? I feel weird about horror to this day and slept in my sister's bed until I went to college two years later.
—Ashlie Swicker
---
And if all this doorstopper book talk has left you craving a big read, here's a bunch of great ones to choose from: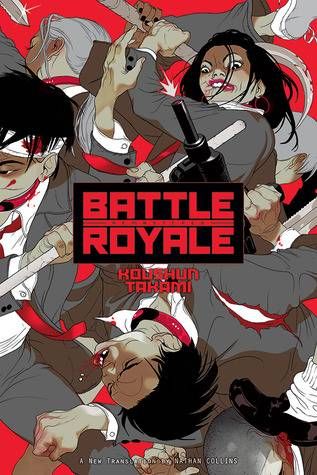 For fans of dystopian, thriller, horror: Battle Royale by Koushun Takami,Yuji Oniki (Translator)
For fantasy fans: Black Leopard, Red Wolf (The Dark Star Trilogy #1) by Marlon James
For fans of literary fiction: A Little Life by Hanya Yanagihara
For fans of historical fiction and classic remakes: A True Novel by Minae Mizumura, Juliet Winters Carpenter (translator)
For fans of nonfiction: Stamped from the Beginning: The Definitive History of Racist Ideas in America by Ibram X. Kendi
For fans of police procedurals: Sacred Games by Vikram Chandra