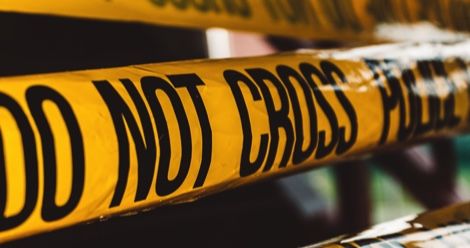 Lists
Rioters' Favorite Mysteries, Thrillers, And True Crime of 2018
This content contains affiliate links. When you buy through these links, we may earn an affiliate commission.
It's beginning to look a lot like Best Of season
Lists on every site
But the prettiest sight to see is the fictional crime that will be…
Okay, I got a little carried away there, but it's time to round up the best mystery, thrillers, and true crime of 2018, so I asked my fellow Rioters to tell me their favorites. This was a selfish request because I could not pick a top ten—I write the Unusual Suspects newsletter and I read like 200 crime books this year so this was not an easy task! So if you're looking for murderous, or criminal, or heart pounding books, here are Rioters' favorite mysteries, thrillers, and true crime of 2018—I finished off with some of my favorites that weren't already mentioned.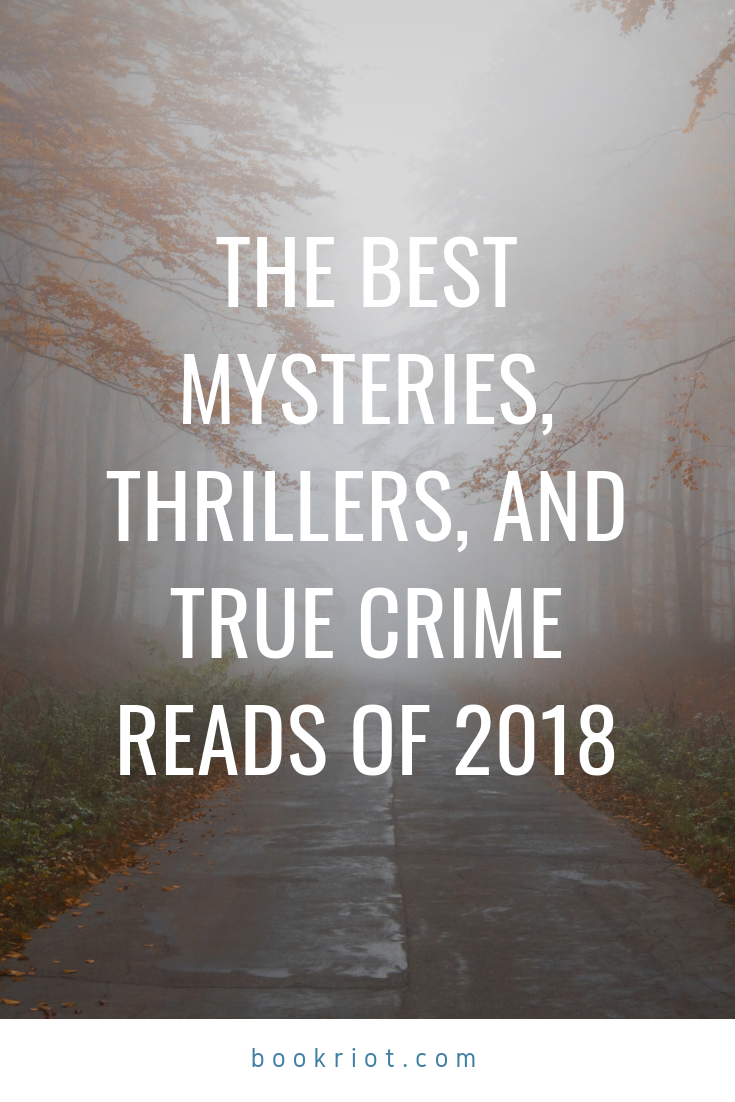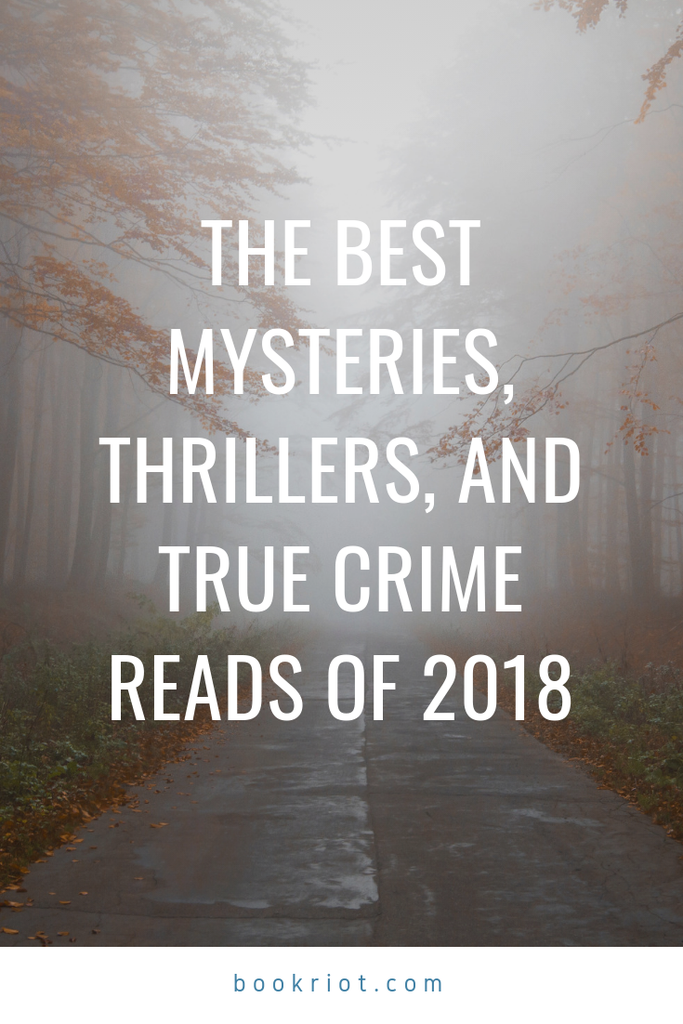 This book was so good I read the entire thing in one day, and not just any day, but a work day. Coming in at a slim 240, this book packs a punch as it is more than just a crime novel. Korede is the sister who is often ignored and has to clean up after her beautiful, attention-grabbing sister Ayoola after she ends up murdering her last three boyfriends. The characters are morally gray and the story explores the way that women are treated and viewed by society, complicated familial relationships and so much more. If the cover itself doesn't catch your eye (which how could it not), trust me when I say that this book needs to be on your list.
—Rincey Abraham
What a book!! Even better than the first in this mystery series, which I also thought was great. I loved everything about it! Okay but seriously PI Roxane Weary is definitely one of my favourite fictional characters now. I also loved the complex characterization of her on-again off-again girlfriend Catherine, her (sort of?) ex Tom, a queer teen girl befriended in book 1, and all the secondary characters. This detective plot was complicated, layered, and a little hard for me to keep track of at times—keeping me on my toes! Murder and fraud! I recently wrote an article listing queer fictional book characters I wanted to date, and I am kicking myself for not including Roxane. What was I thinking!? She'll have to go on the next list.
—Casey Stepaniuk
True crime doesn't get any truer than this. Michelle McNamara's "obsessive" examination of the crimes of the Golden State Killer are parsed with her personal reflections and diary-like writings, as she set out to dig into these decades-old murders. What makes this creepy (seriously, you'll never look at backyards and hedgerows the same way) book all the more poignant is the fact that McNamara never got to see it published. The last piece of the book was compiled by her partners in crime research after her untimely death in 2016 from an accidental drug overdose. She also never got to see the conclusion of the mystery that had dogged her adult life: the arrest of the alleged Golden State Killer, Joseph James DeAngelo, in April 2018, just two months after the publication of her book.
—Rachel Manwill
The second book in Garrett's Detective by Day series finds Dayna Anderson in the big glittery middle of Hollywood awards season. When a celebrity publicist gets offed, Dayna thinks she has a bead on the killer. Fortunately for us, the twists in this mystery come about as often as the laughs. The first book in this series (Hollywood Homicide) picked up multiple mystery debut awards: an Agatha, an Anthony, a Lefty, and an IPPY. And book two is even better.
—Matt Coleman
In the late 2000s, Theranos was an ambitious medical technology startup company, run by Elizabeth Holmes, who many believed was positioned to become the next (female) Steve Jobs. Theranos had an innovative new product that allowed doctors and medical companies to screen for a variety of diseases using just a drop or two of a patient's blood, which would have changed the face of blood testing, medical technology, and medicine itself. Except it was too good to be true. Theranos was built around grandiose ideas, lies, ill-advised shortcuts, and underhanded tactics, and in the center of it was Elizabeth Holmes, who created a company built around secrets, fear, and more lies. This book, written by the Wall Street Journal reporter who broke the story about Theranos, reads like a medical techno thriller, except it's completely true. Even if you have no background or interest in medicine, technology, or business, you need to read this book. It's enthralling, shocking, and impossible to put down. Hands down one of my favorite books this year.
—Katie McLain
(I co-host the Read or Dead podcast with Rincey, so I read primarily crime fiction, and I just couldn't pick between these two!)
This novel is set in 1920s Bombay, and the main character, Perveen Mistry, is based on the first practicing female lawyer in Indian. In the story, Perveen is working for her father's legal firm when she's asked to help settle the terms of an unusual will, where the wives of a wealthy Muslim business owner have donated all of their inheritance to charity. However, Perveen quickly suspects that these women are being taken advantage of, and when tensions lead to murder, Perveen realizes she must get to the bottom of this mystery. Perveen is an amazing character who focuses her energy on fighting for women's rights while navigating the difficult cultural barriers as an educated, independent woman. It's such an empowering, fascinating read!
—Katie McLain
Cora is a grave robber in 1850s New York, skilled at acquiring abnormal corpses for anatomists and for museums that cater to the curious public. For years, there have been rumors of a girl in Manhattan born with two hearts, and high prizes offered for anyone who can obtain her body. Cora's secret? She's that girl. And if her competitors find out, they may become her murderers. Lydia Kang does historical mystery so well, and I was onboard for every twist and turn in this action-packed rollercoaster of a book.
—Susie Dumond
Simply put, you could say this book is about the case of some kid who stole a bunch of feathers from an outpost of the Natural History Museum of London in 2009. But in reality, it is so much more complicated, not to mention absolutely captivating. Throughout author Kirk Wallace Johnson's investigation of the case, we learn about the thief Edwin Rist and his obsession with Victorian salmon fly-tying, the international community of fly-tiers he won over and later deceived, the devastating loss of natural history data he caused, and the mad search for any remainder of the 299 rare bird skins he stole. I could not put this book down. I was completely shocked and fascinated every step of the way.
—Patricia Thang
Sadie by Courtney Summers
Sadie is, in a way, two books. The dual narrative of Sadie herself, hellbent for revenge, and The Girls, the podcast that is looking for Sadie, creates two separate worlds. One in which we know what Sadie is doing, and one in which we are trying to find out. Courtney Summers didn't have to prove that she is one of the most skillful writers currently working, but she did it anyway. This is not a book for the tenderhearted; it nearly destroyed me.
—Annika Barranti Klein
I have read and enjoyed all of Ruth Ware's books. My reigning favourite was The Lying Game because I love a good, quiet, character driven mystery. That one, however, has been unseated by The Death of Mrs. Westaway. A decidedly gothic tale, the story involves an orphan, an inheritance, a creepy old mansion, tarot, and mistaken identity. It's incredibly atmospheric, with Trepassen House as seemingly its own character. It's eerie, gothic, glorious perfection.
—Beth O'Brien
Sherry Thomas wows me every time I pick up one of her Lady Sherlock books. I want to know how long she has been planning it out and just what kind of visual crime scene–red string–photo board was going on. Thomas picks apart the threads of the Sherlock stories, weaving them back together so that Sherlock becomes Charlotte Holmes. Charlotte is a bright and blunt young woman who doesn't fit into Victorian society's rules, so she becomes financially independent by posing as a private detective. The Sherlock characters are masked, gender bent, and some are split into multiple characters. In this installment, Lady Ingram continues to sow discord among Charlotte's world when her body is discovered in Lord Ingram's estate. We finally get a bit of Bernadine, which was lovely, though my heart was in my throat. Livia learns more about her mysterious beau, and gets brought into the action a little more. And Charlotte is, as ever, Charlotte. Except when she's Sherlock. Or Sherringford.
—Aimee Miles
The Ruin by Dervla McTiernan
The Ruin is Dervla McTiernan's debut novel, and it definitely got me through my mystery reading slump, when all I wanted to do was read the new Jane Harper, Robert Galbraith, and Tana French novels already. It's an interesting mash-up of family mystery and procedural, hopping back and forth between Aisling, whose boyfriend Jack has just died by apparent suicide (which she disputes), and Cormac Reilly, the detective assigned to look into the cold case of Jack's mother's death and his sister's disappearance twenty years earlier. It's described as small town Irish noir, which is totally apt—the two mysteries and narratives twine together in a really intriguing way. I really like Cormac as well, and I'm so excited to follow him in McTiernan's second novel, The Scholar, out in 2019!
—Tirzah Price
I don't read a ton of thrillers, but this one was all over British publishing social media and it caught my eye, and I'm so glad it did! I knew as soon as I read it back in January that it would be my favourite book of the year, and that's held true. It's about an MP who is accused of sexually assaulting one of his staff, and it's told from the point of view of both his wife and the barrister who is prosecuting him. It's so well written, so well observed, so timely and it's a scathing indictment of the ruling classes – which is always cathartic.
—Claire Handscombe
I loved loved this book. When I finished, I was angry because there was no more and I hadn't written it myself. The basic premise is that a man walks up with no memory of the day before. He doesn't know who he is or what is going on. He finds out that he has to solve the future murder of Evelyn Hardcastle. He will wake up each day as a different person on the same day to try to save her. Clever as anything, brilliantly written, this is my top pick for 2018.
—Elisa Shoenberger
And here are my favorites that didn't already get love above:
Death Notice by Zhou Haohui, Zac Haluza (Translator)
The BBC show Killing Eve left me craving more cat-and-mouse thrillers and while this book isn't like Killing Eve, it 100% satisfied my craving for more chase. Eumenides (or so he calls himself) is a vigilante out to make sure those who have escaped punishment get what they deserve—according to him. The police are frantically trying to stop his next act, which he's stated in his death notice, but Eumenides seems to always stay one step ahead as he toys with the police… An excellent balance of mystery, action, thrills, tension, and twists!
A Dangerous Crossing (Rachel Getty & Esa Khattak #4) by Ausma Zehanat Khan
I love this series which follows a pair of Canadian detectives who work on sensitive cases. I've really enjoyed following Getty and Khattak, and seeing them grow as people, but my favorite thing is that the series takes me around the world focusing on important current social issues. This time around Getty and Khattak are looking into the disappearance of a friend's sister who vanished while helping Syrian refugees in Greece. They're not sure if the discovery of a dead body means she was involved in the murder? In hiding? Or also dead?…Highly recommend for fans of procedurals who like character driven novels and a focus on current social issues.
This is French's first standalone—although I argue her Dublin Murder squad series can be read as standalones—and of course she knocked it out of the park because French is one of our best crime writers. She has written a brilliant slow burn suspense novel that plunges you into the life of a young man who has never had hardship in his life and is about to…I won't say anything else about this one because watching it all unravel is just a beautiful gift I won't take away from you—just know that French is such an excellent writer that you're not going to know you're on a ride until the drop is below you.
A great mystery for my procedural loving heart that equally gave me a flawed main character to root for! DS Alexandra Cupidi is having a difficult time in life at the moment between raising a teen daughter, settling into a new job, and having her mother visiting when she gets assigned a difficult Jane Doe case. The case, and her life, are only going to get more complicated as Cupidi tries to keep her quick temper and big mouth in check, along with her inability to follow procedure to stay safe. I am very much looking forward to more books in this series!
And I'm going to finish off with the Queen of Crime—seriously, read her entire back catalog. Abbott writes girls and women with this frenzied feeling that you feel pulsing under your skin as you turn every page. I read an ARC of this in 2017—not galley bragging, just showing that even then I knew it was going to be one of my favorite mysteries of 2018. This is a suspense novel that explores secrets from the angle of, what if someone tells you a secret you didn't want? And then comes back into your life to compete for a high pressure dream job against you? Oh and the job is of course a research lab looking into PMDD (premenstrual dysphoric disorder) because Megan Abbott is brilliant.