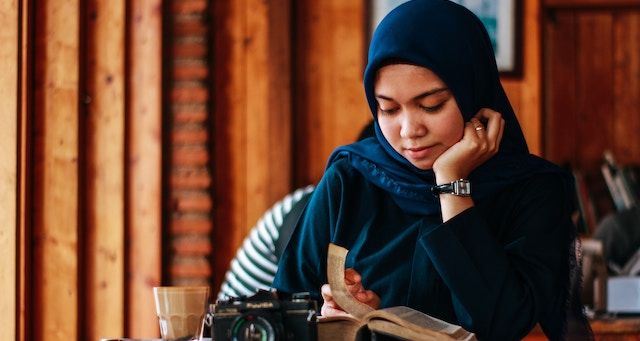 Lists
Riot Roundup: The Best Books We Read October–December 2019
This content contains affiliate links. When you buy through these links, we may earn an affiliate commission.
We asked our contributors to share the best book they read from October to December and what a list! We've got fantastic memoirs, horror, literature, short stories, thrillers, fantasy, and much, much more—there are excellent book recommendations for so many reading tastes! Some are old, some are new, and some aren't even out yet–here's looking at you 2020!
The Best Books We Read October–December 2019
Ever since reading When Dimple Met Rishi in the fall of 2016 I've continued a fall tradition of reading a galley of Menon's book that is set to publish the next year. It has become self-care. An escape at the end of the year and certainly more and more needed since 2016. This fall I read next year's delightful, enemies-to-love romcom (more annoyed-to love) 10 Things I Hate About Pinky, and once again Menon squeezed my heart as Pinky and Samir fake date only to find they may not want to pretend anymore…It also really made me laugh. And now I want a pet possum. So if you're a fan of Menon's you're going to want this the second it publishes. If you need a romcom, here you go. If you just need to escape from all the anger and hate and world fires into a world of people, certainly with problems but not set to cruelty, make yourself a little book fort and enjoy. I love that I can always count on Menon to entertain me with wonderful and lovely characters trying to figure things out while finding friendship and love along the way. Basically, 100 things I love about Menon and her characters.
—Jamie Canaves
I LIVE for a good collection of short stories, and Priya Sharma's debut collection did not disappoint. It's a haunting collection, mostly in the vein of horror and dark fantasy, that explores the macabre, birth, death, and sexuality. Some stories had that luscious creepy feel, while others were downright unsettling. The opening story, "The Crow Palace," remains my favorite for its perfect build-up; visceral scenes; the way it was at once sad, tender, and horrifying; and for an ending that left me gasping. For all you Angela Carter fans out there, make this your next read.

—Lyndsie Manusos
For someone who frequently overrides my phone's autocapitalization and autocorrect to strike just the right tone in texts and tweets, Because Internet had me feeling like a scholar. There are smiling poo emojis and "I Can Has Cheezburger" memes in the text and you can find entries for "AF", "AIM", and "doge and snek memes" in the index. Gretchen McCulloch has a master's in linguistics from McGill University and is a self-proclaimed internet linguist. In Because Internet, she traces the different generations of "internet people" based on their knowledge of and interaction with different sites and apps through the years and also touches on tone of voice, internet gestures, and internet culture. I love how language is constantly changing and we're constantly reevaluating what words mean and how they're used, and this book brought me to a whole new, nuanced level of understanding these changes. Also, I both read and listened to this book and can highly recommend the print and audio versions.
—Dana Lee
First of all, take a moment to soak in this gorgeous cover. Now, to the insides. The Crying Book is a collection of vignettes and poems and famous (or not-so-famous) literary passages about crying. Heather Christle's life is one big emotional rollercoaster—a friend has just died by suicide, she's pregnant with her first child, and the United States is under a horrifying administration—and tears are the one central, unchanging thing. Christle digs into Lachrymology, the science of tears: The body produces different types of tears to keep eyes lubricated, to flush out foreign objects, and, of course, to show emotion. They have different chemical makeups and different viscosities. She writes about the agency of crying women, shares Amazon reviews for crying baby dolls, and considers the weaponization of white tears. The Crying Book is moving, sad, powerful, beautiful little book.
—Ashley Holstrom
One afternoon, on the shoreline of a northeastern Russian peninsula, two girls go missing. But this isn't a mystery novel, nor is it a thriller. Rather, each chapter, we travel month-by-month across Kamchatka, dipping in and out of the lives of the people affected by the girls' disappearance. Each vignette could stand alone as a short story, but together, they weave together a beautiful and atmospheric picture of a Russia not often seen. All the while, the author subtly touches on social issues, such as homophobia and racism against native folks. Don't go into this book expecting a fast-paced hunt for the missing girls, because what you will find inside is a slow, melancholic burn and boy, does it pay off.
—Sophia LeFevre
(Spoilers ahead)

"Only the child was unhurt. Physically at least."
Back in the day, I read Stephen King novels like every other red-blooded American tween, but for some reason I never read or even watched
The Shining
. When I found out on Twitter that
Doctor Sleep
, the sequel to
The Shining
, was coming out as a film in October 2019, I thought, it's time for me to dive into this epic. First I read the terrifying masterpiece
The Shining
, then laughed at Jack Nicholson's one-man show performance in the movie version. Next I tackled the novel
Doctor Sleep
(I'm embarrassed to admit I didn't know it had been published in 2013). Overall, I would say that both books, especially
Doctor Sleep
, are not horror novels but psychological thrillers. King brilliantly weaves in behavior patterns, domestic abuse, and repressed issues into scary yet emotional adventures. I was relieved that in
Doctor Sleep
, adult Dan Torrance finally gets the happy ending he deserves. He bonds with his mentor Dick and builds lasting familial relationships. Although the movie version's second half disappointed me, it helped solidify an important realization:
The Shining
and
Doctor Sleep
follow the concept of the original Star Wars trilogy: father seduced by an evil force, 'no longer himself,' finally redeems himself by saving his similarly gifted son who the evil really wants. From the snippets I'd seen and heard, I'd always assumed that the fathers in both epics are fatally destroyed as traitors, but now I realize they redeemed themselves at the very end of their madness. It is an anticlimactic but more peaceful ending.
—Shireen Hakim
Time traveling geologists fight back against a group of misogynists determined to erase women's rights from the timeline in this incredible, imaginative, heartbreaking examination of progress, prejudice, and the power of friendship. At times this book was hard to read because the reality—both the similarities and differences, good and bad—was just too depressingly plausible. But there's a strong undercurrent of optimism throughout to keep the reader buoyed, and the story and the characters are just too freaking good to pass up.
—Rachel Brittain
I really loved this alternative western about five young women (teenage girls, really) escaping the "welcome house" where they are sold for men's pleasure from their 16th birthdays to their retirement at 40. On the run after one of the girls kills a "brag" in self-defense, the girls seek a legendary woman with the ability to remove their magical marks that tell the world who owns them. Naturally, the journey is not easy; they are pursued by hired guns and malicious spirits and have to trust a young man who may not be what he claims to be.
—Annika Barranti Klein
This dreamy, strange memoir is a masterpiece of genre-bending writing. Machado sets her story of a queer abusive relationship within the framework of a haunted house: each chapter is a new meditation, a new genre, that takes us through her story. It is evocative and rich. Machado's writing is at turns breathtaking, ironic, and daring; she dives into nonfiction to explore why queer abusive relationships are not discussed as much as they should be, or uses fairytale motif classifications to point out the insidious ways they manifest in our stories, our lives. The true point of genius is when Machado presents a chapter in the format of a pick-your-path novel: haunting and dark, the cycle of manipulation is stark to the reader. Machado's memoir is one of my personal best books of this entire decade, and affected me deeply on every page.
—Leah Rachel von Essen
What a story! This thriller/mystery kept me on the edge of my seat. Jasmine Benavides, aka Jazz, has tried everything to no avail—through the proper channels of police, child protection, etc.—to help her younger brother, living with an abusive foster/adoptive mother Carol who withholds his diabetes medication. A mysterious organization contacts Jazz and promises a "permanent" solution to Carol. The catch? For someone else to take care of Carol, she has to kill someone else's "Carol." Relentless pacing, great flawed characters. Loved the lesbian and bisexual representation and the focus on working class East LA with a noticeable attempt to not pretend there isn't a substantial homeless population in the city.
—Casey Stepaniuk
In the midst of all the #MeToo stories we've been seeing, I don't know that any other book so perfectly conveys the physical and emotional toll the criminal justice process can take on someone who has been sexually assaulted. Miller's memoir is the perfect response to all the misguided questions people have about victims of assault, and about whether and when they choose to report. Her generosity and courage in sharing this story is mind-blowing.
—Steph Auteri
Sometimes a book is so good, it is difficult to come up with the words to describe how good of a read it is. That is exactly how I felt after reading Little Fires Everywhere. I can't even form sentences worthy enough to describe how Celeste Ng masterfully wove the complexity of race, motherhood, and class into a story of a seemingly simple suburban life. I also loved that the book's ending left me satisfied, yet hungry for more story. I still want to know the next steps for The Richardson Family and where Mia and Pearl stopped next, but I enjoyed the open ending that leaves me wondering. Now, I'm impatiently waiting for the Little Fires Everywhere adaptation.
—Katisha Smith
This memoir from T Kira Madden is one of the most beautiful books I read this year. Not only is her writing captivating, unique and arresting, but the way that she tells the story of growing up in Boca Raton just on the periphery of a famous family wracked with scandal is incredible. She perfectly depicts the challenge of growing up with parents who are often not present because of alcohol and drug use, and the dedication and love she feels for them despite everything. She carries us through episodes in her life with a story that meanders forwards and backwards, somehow deftly never losing the thread of the tale. I never stopped marveling at the beauty of her writing and turns of phrases. Highly recommend for anyone who enjoys reading about the pain of growing up. —Katherine Packer
I stumbled across this book randomly and knew that I needed it in my life as soon as I read the description. Written by an author who worked at the Metropolitan Museum for over 25 years, this book imagines the hidden lives of the art and the people who work to preserve them there. It's a whimsical ode to the Met, and I'd recommend it to any art history nerd in need of a quick, yet thoughtful read.
—Andy Winder
I wish everyone would read this excellent essay collection. I felt this even more strongly after students at a Georgia university got upset at her for discussing white privilege and burned copies of it. People who get upset at conversations about white privilege are exactly the ones who need to read this book! Crucet writes about her experiences as a first-generation American and as the daughter of Cuban immigrants. Her wonderful first essay describes what it was like to be a first-generation college student. In later essays, she writes about Disney World, a Nebraskan rodeo town, life as a college professor in the midwest, and more. Her writing is thought-provoking, complex, timely, and utterly satisfying.
—Rebecca Hussey
This book is an absolute stunner. Ocean Vuong is a well-known poet, and this is his first novel. His skill with poetry and language comes across beautifully in this story. It is about a son writing to his Vietnamese, immigrant single mother—who cannot read English—when the son is in his late 20s and looking back on their lives. He reflects on the special love they shared, all the challenges, the family's history and his missing father, and their immigrant experience with such tenderness. So many of the intense moments in this book made me gasp and feel broken in two, and other moments were so loving and comforting. It is one that sticks with you.
—Emily Stochl
At the age of 30, medical expenses forced Patricia Lockwood and her husband to move back in with her parents. Per the title, her father is a Catholic priest (by way of an obscure loophole) and a scene-stealing character throughout her memoir. Lockwood's writing is hilarious, but she's also super thoughtful and reflective. This memoir is full of in-jokes about church and the communities surrounding it, but also introspection about the inheritance of a religious upbringing and the process of creating art from one's own life. I loved Priestdaddy so much because I saw snippets of myself in Lockwood's relationship to her family, her youth, and her writing, but even if you don't relate to her, I still think you'll find this to be a darn good read.
—Emily Polson
This is one of the more unique fantasy novels I've come across, and a must-read for fans of dark fantasy. Callender reimagines the colonization and enslavement of the people of the Caribbean Islands into a second world fantasy where the white, elite class has unique magical powers, but any people of color found with these powers are executed. The protagonist, Sigourney Rose, is the only survivor of one of these elite families. She's also black and a powerful magic-user. As a noble and leader, she's not executed for her powers, but that doesn't mean the other elite families like her. This novel interrogates how the mentality and beliefs of the conquerers can become embedded into belief systems, and how difficult it is to fight against the biases you're raised into. It's a really captivating read.
—Margaret Kingsbury
Shout by Laurie Halse Anderson
I read Speak over ten years ago and was grateful for Anderson's candid portrayal of sexual assault. Shout is not a sequel to Speak but rather a follow-up from Anderson's years of speaking to thousands of readers with Me Too stories and her anger at our culture for not changing its approach to sexual assault. Shout is Anderson revealing her soul in free verse, adding to the ongoing dialogue of survivors reclaiming their stories. She takes our hands and shows us the years leading up to her assault, the day of the assault, and the years after. In a culture that consistently silences survivors, Anderson encourages them to shout their stories.
—Neha Patel
When Isabel meets fellow chronic illness patient Sasha at her regular infusion treatment, she knows she's going to have a hard time upholding her no-dating policy. As she tries to make everyone around her understand that while her arthritis means she can't necessarily do everything everyone else does, it doesn't mean her life is less-than. In this Own Voices story, Isabel must contend with a world built for the physically well while navigating the romance that shouldn't be with Sasha alongside a gaping hole in her family and a group of friends who just don't get it. Isabel's sincere voice brings a story that drives a path of what it means to be chronically ill while treating readers to an adorable teen romance.
—Abby Hargreaves
When graduate student Zachary Ezra Rawlins finds a book that somehow contains an intimate story from his childhood, he sets off to learn more about the mysterious book's origins. His search leads to an underground library, secret societies, would-be assassins, magic, and more stories than he ever dreamed.
Morgenstern's skill at building magical worlds is on full display here. The Starless Sea is a love letter to stories: how they're created, how they evolve, and what they mean to the artists and readers who love them.
—Jamie Orsini
The Stationery Shop leaves a particular kind of heartache, equal parts sadness, contentment, and hope. A love story unfolds before us during 1953 Tehran, a time of great political upheaval where the brief taste of democracy is in the throes of destruction by local and global supporters of the shah. Despite all that, young love blossoms in a stationery shop, a love that sustains even while the two end up separated for nearly a lifetime. Kamali's writing is pure magic, turning the simple act of cooking a meal into something transformative. She writes characters so raw, charming, and alarming that you'll feel the blood coursing through their hearts, from Roya's desire for poetry and Bahman's fervor for democracy, to the heartbreaking wishes and flaws of their parents. Even though there's so much sorrow, there is also proof that life continues to move forward, and love takes hold in so many forms. Bonus points if you listen to the audio book, whose hypnotic reading by Mozhan Marnò flows like water.
—Alya Hameed
Alix is a white blogger, influencer, and mother. Emira is a black twentysomething trying to figure out where her life is headed and how to afford health insurance. While babysitting Alix's daughter, Emira is stopped by a grocery store security guard who accuses her of kidnapping. From there, a string of good intentions and bad behavior spirals their relationship into something that can't be repaired. This book is so incredibly smart. The characters are complex and messy and trying their best in all the wrong ways. Everything about the way the story unfolds is perfection. I couldn't put it down, and I can't wait to read what Kiley Reid writes next.
—Susie Dumond
(CW: Self-harm) This is a fiercely feminist Gothic novel of manners and body horror set in Victorian times, and I am HERE. FOR. IT. Iseult (think 'insult' without the 'n') Wince is a young woman on the verge of being branded a spinster. Iseult's mother died giving birth to her, so she has grown up in a mansion with only her father, who resents her, and her governess, who doesn't know what to do with her. So she's almost all alone in the world. Almost, because the soul of Iseult's dead mother lives in a scar on Iseult's neck. And she talks to Iseult. (Who hasn't been there, amirite?) She has always been comforted by her mother's presence, but now Iseult wants to be independent. Her father wants Iseult out of the house, but all of his attempts to marry her off have so far been unsuccessful, partly because Iseult cannot refrain from telling guests about her neck-mother. So her father is down to the last eligible bachelor for Iseult: a man with skin the color of silver. This seemingly unmarriageable man is meant to be a slap in the face for Iseult, but she finds herself intrigued, and wonders if the silver man might be the answer she's been waiting for. The Unsuitable is a wildly imaginative novel that portrays self-harm in a respectful, comprehensive way, and sets fire to all preconceived notions with regards to spinsterhood, self-image, and mental illness in Victorian times (which can also be applied to present day.)
—Liberty Hardy
Sometimes, great writers of a specific genre don't necessarily excel in the same way when they cross into others. A great journalist is not always a great novelist, and vice versa. However, with Ta-Nehisi Coates, The Water Dancer makes the case for his talents as a writer of both nonfiction and fiction. Known best for his memoirs and journalism, including the blisteringly excellent Between the World and Me, Coates has penned a debut novel that succeeds as both a work of clean, impeccable prose, and great ambition. The story follows Hiram Walker, a slave in the Antebellum South, who is endowed with supernatural powers that allow him to transport people across great distances via bodies of water. It is at once a surrealist thrill-ride, elegiac tribute to generations of American slaves, and a painful portrait of the country's exploitative foundation.
—D.R. Baker
I know I recently said that I think I've outgrown young adult fiction, but every now and then there comes a book that you know you just have to read, because you know it's going to rip your heart out. In 1973, when the Watergate hearings are in full swing, the Vietnam War is still raging, and homosexuality is still officially considered a mental illness, 16-year-old Jonathan Collins—a bullied and anxious teenager—feels completely alone in the world. To cope, he escapes into the safe haven of his imagination where his late mother and his hero, David Bowie's Ziggy Stardust, guide him through life. In his alternate reality, he can be anything: a brave superhero, Ziggy Stardust, or just a "normal" boy who doesn't like other boys. When he completes his treatments, Jonathan will be normal—at least he hopes. But before that can happen, Web waltzes into his life. Reading Ziggy, Stardust and Me felt like looking into a mirror and seeing the bullied, anxious teenager I once was, who dwelled intensely in his own imagination and blasted Madonna through his headphones walking home from school to drown out the voices of people who didn't understand him. This was the book I would have needed when I was younger, and I'm so glad it exists now. I hope it reaches the misfits who need it most.
—Jeffrey Davies
---
Here's to finding your next amazing read!