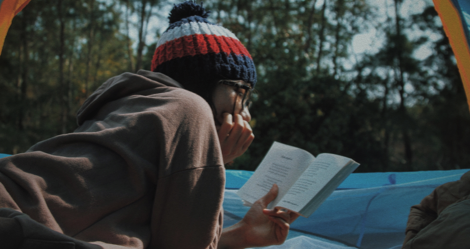 Lists
Riot Roundup: The Best Books We Read in May 2018
This content contains affiliate links. When you buy through these links, we may earn an affiliate commission.
We asked our contributors to share the best book they read last month. We've got fiction, nonfiction, YA, and much, much more—there are book recommendations for everyone here! Some are old, some are new, and some aren't even out yet. Enjoy and tell us about the highlight of your reading month in the comments.
Amal is a young girl in a Pakistani village. She is thrilled to be attending school and has dreams of being a teacher one day. But when she embarrasses the cowardly, vindictive son of the village's landlord one day, her life is ripped away from her. To make amends (for something she didn't do), she is required to pay a debt and is forced to leave school and work at the landlord's house as a servant. Amal is heartbroken over leaving her family, friends, and school, and her new life is difficult. Not just because of the work but because she is the outsider in the household. She slowly learns the ropes and finds a little comfort by sneaking books out of the landlord's library and making friends with the other servants, but will she ever get back to her old life? This is a powerful read, a beautiful story about real corruption and struggle and the fight for young girls and their educations. It should be required reading in all schools.
—Liberty Hardy
This book aims to take on a lot. With a story centered around a recently married couple, torn apart when the husband is incarcerated for a crime he didn't commit, it tackles class, race, mass incarceration, marriage, betrayal, and more. There are no easy answers in this novel, and that's probably why I enjoyed it so much. It acknowledged the complexity of all of these issues in a way that left me hanging onto every word, all the way to the end.
—Steph Auteri
It's rare for me to read a memoir that I absolutely can't put down—and I could not put down this book. I'm not a mother, and even so, reading this book made me feel seen. It's not just about the hard, lonely, terrifying, exhausting, boring, painful reality of motherhood, but about all the impossible expectations that our patriarchal society puts on both women and mothers. O'Connell is so honest and vulnerable, and though she writes about the wonder and joy of motherhood, it's her willingness to write about the hard parts that makes this book so special. The prose is gorgeous, her stories are funny and moving and real, and there are so many brilliant insights into parenthood, and womanhood, and being a human in this frustrating and beautiful world.
—Laura Sackton
Circe
by Madeline Miller
The gods can seem a dry subject, but not so under Madeline Miller's masterful hand. She weaves family dynamics with clashing personalities in a way that bring Circe, Helios, Zeus, Daedalus to life in a very real and rich way. She may have been rejected by her family in so many ways, but Miller proves to us that Circe is the true hero in all of mythology.
—Elizabeth Allen
This was just the book I needed right now: an alternate history with a zombie-killing, badass female protagonist. It contains just the right amounts of action and wit with social justice and feminist themes. And I LOVE the female friendship that forms. I wish I could read it again.
—Margaret Kingsbury
This book is one of those that I kept hearing about and just never got around to until now. It was such an incredible story and the world building was beautifully done. I've read a lot of sci-fi series in the past few years and this one was definitely unique. I don't want to give away too much more. Suffice to say that I've already ordered the second book in the series from the library.
—Danielle Bourgon
Girls of Paper and Fire
by Natasha Ngan (Jimmy Patterson Books, Nov 6th, 2018)
Girls of Paper and Fire was my most anticipated novel of 2018 and it did not disappoint. It's set in a fantasy world where everyone is divided into separate castes, with demon castes being powerful, and human castes being oppressed. Every year, the demon king chooses eight "paper girls" who serve him. Lei, known for being a paper caste girl with golden eyes, is chosen as the ninth "paper girl." As she trains with the other eight paper girls, she does the unthinkable and the forbidden—she begins to fall for one of them, and becomes tangled in a fight for her survival, and for justice. There was so much to love about Girls of Paper and Fire. It has a brilliant plot that is enthralling from beginning to end. The writing is lush, and the worldbuilding is captivating. But my absolute favourite part was the characters. Both Lei and her love interest are fascinating characters, and the growth of their relationship against all odds is depicted both subtly and sensually. It's also amazingly wonderful to read about two Asian girls in love!
—Adiba Jaigirdar
Hild
by Nicola Griffith
Historians know very little about St. Hilda of Whitby, which means that Nicola Griffith had a lot of room to speculate in this novel about her early years. Griffith throws readers into the world of 7th-century Northumbria, a time so different from our own that the book reads a bit like a fantasy novel. The world Griffith builds is complete and complex, making this a challenge to read, but once I got a handle on the main characters and the rules of their world, I found it immensely rewarding, mostly because Hild herself is such a remarkable woman. As a young girl, she becomes an adviser to the king, and she spends much of her time figuring out how best to use her power to keep herself and those she cares about safe. Griffith's matter-of-fact treatment of Hild's bisexuality is refreshing; the difficulty in her long relationship with her enslaved bodywoman, Gwladus, is their power differential, not their sex. The book ends with a development that left me shocked and eager for the next book in this planned trilogy.
—Teresa Preston
The Iliac Crest
by Cristina Rivera Garza, translated by Sarah Booker
This book is weird and wonderful. Two women knock on the narrator's door one stormy night and nothing is ever the same. The women move in, one of them an ex-lover who faints and is nursed back to health by the other. Strange things happen: the women speak in what seems to be a language only they know, they question the narrator's gender, and one of them says she knew the narrator when the narrator was a tree. Wait, what?? There's a plot about a missing manuscript and a famous Mexican author, and there's the narrator's grim job in a sanatorium. The whole thing is atmospheric, mysterious, dark, and absorbing.
—Rebecca Hussey
Rom-com vibes, body positivity, geeky references, and bi girls falling in love? Check, check, check, and CHECK! This book was everything I wanted it to be and then some. It's about weathering the tides of high school, learning to let go, and finding your happy ending—or maybe even a happy beginning. Whether you're a fan of Simon Vs. The Homo Sapiens Agenda or you're squinting at this screen trying to figure out who the heck Simon is and what he has against humans… this book is for you. I laughed, I smiled, I squealed, I got a little teary. What more can you ask for in a book?
—Rachel Brittain
This powerful debut novel is a beautifully written tale that switches between the perspectives of a girl in modern Syria escaping the refugee crisis and a girl in medieval Syria traveling the same route as a map maker's apprentice. The way their stories are intertwined is absolutely genius and creates such highs and lows. It's full of beautiful moments, lyrical prose, and moving epiphanies.
—Susie Dumond
Told in different time lines you get to know Claudia and Monday, two junior high girls struggling in different ways who rely on each other to navigate through life. Claudia is worried about her best friend Monday Charles. School has just begun and Monday isn't there. Claudia and her are inseparable and she can't imagine going through her school days without Monday. But no one else seems as worried as Claudia that Monday isn't around, nor answering the phone… Every once in a while a novel will sneak up on me and punch me straight in the chest and Monday's Not Coming did that to me as it explored friendship, class, girlhood, abuse, and the secrets we keep even from our best friends.
—Jamie Canaves
I listened to this one on audio and found myself having "driveway moments" night after night so I could keep listening. What starts off as a romantic tale about a guy who has bought the perfect flat, gotten the perfect job, and become the perfect physical specimen for the girl he loves turns into a tale of obsession and murder. We hear the whole story from Mike's point of view: how he and Charity are meant for each other, how she likes making him jealous with other guys, and how her new fiancé is just part of the "crave" game they play. It's easy to believe Mike and feel sympathy for him at first, to even root for him and Charity to get back together, but as cracks start to show in his story, he becomes more and more sinister. I loved this book and highly recommend it for those of you who like an unreliable narrator!
—Lacey deShazo
The Proposal
by Jasmine Guillory (Berkley Books, September 4, 2018)
I had a smile on my face the entire time I was reading this book. Even when I was crying. It was a smile cry. Freelance writer Nik gets proposed to via Big Screen at a Dodgers Game…basically her (and my) worst nightmare. When she turns him down she becomes The Bitch who didn't accept the proposal. While trying to escape the stadium unscathed, she meets Carlos and his sister, who help her get to safety. Oh. And they fall in love! I enjoyed Guillory's first novel The Wedding Date so much and *gasp* I think I might like this even more. Diverse characters and a super cute love story. What's not to like?!
—Kate Krug
As a Texan, I had heard about the Great Gulf Hurricane that obliterated Galveston in 1900. However, the details were always spared. Weatherman and television personality Al Roker ensured this one came to life. The details were unmatched and the buildup to the afternoon two-hundred-mile-per-hour winds decimated Galveston was great. The hurricane did not discriminate as individuals of all class fell victim to the monstrous storm. It was this storm that awakened the country to the destructive power a hurricane can bring. This book should not only be required reading for every Texan, but required reading for U.S. History courses across the country. Had this storm not wiped Galveston off the map, meteorology might have remained static.
—Romeo Rosales, Jr.
I will preface this by saying that as a white woman, I am not the person this book was written for. That being said, this book was an incredible reading experience that forced me to de-center myself from the author's narrative. It was an uncomfortable position to be in, but it forced to me to really look at some of my privileged perspectives. I think this book needs to be required reading for every self-identifying feminist, and especially for white women, so that we can learn to read and sit with a perspective that is not ours.
—Katie McLain
This moving coming of age story is set in 1987 and centers around 14-year-old June Elbus, who has just lost her beloved uncle Finn to AIDS. She is surprised to learn that her uncle had a partner named Toby, and Toby wants to meet her. As June and Toby embark on this unexpected friendship, there are changes in store for the whole family. Brunt perfectly captures the longings and struggles of being a teenager and the sticky tensions between siblings. She also reminds us of the fear and ignorance surrounding the burgeoning AIDS epidemic during the Reagan-era 80s. This book is beautiful and heartbreaking and hopeful all at once, and I just loved it.
— Heather Bottoms
All I should really have to say is that this is a gay time travel novella centered on World War Two. Because come on—that was enough to get me on board, and it should be enough to convince you to give it a try. But if you're still undecided, here's why you should pick up a copy of Time Was: it's a haunting, beautifully-written love story about two men pulled across time and the rare books dealer determined to track them down. As befits its ambitious author and his high concept approach, Time Was doesn't tell a straightforward story. It features overlapping timelines, multiple narrators, mysterious happenings, and more. As a result, it's a slow burn in a small package, and it rewards the time you spend with it handsomely.
—Derek Attig
When Mila Flores's best friend dies, everyone says that it's a suicide, but Mila is convinced it's murder. With the help of a mysterious grimoire, she casts a spell to bring back her BFF—and accidentally brings two recently-dead high school mean girls with her, all thirsty for vengeance. This book is everything you'd want out of a book titled Undead Girl Gang and more—it's got complicated female friendships, murder, blight-inducing spells, and top-notch sarcasm. Very few books come close to satisfying the Buffy the Vampire comp for me, but this one does. I've never wanted a book to be adapted to a CWTV series more.
—Tirzah Price
This book was required reading for a class I was taking on K-12 children's literature, and I will be forever grateful that my professor put this series in my path. Warcross is The Hunger Games and Ready Player One, elevated to the next level, away from the vicious gore (HG) and painfully written female characters (RPO) of it's comparisons. I enjoyed the elements of virtual reality and high stakes competition, along with the thrilling side mystery that keeps you hooked until the very end. I am eagerly awaiting the next installment!
—Ashlie Swicker
Definitely the best contemporary romance I've read this year so far, and an excellent summer read on top of that. The Wedding Date has all the swoony romance, fun, and escapism you could want from a romantic comedy. But at the same time it feels completely plausible and grounded in reality. The two main characters have fantastic chemistry and I loved how everything was so easy between them… until it wasn't. I can't wait for Guillory's next novel!
—Tasha Brandstatter