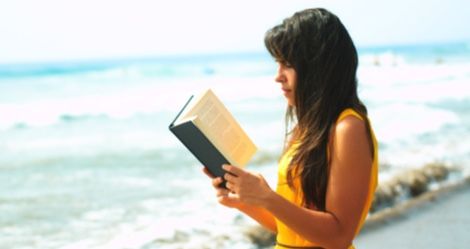 Featured
Riot Roundup: The Best Books We Read In July 2018
This content contains affiliate links. When you buy through these links, we may earn an affiliate commission.
We asked our contributors to share the best book they read last month. We've got fiction, nonfiction, YA, and much, much more—there are book recommendations for everyone here! Some are old, some are new, and some aren't even out yet. Enjoy and tell us about the highlight of your reading month in the comments.
This is the book for everyone who wants to know what it's really like to be pregnant, give birth, and take care of an infant. Or it's one version of what it's really like; of course everyone's experience is different. But Meaghan O'Connell tells all the truths about her experiences and it spoke to me like no other book about motherhood has spoken to me so far. I loved it.
—Rebecca Hussey
Circe
by Madeline Miller
Madeline Miller writing about a mythical witch who interacts with everyone important from Greek myths? Um, yes, please. It was pure delight to spend time with Miller's version of Circe, a minor immortal who becomes a powerful witch after her father, Helios, banishes her to a lonely island. Along the way, Circe meets legendary creatures like Scylla and the Minotaur; famous mortals like Odysseus and Daedalus; and, of course, alternately bored and vengeful Olympians like Hermes and Athena. But what shines through most is a sense of Circe as a person, not just a figure from myths—someone who struggles to choose between the immortal beings of her family and the mortals she begins to love.
—Kathleen Keenan
Convenience Store Woman
by Sayaka Murata, translated by Ginny Tapley Takemori
August is Women in Translation Month and I was going to read Convenience Store Woman as part of that but I just couldn't wait! Keiko Furukura has worked at a convenience store for 18 years, comfortable in the patterns and norms of the store and its customers but aware of her family and society's general disappointment in her. When a young man enters her life she has the chance to change everything—if she wants to. From one of Japan's most exciting contemporary writers, Convenience Store Woman is a dark, funny, and compelling novel with a heroine that defies convention and description.
—Pierce Alquist
Jess and I recently talked on When In Romance about why—despite the many amazing debut authors of 2018—Talia Hibbert is shaping up to be the breakout romance author of the year. Damaged Goods shows that we didn't even get into the half of it: Hibbert is able to both subvert the "other woman" narrative by making a heroine of someone who could have been just a one-dimensional secondary character from Hibbert's A Girl Like Her (also excellent, BTW) and also tell a satisfying and empowering "damsel in distress" story. AND she does it all in less than 200 pages about a year after publishing her first book. Start reading Talia Hibbert now so that you can spend the next decade telling your book club friends "I told you so."
—Trisha Brown
I'm a fan of romances in which the power dynamic is basically level from the very start. This book 100% fit that bill and it gave me all the feels. Despite initial appearances, Jock and Fiona are matched in every way. Jock may be a complete alpha and Fiona's ultimate protector but she, in turn, has the power to level him with just a glance. The sense of balance between Jock and Fiona in this book allows these two to open up intimately and emotionally with one another in a way that I just did not think was possible given the premise. That balance also paves the way for them to excel personally. These two kick some serious ass.
—Erin McCoy
BADASS WOMEN OF COLOR FIGHTING CIVIL WAR ZOMBIES! I mean, do you need to know anything else? Just read it already!
—Susie Dumond
Darius is a Persian-American teen boy who loves tea and struggles with mental health issues and feelings of not fitting in anywhere. I never thought I'd have anything in common with a boy like this, but this book made me see that awkwardness is universal. Coming of age can be difficult but we can all rise to the challenge. All I wanted to do when I was finished reading this YA book was to give it a great big hug.
—Christina M. Rau
I loved Redgate's previous book, Noteworthy, so of course I had to pick up Final Draft. It tackles writing angst, mental health, high school graduation, and queer romance, among many other things. I ended up crying at 1:00am as I finished the book, which I did not sign up for, but loved nonetheless.
—Jessica Yang
Here to Stay
by Sara Farizan (Algonquin Young Readers, September 28)
I've really enjoyed everything I've read by Sara Farizan so far, so obviously I was very excited to get my hands on her new book, Here To Stay. And it did not disappoint! I absolutely fell in love with Bijan, the son of Persian and Jordanian parents just trying to deal with typical high school drama like making it on the basketball team and not embarrassing himself in front of his crush–until a photoshopped image of him as a terrorist is emailed out to the whole school opening a big old can of prejudice and racism. I also loved how it showed the depth and breadth of teen experience– how they can be both bullies and forces for meaningful change, even when the adults around them are resistant to it.
—Rachel Brittain
This collection is near-perfect, a variation of experiences surrounding Jamaicans, both on the island and living away from their homeland. The language is beautiful, the writing is emotionally gripping, and the stories are imaginative and visceral. The one about the mermaid dolls slayed me. I am excited to see what Arthurs does next. But first I'm pushing this book on everyone.
—Liberty Hardy
This is one of those books I'll be thinking about for a long time.Would I want to know the date of my death? What would I do with it if I did? The four siblings in this novel have their entire lives shaped by their childhood visit to a fortune teller, and the four kinds of lives they live are rich and varied and thoroughly researched. This novel is both literary and beautifully written without being hard to read—and it's both character- and plot-driven. Highly recommended to pack in your suitcase if you want to spend a few hours on the beach or elsewhere immersed in wonderful storytelling.
—Claire Handscombe
This book is SO SWEET. Like, take whatever you've heard about it and multiply it by a big number. It is THAT sweet. Also steamy. Real steamy. But mostly SO SWEET OMG.
—Annika Barranti Klein
The Library Book
by Susan Orlean (Simon & Schuster, October 16)
Having read (and loved) Orlean's work in the past, I knew this would be an incredible work of narrative, immersive journalism. And it was. Using the mystery of a massive library fire as a jumping-off point, Orlean creates a gorgeous love letter to books, to libraries, and to collective knowledge. This is one of my favorite reads in a very long time. Also, it made me sad I didn't go to school for library science. Sigh.
—Steph Auteri
The upcoming movie prompted me to reread my favorite book by Sarah Waters, one of my favorite authors. The book tells that story of a wealthy English family that's fallen on hard times and the doctor who looks after them as they deal with increasingly frightening incidents in their run-down old home. It's spooky and strange and mysterious with an extremely unsettling ending on a first reading. On a second reading, it's just as good but in a different way, since you can see all the clues Waters plants as to what's really going on. With that knowledge, I found parts of it even creepier the second time!
—Teresa Preston
The Mandela Plot
by Kenneth Bonert (Houghton Mifflin Harcourt, August 7)
This is a pulverizingly gripping novel, with quite a few pulse-pounding, incredibly vivid scenes. It's a coming-of-age story about a privileged Jewish teenager growing up in apartheid-era Johannesburg, who gets swept up into violence and activism. It's fascinating as a portrait of an insular South African community, as a wrenching look at inequality, and as an examination of duty.
—Christine Ro
Nemesis
by Philip Roth
Just thinking of this book makes me cry. We lost Philip Roth too soon this year, when we need his words the most. This novel talks about a polio epidemic, and one teacher trying to balance courage with fear and common sense. It talks about the futility of panic during disaster, and having to weather tragedy.
—Priya Sridhar
A beautiful, raw collection of poetry full of vivid imagery and explorations of form. Vuong circles back time and again on vulnerable themes of family history, heritage, sexuality, and trying to make sense of it all while growing up. In one of my favorite poems from the collection (titled "Someday I'll Love Ocean Vuong"), he writes, "The most beautiful part of your body / is where it's headed. & remember, / loneliness is still time spent / with the world."
—Emily Polson
The Proposal
by Jasmine Guillory (Berkley, October 30)
Guillory's follow-up to The Wedding Date has Drew's BFF, Carlos, in the role of romantic hero, dating a writer who experiences a comically bad proposal in the middle of Dodgers Stadium. The Proposal has everything you could want from a romantic comedy: fun leads, awesome friendships, feminism, sooooo much food. If you loved The Wedding Date you won't be disappointed!
—Tasha Brandstatter
Sadie
by Courtney Summers (Wednesday Books, September 4)
Summers has written a novel that shines a spotlight on our true crime obsession—hello, podcasts—while keeping the violence just off the page, reminding us that we've gone too far into voyeuristic territory and need to remember the victims. In this case it's Sadie and her sister. Sadie, a stubborn and smart mouthed young woman, leaves her small town to find her little sister's killer and kill him herself. Looking for Sadie is a podcast host who's learning about Sadie and her sister's life in the hopes of finding Sadie. A brilliant crime novel that speaks volumes about our true crime obsession—Sadie will stay with you long after the final page.
—Jamie Canaves
Heng tells the story of a dystopian world where humans are seeking and achieving immortality through (unpleasant and controlling) government health directives and incredible medical discoveries. I hadn't read such an intriguing and gripping dystopian book in quite a while; main characters Lea and Anja go through a journey that will keep me thinking about life and the blessing of death—because at heart, this is what this book is about—for weeks to come.
—Nicole Froio
This book is a masterclass in "slow" books and "unlikable" characters and respecting pronouns and not blaming women for the foul acts men perpetrate on them, rolled into a fantasy adventure story.
—Sarah Nicolas
Last year my favorite short story collection was The Djinn Falls in Love. This year it's (probably) going to be this collection of Southeast Asian myth and fairytale retellings. They're amazing and creative and perfect. From the lovely opening story "Forbidden Fruit" by Roshani Chokshi—about a mountain spirit that leans over a little too far and falls in love with a human boy—to an MMORPG afterlife in "The Land of the Morning Calm" by E.C. Myers, these stories linger a long time after reading. If you enjoyed The Djinn Falls in Love or The Starlit Wood, you need these stories in your life.
—Margaret Kingsbury
Tigerbelle: The Wyomia Tyus Story
by Wyomia Tyus and Elizabeth Terzakis (Akashic Books, September 4)
The first person to win back-to-back 100m at the Olympics was a black woman. Did you know that? I didn't. An icon for so many reasons, Tyus is often left out of lists of our best US athletes. In this memoir, she tells her own story while also outlining the biases she faced as a black female athlete and proposing ways that the US could support its women athletes better. A quick, excellent read.
—Leah Rachel von Essen
The War Outside
by Monica Hesse (Little, Brown Books for Young Readers, September 25)
I did not expect this book to knock me off my feet with its lyrical brilliance, vivid storyline, and heart wrenching ending. Let's just say, if all historical fiction was like this book, it'd be my most-read genre. In Crystal City, Texas, there is an internment camp that houses both German and Japanese families—the only one of its kind. For Haruko, this is the chance to reunite her mother and sister with her father, who was placed there after being accused "suspicious activity." German-American Margot and her family were sent to Texas after her father attends a meeting for the American Nazi party, seemingly under completely innocent motives. These two would have no reason to interact, let alone get along. Despite the immense odds and the war outside, Margot and Haruko form an inseparable bond that changes the course of their lives.
—Kate Krug
I was aware of Samantha Irby's work but wasn't inspired to pick up one of her books until hearing her on the Crooked Media podcast, Keep It. She was funny and slightly dark; everything I look for in people I decide are my friends in my head. So I downloaded the audio of We Are Never Meeting in Real Life and laughed and cried my way through the entire thing. Her self-deprecation mixed with humor and pain came through loud and clear in this collection of essays and had me feeling both seen and wanting to see more of the inner life of Ms. Irby.
—Elizabeth Allen
This was an amazing audiobook, with a particularly sensitive and moving narration by Jorjeana Marie. The book is about about Marin, who is grappling with layers of grief while also navigating the confusing transition into adulthood. LaCour tackles a lot in such a short novel—first love, loss of home and family, blossoming adulthood—and yet it is so focused on this one young woman's poignant story that it felt fleshed out and well-handled. I will definitely be looking for more of LaCour's books.
—Heather Bottoms
What They Don't Know
by Nicole Maggi (Sourcebooks Fire, October 2)
Mellie is a good girl from a good family, and Lise is the outspoken feminist friend who shows her that good people can outgrow their family's beliefs. When Mellie is raped and becomes pregnant, she grapples with the trauma of the rape and then the panic of what to do next. She can't tell anyone, because they will assume she's a heathen who is lying about the rape only because she got pregnant. She visits clinics that lie to her. She hides from everyone and everything — except her journal. It's heart-wrenching. I cried and screamed and stayed up past my bedtime to finish reading her story. Disclosure: I work for the publisher and I'd love this book even if I didn't work on it.
—Ashley Holstrom
Nerd alert! I've been book-blogging for a few years now, mostly writing reviews of just about everything I read in my own little corner of the internet. It's come to my attention, however, that my blog isn't really of use to anyone thanks to, frankly, poorly-written reviews. I work at a library and obviously write here for Book Riot, but that just isn't enough books for me, so I picked up this how-to by Brad Hooper. I expected maybe a few nuggets here and there, but was surprised by the level of detail Hooper achieves in not just writing reviews, but writing reviews well and usefully, particularly given the brevity of the book. Hooper includes examples that really illustrate his points and is very clearly an authoritative voice in the world of book reviews. If you're looking for something on how to become such a voice, this is a great place to start.
—Abby Hargreaves
What We Owe
by Golnaz Hashemzadeh Bonde (HMH, October 16)
Truth be told, when I got this, I put it aside because I had other things to read. My toddler son kept picking it up out of the big TBR pile and kept "reading" it. I decided to take a hint from him and move it up on my list, and I am so glad I did. It's a slim volume and I read it in one or two sittings, but don't let that fool you. Set in Tehran, Sweden, and the US, Nahid narrates her tale of meeting her husband and resisting the Shah's regime. Eventually, they flee to Sweden, and now, decades later, Nahid is dying while her daughter is getting ready to have a baby. Life is juxtaposed with death, resistance and revolution and rebirth are woven throughout the pages, and what it means to be a wife, daughter, sister, mother, and woman are unflinchingly examined in this book. This book is a powerhouse, and I don't use that term often.
—Jaime Herndon
Alexandra Warren always provides a solid romance novel and Wins & Losses was no different. Our main character, Carmen, is back in her hometown after her father is murdered. Moving back home presents its own set of surprises, one being Nasir Valentine, her brother's basketball coach. These two are a perfect match and while this story is filled with its heartbreaking moments and multi-layered plot, Warren gives readers a great romance with a strong familial bond, pop culture references I loved, and a much-needed laugh or two.
—Natalya Muncuff