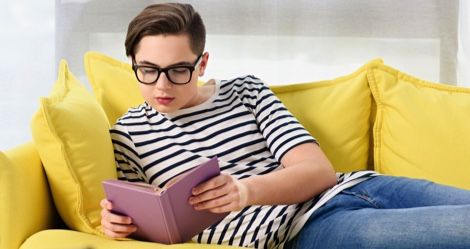 Lists
Riot Roundup: The Best Books We Read in August 2018
This content contains affiliate links. When you buy through these links, we may earn an affiliate commission.
We asked our contributors to share the best book they read last month. We've got fiction, nonfiction, YA, and much, much more—there are book recommendations for everyone here! Some are old, some are new, and some aren't even out yet. Enjoy and tell us about the highlight of your reading month in the comments.
Roy and Celestial are a young couple, just a year-and-a-half into their married life together when police break into their hotel room, wrestle Roy to the ground, and arrest him for a crime he did not commit. Now the story we might expect to hear or want to hear is how Roy and Celestial stick together like glue through thick and thin, but Roy and Celestial's marriage is still new. They were still figuring out how to be married. Figuring out how to be married while separated by metal bars is a hurdle neither Roy nor Celestial is sure how to get over. In real life when a person is released from prison after evidence finally proves them innocent (or at least not sufficiently guilty) the tendency is to celebrate the win. With writing that is as beautiful as it is devastating, Tayari Jones's shows that the story isn't quite as simple as that. There are no winners, just lots of hurt people. This book made me think about how relationships can possibly survive a tragedy that forever changes a person's life—the type of life altering tragedy for which one can never be fully compensated.
—Tiffani Willis
Blakesee tells the story of the reintroduction of wolves into Yellowstone Park. It's the story of one particularly compelling wolf, O-Six, and her wolfpack. The author tries to untangle the competing interests of wolf enthusiasts, hunters, government officials, cattle ranchers and more. Not many books bring tears to my eyes, which is simply a testament to the power of its writing.
—Elisa Shoenberger
This gorgeously written memoir follows an Iranian writer who escapes her mundane, corporate life in London to live in Italy for a year. Written in an honest and atmospheric way, Mohammadi documents her journey as she learns to see the beauty in everyday things such as food, friendships, exercise, and relationships. Nonfiction novels centered around travelling never fail to inspire me to go out and explore the world around me. And Mohammadi's journey, in the heart of Florence, helped me see the world in a positive light while also trying to improve my health and attitude for the better so I too could follow the bella figura lifestyle of grace, relaxation, and pleasure.
—Olivia Páez
Attica Locke has become one of my reliable favorites among mystery writers. This book, which introduces Darren Matthews, a black Texas ranger, may be my favorite of hers so far. When the book begins, Darren is on suspension for getting too personally involved with the shooting of a white supremacist who was harassing the daughter of a family fried. Estranged from his wife, he has little to do but drink, until a friend at the FBI tells him of a pair of deaths in a nearby small town. The first death, of a young black lawyer, didn't garner much attention, but now that a white woman has also turned up dead, people are getting worried. Everyone assumes there's a racial angle to these crimes, but the personal relationships within the town complicate the picture. And Darren himself gets personally involved, despite his suspension, and the picture gets murkier. It's a good story, with plenty of surprises, that also gets at some important ideas about race, relationships, and law enforcement in America.
—Teresa Preston
I am a sucker for all books about the role human cadavers have played in the progression of science. From the resurrectionists prowling through cemeteries to today's laws regulating the use of human remains, science owes an enormous debt of gratitude to the cadaver. Montross' recollection of her anatomy studies through the incredible gift of "Eve" is equally clinical and sentimental. She understands the importance of the sometimes unseemly work she had to do in that lab, while also fully appreciating the immensity of Eve's sacrifice. The humanity with which she viewed these cadavers was soul-replenishing.
—Elizabeth Allen
I have never read a bad Talia Hibbert book, and this is one of my favorites. Set between the Ravenswood books between the two Kabbah sisters, this one tells the story of a character from the first one, A Girl Like Her. In that book, Laura is a villain; she's also a victim, but that's a later discovery. In this book, Laura has left her abusive husband and gone to the seaside to have her baby. The seaside, where she spent the summer as a kid, and managed to fall in love with Samir as a teenager. The reunion of these two is both endearing and heartbreaking, and both of them have personal things they need to help themselves with before being able to successfully be in a true, loving relationship. It's angsty without being frustrating, and darling without being over the top. Both of these people deserve happiness, and it's a joy to watch them get it.
—Jessica Pryde
Just straight off the bat, let me tell you that James Wright was my great-uncle. He was a poet and I never met him—he died when I was a year old of a sudden and aggressive cancer. This book contains the correspondence he shared with fellow poet Leslie Silko after he sent her a note saying how much he'd enjoyed her book. To read the book is to feel that you are becoming friends right along with them; the letters start out formal, though warm, and grow to intimate—not in a sexual way, but in a deep friendship. It begins with admiration, progresses to stories about a naughty rooster, and goes on from there. It is funny and warm and delightful. The letters end with my great-aunt's telegram to Leslie when James died, mere days after meeting Leslie in person for only the second time ever. I tell you this to prepare you, because you will cry. I am crying now just writing about it. When I told my aunt that I'd read the book, she told me Leslie has never read it, though she approved the use of her letters. It was simply too hard to revisit.
—Annika Barranti Klein
YA! Romance! Chinese mythology! This book was an absolute, 100% joy. Yee does a fantastic job melding tradition and innovation, giving readers a Chinese-American heroine I found myself literally cheering for and a hero who doesn't have a problem with letting Genie step front and center when her moment comes. Even if the duo's journey to that moment is sometimes… fraught. I've recommended this one to adult friends, teachers, and the target YA demographic alike. Something for everyone and impossible not to adore. Eagerly awaiting book two.
—S.W. Sondheimer
The Fated Sky
(Lady Astronaut #2)
by Mary Robinette Kowal
This is the second book in a duology that unpacks the struggle of pilot and calculator Elma York as she tries to get women into space. Kowal's masterpiece takes place in an alt history where the space race comes after a meteor crashes into the earth, creating a climate where eventual extinction of humanity is inevitable. The space, the science, the drama, is all incredible, but Kowal's real strength comes from the authenticity of her world—the climate change deniers, the continuation of racial violence and prejudice in this post-crisis US, the discrimination against women and particularly women of color within the space program, stigma against mental illness, and more. This duology is fantastic, and everyone should be talking about it.
—Leah Rachel von Essen
I've always hated the idea of being buried or cremated when I die. Instead, I want to be left in the forest to serve as a feast for wild scavengers. I've always kept this to myself because I assumed people would think I'm crazy or, at the very least, too eccentric for polite company. As it turns out, I'm not crazy, at least not according to Caitlin Doughty, whose final wish also entails being offered up as a free happy meal to local wildlife—vultures, to be exact. In this delightfully macabre book, Doughty challenges just about every convention Westerners have about the "proper" care and disposal of corpses. In the process, she takes readers on a magical death tour, observing the funeral rites of cultures around the world, from the polished high-tech crematories of Japan to the Zoroastrian Towers of Silence (not to be confused with Cone of Silence) where bodies are left as carrion for the "sky-dancers." If you've ever questioned the way our culture sweeps death and bodily decay under the rug, you'll love this eye-opening (and hilarious) book.
—Kate Scott
This slim little debut somehow manages to be both a slow, delicious burn and a compulsive page-turner. Phoebe Lin and Will Kendall meet at Edwards University, a schwanky New England college where they are both students. Phoebe is flailing under a secret guilt she carries over the death of her mother and Will is a transfer student who has just recently abandoned the religious faith that defined his young adulthood. The two are wrapped up in one another when Phoebe's grief leads her to a religious cult led by a former Edwards student shrouded in mystery. As she embraces the very facets of faith that Will so vehemently now rejects, the two arrive at the dangerous intersection of love, loss, and fanaticism, that dark and twisty place where desire bleeds into violence and where faith ruthlessly destroys that which it should heal. So, so good!
—Vanessa Diaz
This was such a fantastic read. Stella is a 30-year-old with Asperger's who thinks she needs to learn how to be good at sex in order to find a mate and fulfil the expectations of society (and her mother). Like with everything you want to learn in life, one great method is to hire a professional to teach you. So she hires an escort. Enter Michael. What follows is the story of Stella and Michael getting to know each other, navigating family dynamics, and falling for each other. I am smitten with Stella and Michael and loved their story. This is a delightful, page-turning love story with original and charming characters and I can't wait to read what Hoang writes next.
—Jen Sherman
This book is not a happy story, but it doesn't have to be. It is hopeful instead, asking what events could turn a man into a monster, or a hero. Princess Amrita prepares to marry her father's friend and the Emperor Sikander, to prevent war from hitting her country. She doesn't know what her father saw in Sikander, and why her father wants to call off the marriage. Then tragedy strikes, and all Amrita can do is flee for her life, away from her childhood love and comfort.
—Priya Sridhar
The Matchmaker's List
by Sonya Lalli (Berkley, January 22, 2019)
Raina Anand's grandmother has always supported her. She took her in when her mother wasn't up to the task of parenting and taught her to pursue her dreams. However, in the aftermath of an ugly breakup that leaves Raina uninterested in dating for several years, her Nani decides she has endured enough. No longer content to wait for her granddaughter to make her own decisions, Nani draws up a list of eligible men and convinces Raina to give each one a try. In this hilarious and heartfelt romantic comedy, Raina buys into the idea that "(grand)mother knows best." The results are cringey, funny, and sexy. I was so happy to get an advance copy of Lalli's book—I can't believe the world has to wait until January to read it! If you like stories about tight-knit communities, wedding hijinks, intense chemistry, and stubborn women, preorder The Matchmaker's List as soon as possible!
—Lacey deShazo
I did not know that there was such a thing as a menstrual movement, but now I do, and I am HERE for it. Nadya Okamoto is changing the way the world views periods and menstruators, and she's proved it with this book, chock full o' research on everything from the cultural history of menstruation to the ways in which menstruators are treated around the world. And that right there is something she teaches right off the bat in this wonderful, accessible book: Women aren't the only people who menstruate, and it's best to say "menstruators" or "people who menstruate" when talking about them. Same goes for "feminine hygiene items"—just say "menstrual product," y'all. Period Power is the perfect handbook to give to young menstruators when puberty hits. It's educational in every aspect of menstruation, not just the part about the blood. Okamoto talks about homeless menstruators, menstruators in prison, young menstruators who don't have equal access to education… Everything. And in every section is the same refrain: Menstruation is a part of life, literally the way to create life, and should never, ever be viewed with shame or disgust. I wish I had this book when I was 11.
—Ashley Holstrom
The Proposal
by Jasmine Guillory (Berkley, October 30)
You may have noticed that most of us here at Book Riot are huge fans of The Wedding Date, Jasmine Guillory's debut novel that came out earlier this year. I didn't think it was possible, but I loved The Proposal even more! When Nik's boyfriend of five months proposes to her via the jumbotron at a Dodgers game (with her name misspelled!) she turns him down. Carlos and his sister see the drama unfold from a few rows behind her and step in as fake friends to help her escape the curious crowd, and the two of them have an instant connection. It's the meet-cutest of meet-cutes. I LOVE Nik and Carlos, and I wish I could join their friend groups. The Proposal was exactly the bubbly, fun, feel-good novel I needed this month.
—Susie Dumond
If you're a fan of true crime memoir this is a must-read. MUST. It is exceptional! Maggie Nelson is an author with a collection of published work including poetry, essays, and autobiography. She also grew up the niece of Jane Mixer, whose 1969 murder had remained unsolved until 2004. This book is about Nelson's life, her family's, and the trial of Jane Mixer's murderer. It is also a meditation on humanity and society—and so many things—that I found myself inhaling the audiobook but also needing to sit with sentences and thoughts.
—Jamie Canaves
Vanessa Hua is a columnist for the San Francisco Chronicle, and the rich details in this novel show how well she knows San Francisco's Chinatown. Scarlett Chen is a double immigrant: from her rural hometown in China to a city where she climbs up the factory ranks; and from that city to a maternity hotel in the US, where she and other pregnant women plan to give birth so that their children will have American citizenship. Things don't go according to plan, though. The plot points aren't always plausible, but the emotional beats ring true, as Scarlett forges an unconventional family, and as we come to understand the difficult circumstances of an abortionist, the proprietor of the maternity hotel, and many other vivid characters.
—Christine Ro
I can't even explain how much I love these books. Murderbot is just a sarcastic, anti-social, binge-watching treasure! Rogue Protocol is the third installment in the Murderbot Diaries novella series from Martha Wells and it's definitely my favorite so far. In this adventure, Murderbot meets up with another bot, Miki, that is the robot equivalent of a cinnamon roll that is too pure for this world, and together they try to save his crew. As usual, Murderbot is only low-key into saving the day, taking a few minutes out in the middle of the chaos to re-watch some of its favorite show, Sanctuary Moon. A bot after my own heart! There's one more novella in the series coming out in October and a novel length adventure expected in early 2020.
—Dana Lee
Holy cats, I loved this book so much! It is a razor-sharp satire, a deadpan send-up of dystopias, of millenials, of cults, of SO MANY THINGS. Here's what you need to know: A plague has turned most of the country into zombies (minus the brain eating), who sort of skip like a record in place in their pre-plague routines until they die. Candace is the orphaned daughter of Chinese immigrants who works in the bible department of a publisher. She is not interested in, well, anything, really. Her apathy is such that she doesn't even notice this plague is going on until most of NYC is infected. Candace is somehow immune, and manages to team up with a group of survivors led by a cheesy holy roller. The group is collecting supplies to start society over again in a place called The Facility, but Candace has a secret that might change everything. This novel is smart, biting, and wholly original. It gave me You Too Can Have a Body Like Mine vibes. Did I mention I loved it?
—Liberty Hardy
I've been following Gedris's comics since her Yu+Me: Dream webcomic days a decade ago. Since then, her comics have only gotten better, while keeping the weirdness and queerness that appealed to me in high school. Spectacle is about Anna, who works in the circus with her twin, Kat. Anna is a psychic in the circus, but she doesn't believe in anything supernatural. Until Kat is murdered, and her ghost sticks around to help her solve the mystery. Meanwhile, why does the bearded lady get so blush-y when she sees Anna/Kat, and why does Kat not want to talk about it? I mean, how could you go wrong with a comic about a travelling circus and a murder mystery? Add to that Gedris's distinctive style, and I was sold.
—Danika Ellis
Full disclosure: I received this book so I could review it (for another publication) along with a non-fiction travel book, which I did. As a Mvskoke (Creek) reader who is a fan of travel literature, I am wary of the problems that can befall this genre I love, like sentimentality, cultural appropriation, and oversimplification of entire nations. I was attracted to this book because its subtitle suggests it attempts to escape those problems, and it does. Stamped is a multi-voiced novel following the non-sentimental, non-madcap adventures of a group of ethnically diverse ex-pats traveling around Asia. The main voice is that of Skylar/Kawika, a genderfluid Filipino-American travel blogger. For the sake of this intriguing (if sometimes frustrating) character, I started wishing the novel could turn into one of those tidy, predictable ones in which the group of friends pulls together over a shared foreign experience or learns that people are really mostly alike. But this is an anti-travel novel, so it's not that easy. But I wasn't left depressed or bitter at the end either. Mainly, I was excited to read compelling, thoughtful, subversive travel literature by a person of color about characters of color, a perspective that isn't represented nearly enough in the genre.
—Stacy Pratt
Zoey Castile has a thing with words that make you fall in love since the very start. Stripped is the story of a schoolteacher, Robyn, finding a sequined thong (not hers) in her laundry bag. In fact, that thong belongs to one drop-dead-gorgeous stripper, Fallon, who lives on her same building with his husky puppy. It's the start of a fantastic love tale. This Magic Mike fanfic, as it was initially pitched as, is all around wonderful, with relatable characters and fun-as-hell chapter headings. It's a genius romance story that will live through the ages.
—Silvana Reyes Lopez
There's no lack of YA books about grief and loss, but I've rarely seen it done so well. In Summer Bird Blue seventeen-year-old Rumi loses her sister in a car crash and is sent to live with her aunt in Hawaii when her mother is unable to cope with the loss. Feeling isolated and disconnected from the music she and her sister loved, Rumi pushes everyone away. But her aunt refuses to leave. And her two new neighbors—la blunt surfer and a grumpy old recluse—seem surprisingly immune to her temper, too. Bowman beautiful captures the complexity of sisterhood and grief, depicting characters and relationships that aren't simple or perfect, but flawed and authentic. Her writing is lovely, her storytelling honest, and her characters frighteningly relatable. Summer Bird Blue is without a doubt one of the best books I've read this year. It grabs your heart and won't let go.
—Rachel Brittain
The Summer Book
by Tove Jansson, translated by Thomas Teal
In The Summer Book, celebrated artist and author Tove Jansson "distills the essence of the summer—its sunlight and storms—into twenty-two crystalline vignettes." The vignettes follow six-year-old Sophia and her grandmother and their adventures on a remote island in the gulf of Finland. This is my first time reading what many consider a modern classic and I couldn't agree more—The Summer Book is utterly perfect. It's quiet and subtle, warm and wise, but with one single striking and devastating sentence Jansson changes your reading and understanding of the whole book.
—Pierce Alquist
The Tiger at Midnight
by Swati Teerdhala (Katherine Tegen Books, April 23, 2019)
I couldn't put this debut YA fantasy down, except to frantically text all my friends and tell them they needed to get a copy as soon as it publishes. Set in a world inspired by ancient Indian history and Hindu mythology, Tiger at Midnight follows the star-crossed paths of Esha, a rebel assassin, and Kunal, a loyal soldier to his uncle the general. Who just happens to be Esha's next target. Beautiful, funny, and action-packed, this book delivers all the best tropes while serving them up in a package that's wholy new. My only regret is that since it doesn't publish until April, I have a ludicrously long time to wait for the sequel.
—Jess Plummer
I read this book in its entirely while waiting to take my dad home from a doctor's appointment. And I was ugly crying—I'm talking snot, shortness of breath, and obnoxiously loud sobbing. When the nurse came to take me back to recovery, she was so concerned because I looked like I'd been through the wringer. An emotional wringer. And I had. By the one and only Tahereh Mafi. This book is set shortly after the events of 9/11 and centers on Shirin, a Muslim teen, and the discrimination she faces from her town and her peers. When she meets Ocean, Shirin does everything she can to protect her heart aka pushing him away. Until she can't anymore. This book is so incredibly beautiful and timely and well-written, it's my first Tahereh Mafi and now I'm going back to read her catalog. Your poor heart gets a complete workout, but it's worth it.
—Kate Krug
Written by a white author and aimed at a white audience, this book is an attempt to grapple with the pervasive defensiveness among white people whenever the subject of race comes up. Think you're a progressive type who is sensitive about racial issues already and doesn't need this book? If you're a white progressive, this book is aimed squarely at you. It's aimed squarely at me, a self-proclaimed progressive who is white, and I learned a ton from it. DiAngelo spells it all out: where this fragility comes from, why it's so pervasive, what effect it has on people of color, and how to begin learning how to avoid it. I found this book challenging, disturbing, and life-changing. If every white person in America could read this book with an open mind, this would be a different country.
—Rebecca Hussey