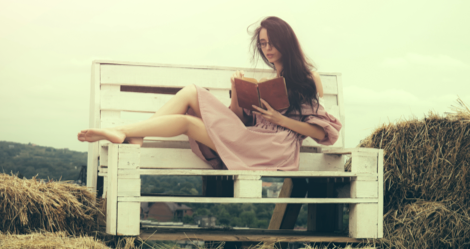 Lists
Riot Roundup: The Best Books We Read in June 2018
This content contains affiliate links. When you buy through these links, we may earn an affiliate commission.
We asked our contributors to share the best book they read last month. We've got fiction, nonfiction, YA, and much, much more—there are book recommendations for everyone here! Some are old, some are new, and some aren't even out yet. Enjoy and tell us about the highlight of your reading month in the comments.
I'd heard this described as "Nigerian Harry Potter" which I find is both accurate and does the book a disservice. It is a group of kids who are about 12 who start learning how to manage their magic. Sunny is a 12 year old Nigerian with albinism, who spent most of her early life in the U.S. She is a free agent (basically a Muggle) just entering both the sphere of the Leopard people and settling in to her new home at the same time a magical villain is on the loose. The magic is entirely unlike Hogwarts-style magic, the schooling operates as a mentor-apprentice relationship, rather than a boarding school. I adored all four of the main kids and their friendship, and I just can't wait to get my hands on Akata Warrior and dive back in.
—Aimee Miles
I loved everything about this novel. It's about Moss, a black gay teenager living with his mom in Oakland. His father was murdered by police six years before the story begins. It's a book about police brutality and the ways that racism and racist policies harm cities, schools, and families, but it's also a novel about the strength of youth activists, about community, and about queerness. It's a devastating book, and often painful to read, but Oshiro writes with as much beauty and depth about love and tenderness as he does about brutality and injustice. This book centers queer youth of color in a really wonderful way. Moss's friends and family are fantastic characters, and they've got each other's backs. So even though this book hurt to read, it also felt like a celebration.
—Laura Sackton
Blanca & Roja
by Anna-Marie McLemore (Feiwel & Friends, October 9)
Not to be weird, but when I die, I want Anna-Marie McLemore to write my obituary. Because it will be beautiful. I've devoured every single one of her previous works and I can safely say that Anna-Marie is the reason why I love magical realism now. Her writing is so lyrical and lush that it makes you feel like the only acceptable way to read her books is by lallygagging in a field of flowers. In McLemore's newest endeavor, sisters Blanca and Roja del Cisne come from a cursed family, where every generation will have a pair of two sisters and one of them will eventually be claimed by a bevy of evil swans. Older sis, Blanca, has tried to fool the swans by making herself and Roja indistinguishable—despite the fact they are polar opposites both in appearance and personality. Their plight becomes even more complicated when two local boys become intertwined in their lives. Think Snow White and Rose Red meets Swan Lake with a hella diverse cast of characters and a beautiful bond between two sisters.
—Kate Krug
Eden
by Andrea Kleine (HMH, July 10)
I read this novel in one sitting because I simply couldn't stop reading. It's often said that events of our childhood can be formative, and that's certainly the case for Hope, who was kidnapped by a stranger as a child with her sister Eden. More than 20 years later, when she gets a letter that the man is up for parole, she decides to track down her sister, who's been MIA for years, hoping they can testify against him to keep him in jail. The story is expertly crafted, and the writing and structure itself is reflective of the nature of trauma: fractured, incomplete, backing up on itself. The reader is drawn right into the story, and when I closed the book, I couldn't stop thinking about Hope and Eden, and what would happen next.
—Jaime Herndon
This work tells of the true story of a young flutist who steals 200+ bird skins from an English Natural History Museum. Johnson delves into the obsessive world of salmon fish lure tying to try to unravel the motivations for the crime. I had no idea that such a world even existed! Not only does he talk about this world, he also dabbles into the history of natural history and the importance of museum collections. It's well researched and told, but it left me feeling extremely pessimistic about the world.
—Elisa Shoenberger
I was looking for a dark Victorian novel and I am so thankful that another Rioter recommended this book. It is a brick at almost 600 pages, and I read it in a week. In this Dickensian-era novel, orphaned Sue Trinder grows up at a baby farm with her acquired family of thieves. One evening, a dastardly Gentleman arrives with a devious plot to make them all rich. Sue takes part in this plan and begins a journey full of secrets, unexpected plot twists, mistaken identities, and satisfying love interests. Waters moves her story from the dark corners of London to a countryside estate and even to a women's mental institution. After reading this, I felt like revisiting Oliver Twist, Bleak House, Jane Eyre, and other gothic masterpieces.
—Katherine Willoughby
I was absolutely captivated by this 1931 novel about a family holiday to the seashore. Sherriff beautifully captures everything that is joyful (and bittersweet) about a holiday. There's the planning and anticipation, the careful use of time, and the sadness that it all much end. Each member of the Stevens family experiences their holiday a little differently. Mrs. Stevens doesn't like the seaside much, but she enjoys the quiet time after dinner with no chores to do. Mr. Stevens revels in planning out the perfect strategy for the train trip and balancing out family time and alone time. The holiday contains no great drama, although there are some minor complications that are typical of any family vacation. Reading the book felt like a respite from both the headlines and the daily grind.
—Teresa Preston
I am so in love with this overwhelmingly sad and beautiful novel. It's told in two parts. Yale is a gay man living in Chicago in 1985 who has lost his best friend to AIDS at the start of the disease's appearance in his city. Fiona is in France in 2015, searching for her daughter, who disappeared from a cult years earlier. Thirty years separate their stories but as they move forward in their lives, we are treated to two tales of love and loss, both exquisite examinations of hopes and regrets. It's perfect for fans of A Little Life, Unless, and Christodora.
—Liberty Hardy
By now I'm sure we all know the story of Michelle McNamara, her obsession with the Golden State Killer case, and the recent capture of a suspect. It's an incredible story, but McNamara's book is the true masterpiece. I'll Be Gone in the Dark is undoubtedly a true crime book, but also contains sections that read as gorgeous, deeply personal memoir of McNamara's life and her work on the GSK case. When discussing the crimes themselves, McNamara doesn't skip any gruesome details, but is never exploitative and always remains conscious of the victims' humanity. Even if you're not usually a fan of crime, I'm confident you'll be a fan of McNamara and admire how she poured all of herself into this case and book. It breaks my heart that she wasn't alive to see her book be published, or to see the GSK suspect be arrested, but there is no question that her dedication is and will always be the heart and soul of this story.
—Patricia Thang
In Other Lands is everything you would ever want from a magic school book, and then some. It follows not-so-ordinary Elliot Schafer as he navigates magic school, having led a distinctly non-magical life up to that point. He makes friends, falls in love, advocates for diplomacy in a magical land that only cares for military solutions, and falls in love again (also, he's snarky, queer, and ready to meet mermaids). I avidly followed this story in its original form, an online series titled Turn of the Story, so when I found out that it would get a book form, I was beyond delighted. I read the book in one sitting and loved it. Fingers crossed for a sequel!
—Jessica Yang
A deliciously wicked title for a deliciously wicked book that is equally smart in its tackling of women's issues. Korede has always come to her younger sister Ayoola's defense, even after Ayoola has left a trail of dead bodies behind her, but when both sisters set eyes on the same man, Korede's defense of Ayoola's murderous ways is going to get put to the test…Love future you and pre-order this title so you can soon thank past you for the awesomely thoughtful gift.
—Jamie Canaves
This was my first time reading Moshfegh. I've always heard mixed things about her writing, so I've steered clear, but…Jesus. My bad. I should've known better. When a book's rating slips below 3.5 on Goodreads, that's generally my sweet spot; no one else likes it, so I know I will. And oh my god: I loved this book (it's currently rated just below 4.0 on Goodreads). I read it in one sitting. The story follows our narrator as she decides to cleanse herself of her old life by sleeping away her problems. She is supported in her endeavor by a psychiatrist who is so over-the-top nutty, she seems more hallucination than real, and the sleeping pill cocktail she is prescribed to fight the dubious psychiatric disorders she's diagnosed with. The pills leave her an apathetic zombie who sleeps, watches Whoopi Goldberg movies, and visits the local bodega to buy coffee and cigarettes. I saw the ending coming, but it was still a punch in the gut that left me thanking the puncher. Pay no attention to other reviewers; listen to me only: This is a terrific book!
—Sarah Ullery
If you want something to calm you down after another round of the latest news cycle, this book isn't it. Snyder wrote On Tyranny with a plan: convince his readers democracy is under threat—not just in the US, but all over the world—and lay out some warning signs to help them know when and how to resist. By far the most chilling tidbit has nothing to do with Trump, but with Russia and how they've been trying to foster xenophobia and fascism in Europe for years (with some apparent success). With Snyder's prediction in Slate that "'It's pretty much inevitable' that Trump will try to stage a coup and overthrow democracy," it's pressing that we all arm ourselves with facts and the tools to support the institutions we care about. Reading On Tyranny is an excellent way to start.
—Tasha Brandstatter
Malcolm Gladwell has quickly become my favorite author. His podcast and amazing books have proven to shed light on what I like to call "microhistories" of groups that have either been marginalized or whose stories have simply been overlooked. An outlier is defined as a person or thing differing from all other members of a particular group or set. In this book, Gladwell highlights outliers from multiple countries throughout history who have defied odds that "science" would say is not possible. Outliers contains situations that most of us would never have even considered. This book is more than just a cursory examination of unique people and situations. Gladwell's scholarship is something to truly admire. I highly recommend this one.
—Romeo Rosales, Jr.
The Poet X
by Elizabeth Acevedo
I've only been listening to audiobooks for a couple months, but wow. Acevedo reads the audiobook, and it's so beautiful to listen to. She portrays Xiomara's life as a Dominican American teenager in verse—Xiomara's experiences as a poet, a twin, her experiences falling in love, questioning god, and rebelling against her mother's too-strict parenting. While the themes may be familiar, Xiomara's voice is fresh and vivid. It's a super quick listen and read, perfect for one-sitting reading. It makes me happy to know this book exists in the world.
—Margaret Kingsbury
It's not often that I actually read a book start to finish without once putting it down, but I just couldn't help myself with this enchantingly sweet graphic novel. It's about friendship and following your dreams and gender identity and learning to be true to yourself—just a really moving story with a positive message. It had me smiling at almost every page. The artwork is lovely, full of pastels that really capture the spirit of the story. If you're looking for something to make you feel hopeful and happy amidst all the current craziness of the world, this is it.
—Rachel Brittain
Sadie
by Courtney Summers (Wednesday Books, September 4)
Sadie is going to kill a man. She's looking for the man she believes killed her little sister Mattie, and when she finds him, she is going to watch him die. West McCray is looking for Sadie. He has created a podcast called The Girls and he's trying to find out what happened to her after she left home when Mattie died. Told in alternating viewpoints (Sadie's first person account and scripts of The Girls), this book is masterful and heartbreaking. If I hadn't been reading it on my phone, I would have thrown it across the room when I finished. (But like. In a good way. Mostly.) Courtney Summers has destroyed me once again.
—Annika Barranti Klein
After days spent learning about the heartless policies of the current administration to separate children from parents, after hearing the words "tender age shelters" and watching Rachel Maddow cry on air…I needed something. I needed something to soothe my soul and to give me a small respite from the rage I constantly feel. And Retta's book was that respite. The actor who played Donna Meagle on the beloved tv series Parks and Recreation, Retta has an incredible tale of her life as a stand-up comedian and the struggles to make it in a world that doesn't necessarily reward people who unabashedly love food and the art of sitting down. I read this on audio and Retta's narration of her own book was an absolute gift. Listening to her fangirl out over meeting celebrities, her love affair with Hamilton, and her joy at purchasing a new designer handbag, So Close to Being the Sh*t, Y'all Don't Even Know was exactly the balm my ravaged heart needed. I actually cried when I got to the end. Not because of anything incredibly touching, but because living in that world for a couple of days was like a vacation I never wanted to end.
—Elizabeth Allen
If you are looking to read a romance that will leave you feeling totally contented, this is the book for you. Felicia and Griffin met in med school and although they went their separate ways years ago, they are bought back together after the death of a friend. Felicia is granted guardianship of a baby girl who isn't even a year old, and it turns out that Griffin is the father of said baby girl (unbeknownst to him). Surprise! Griffin decides that the whole situation has to be fate and since he lost Felicia once, he has no intention of letting her walk away again. This book had me utterly captivated from start to finish. I loved that Kennerson explored a new family's creation in a totally unusual way. This story is sweet, sexy, and utterly charming.
—Erin McCoy
This is a novel about being Native American in Oakland, California. It tells the stories of 12 characters of various ages and experiences, moving back and forth from one point of view to another. There are children trying to figure out what it means to be Native, grown-ups dealing with alcoholism and destructive marriages, parents and grandparents worried about or estranged from their children and grandchildren, young people trying to pull their lives together, or feeling pressure from their parents to do so. It's brilliantly written, moving, and an important story for our times.
—Rebecca Hussey
I randomly picked up Tomorrow Will Be Different off the new books shelf at my local library, and I am so glad that I did. Sarah McBride is a transgender activist and young widow who writes about her experience coming out, advocating for trans rights, and losing her husband to cancer when she was just 24. While I thought McBride's work on activism was interesting, the heart of the story is about her family and her relationship with her husband, Andrew Cray. She's a really empathetic writer who nonetheless is skilled a connecting her story back to larger issues facing transgender people, particularly those who have less privilege than she does. This book made me cry in multiple places, I really loved it.
—Kim Ukura
Clara Shin is your typical class clown. She hangs out with fellow troublemakers, doesn't think much about her future, and lives to make mayhem—especially when it means messing with that goody-goody class president, Rose Carver. But when a prank goes too far, Clara's Mexico vacation with her jet-setting mother is replaced with a summer working in her dad's food truck. Worst of all, Rose will be making Korean-Brazilian fusion food alongside her. Except, it's suddenly not so bad. And there's a boy that's 100% not Clara's type that she can't stop thinking about. And maybe—just maybe—Clara is ready to make some big changes in her life. Clara is a really unique YA character to get a story about. She quickly became my favorite Maurene Goo heroine, and I didn't think it was possible to like a character more than Desi from I Believe in a Thing Called Love. Her humor will draw you into the story, but the emotions she feels about her family and changing friend group will make you fall in love.
—Alison Doherty