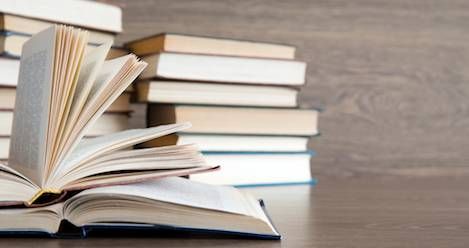 Lists
Riot Round-Up: The Best Books We Read in October
This content contains affiliate links. When you buy through these links, we may earn an affiliate commission.
We asked our contributors to share the best book they read this month. We've got fiction, nonfiction, YA, and much, much more- there are book recommendations for everyone here! Some are old, some are new, and some aren't even out yet. Enjoy and tell us about the highlight of your reading month in the comments.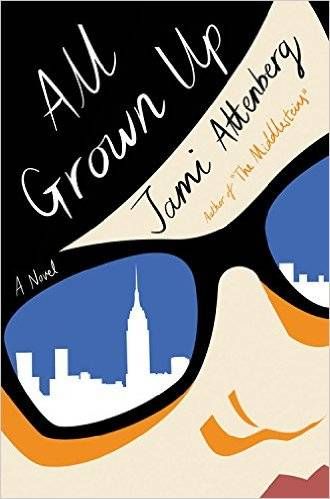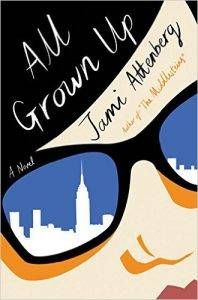 All Grown Up by Jami Attenberg (Houghton Mifflin Harcourt, March 7, 2017)
Andrea is almost forty and dealing with a whole set of issues about her life that are entirely separate from the ones society thinks she should have. So what if she isn't married with children? She has her own problems to deal with. Attenberg writes Andrea as a smart, sexy woman in NYC who is doing what she wants with her life, right or wrong, and not apologizing for it. I loved how at times she is a wise sage, and at other times, a selfish mess. It makes her so achingly human. This is Attenberg's fiercest, funniest, sexiest book yet. And the most heart-wrenching. She covers all the bases. I adored every word of it.
— Liberty Hardy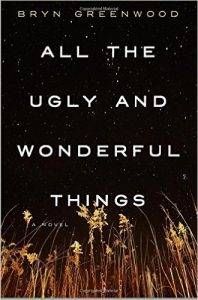 All The Ugly and Wonderful Things by Bryn Greenwood
This book is everything it advertises itself to be: ugly and wonderful. This is a gritty, complex story told through multiple POVs about a young girl who has been taught not to trust anyone, due to her unstable, unreliable family situation and the romance she finds with a much older man. It's gritty and dark and tough and uncomfortable, but it's brilliantly constructed read told through a non male-gazey perspective about that sort of taboo romance. . . if it's a romance at all. Stories about young girls in tough situations are my favorites, and Greenwood develops an incredible and resilient character in Wavy. It's an outstanding debut novel and I am itching for Greenwood's next book.
— Kelly Jensen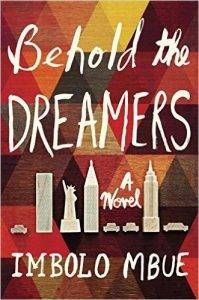 Behold the Dreamers by Imbolo Mbue
The book itself is excellent: a beautifully written story about family, dreams, what home means, the different interpretations of the American dream… The audiobook is an Oscar-worthy production. I know the Oscars don't give awards for audiobook narrators but they should–they should give all the awards to Prentice Onayemi for his impeccable, brilliant, and lovely narration. I finished this book feeling as if I had just walked out of an amazing Broadway show. I will read anything Imbolo Mbue writes and listen to anything Prentice Onayemi narrates.
— Jamie Canaves
Blame by Michelle Huneven
I'm currently writing a story that covers a long period of time in the life of one person and I'm finding it brings up some really interesting challenges. Blame covers a good 20 years in the life of a woman and the author does it so perfectly that it should be handed out to fiction writers as a passage of time master class. The story of Patsy, the protagonist, begins during a particularly bad drunken spell, continues through a stint in prison, her first days back on the outside, and then a long, sober life afterward. When I finished the book, I immediately went back and read the first chapter again and was so impressed with all the subtle and well-paced character development Huneven managed to accomplish.
— Tracy Shapley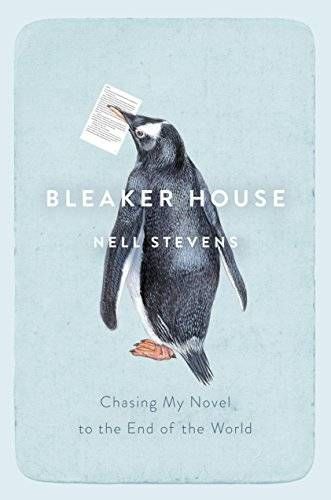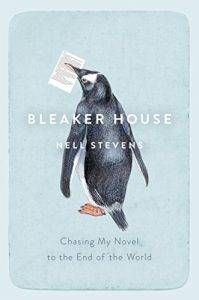 Bleaker House by Nell Stevens (Doubleday, March 14 2017)
I've had a lot of other reading to do this month, but this book was one of those where you pick it up just to check it out…and suddenly you're a hundred pages in. It's a memoir about Nell Stevens and her brilliant and insane plan to go live in Bleaker Island, in the Falklands (population: Penguins.) (and maybe some people) where she will focus entirely on writing her novel. Except that it isn't quite that easy, because books don't write themselves, even in isolation, and the island is such an adventure all on its own. Stevens' writing is very clever, and hilarious, and I related entirely to a lot of her concerns and thoughts about life and writing. I also read the book deeply envious, because dammit, I want to rush off to the Falkland islands or somewhere and write a book in a bizarre location. Like Thoreau's Walden, but with penguins and no power.
— Peter Damien
Disenchanted: The Trials of Cinderella by Megan Morrison (Arthur A. Levine Books, October 11, 2016)
This is the second book in the Tyme series, and I absolutely loved and adored it. The protagonist, Ella Coach, is a wonderfully strong, brave and flawed girl who wants a revolution. This was a great retelling of the Cinderella story. There are well-developed three-dimensional characters, strong writing, set in a brilliantly imagined universe. I loved the themes of ethics, poverty and class that were explored in this novel, and that ending. Man, that ending. I need more of the Tyme universe. My copy of the book is now on my husband's bedside table because as soon as I finished it, I thrust it to him. Everyone should read this book.
— Jen Sherman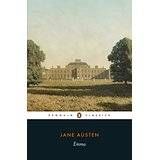 Emma by Jane Austen
I read Emma this month for the second time in anticipation of the Jane Austen Society's Annual General Meeting, which is focused on the book. It's not my favorite of Austen's novels—that would be Pride and Prejudice or Persuasion—but I do enjoy it very much. Unlike many readers, I find Emma immensely likable, despite how misguided (or shall I say clueless?) she often is. She gets things wrong, but she wants those she cares about to be happy, and I can't fault her for that. And although she can be snobbish or cruel to those she perceives as outside her circle, she's willing to learn when her mistakes are pointed out to her. I also enjoy observing the dynamics of the small community where everyone is in everyone else's business. Plus, Mr. Woodhouse made me laugh again and again (and sigh with relief that I don't have to put up with him—he's so terrible)! The sessions at the JASNA meeting only enhanced my appreciation of this book.
–Teresa Preston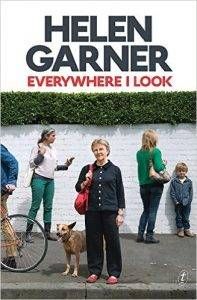 Everywhere I Look by Helen Garner
This essay collection by Australian writer Helen Garner is varied, absorbing, and so, so smart. She is an insightful cultural and literary critic — her essay on reading Pride and Prejudice is a delight — and she has also written moving personal pieces on writing, family, aging, and more. She reminds me of a couple other nonfiction writers I love: Jenny Diski and Janet Malcolm. She's fearless, forthright, beguiling, and I plan on reading more of her work.
–Rebecca Hussey
Freedom Is a Constant Struggle: Ferguson, Palestine, and the Foundations of a Movement by Angela Y. Davis
I've been trying to get into the book club scene locally (and possibly failing) but this was the pick of the month. I've always to read more by Angela Davis. This book of interviews and essays clearly distills many complex current issues, highlighting how local struggles are also global ones. Racism, capitalism, and the prison-industrial complex are all explored in depth. I'd definitely recommend this to anyone wanting a big picture look at social issues.
— Jessica Yang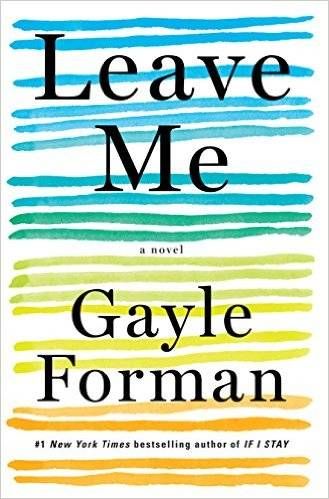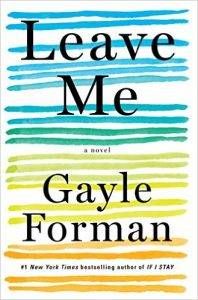 Leave Me by Gayle Forman
It was the premise that first drew me in. An overworked, underappreciated mother with a full-time job has a heart attack. And sure, her family's concerned. At least initially. But then, the narrator gets the sense that her family resents the time she's taking to recuperate. Overwhelmed and pissed off, she decides to run away. Whaaaaat? Me? Identify with this narrator? I don't know what you're talking about. Anyway. I don't usually spend money on hardcovers but, as soon as I read the opening pages, I knew I had to own this book. It didn't disappoint.
— Steph Auteri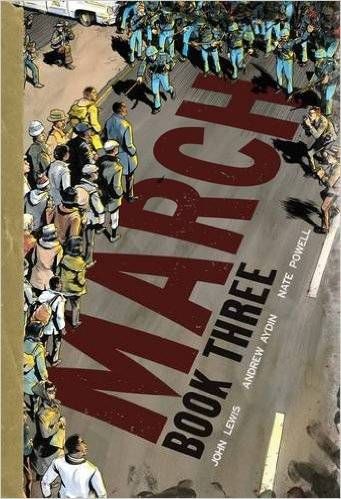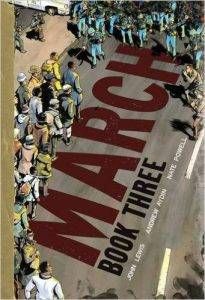 March, Book 3 by John Lewis and Andrew Aydin, illustrated by Nate Powell
I have been reading through all the National Book nominees for Young People's Literature, and March, Book 3 is a worthy, stunning graphic novel that everyone should read. The March series begins with a scene in John Lewis' congressional office, on the day of Barack Obama's inauguration. Through flashbacks, we get a most personal look into Mr. Lewis' history with the civil rights movement and all that he has endured fighting for equal rights and equal voting opportunities. How grateful I am that he told his story. The graphic novel medium, and in particular Nate Powell's stunning art, works perfectly to detail the brutal and heartbreaking work of the many people fighting for the most basic of human rights. March, Book 3 is the conclusion of the series, but John Lewis remains a larger-than-life political activist and Georgia Congressman whose wisdom will endure through countless generations. "We are one people, one family, one house–the American house," he recently wrote on Twitter. "We must learn to live together as brother & sister or we will perish as fools."
— Karina Glaser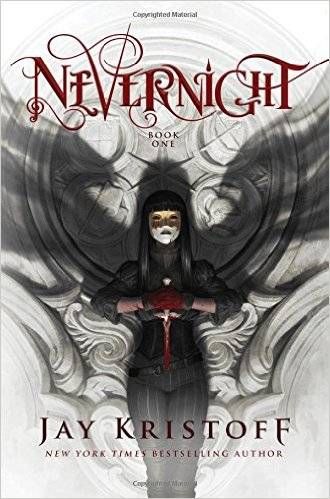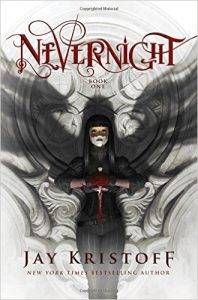 Nevernight by Jay Kristoff
This book took me completely by surprise. Despite my eternal love of teenage girl assassins, I somehow wasn't that interested in this book, but it popped up in my Overdrive screen and I thought I'd try it. Assassins, magic, strange creatures are all pluses for me. But my favorite thing about this book is the voice. I listened to the audiobook, so I cannot say what it's like to read the words on the page, but the literary "voice" of the narrator combined with the acting skill of the real-world narrator is a thing of beauty. I adore well-done omniscient narrators with snark and a slight bit of disdain for either the reader or the main character, a la the Bartimaeus Sequence by Jonathan Stroud, and I absolutely adore when there is an audiobook narrator who is up to the task!
— Sarah Nicolas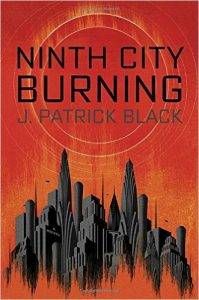 Ninth City Burning by J. Patrick Black (Ace, September 6, 2016)
I grabbed this on a whim from the "New Releases" shelf at the library and ended up falling in love. This sci-fi/fantasy/war story is definitely for people who like their worldbuilding complex and their magic epically destructive. Not for people who dislike multiple narrators, pseudoscience, or the multiverse.
— Megan Cavitt
Not Funny Ha-Ha: A Handbook for Something Hard by Leah Hayes
The yellow spine and title drew me in as I crawled through the graphic novel section of my library. Then the inside? It's a guide for going through an abortion. Not in a gross way, not in a political way, not in a harmful way. It's purely informational, with drawings of two women going through the process (making decision, following through, aftermath). Basically, it's this: "You ended up in this situation. It's a hard decision to make, but here are your options. Here's what to expect, but OH MY GOD WE ARE NOT DOCTORS. Ask your doctor. Best wishes." Before reading this, there were a lot of questions about abortion I wouldn't have ever known to ask. So. Recommended reading for all Pro-Choice humans? All in favor, say aye.
— Ashley Holstrom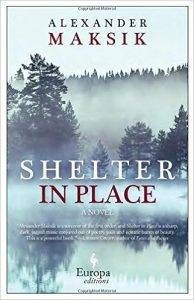 Shelter in Place by Alexander Maksik (Europa, September 13, 2016)
I liked Maksik's book when I was reading it but, since finishing it early in October, I really can't stop thinking about it. This book has a slow burn and has crept into my conversations over and over in the last couple of weeks. Shelter in Place subverts the Manic Pixie Dream Girl by taking her to her extreme conclusion. The narrator, Joe March, tells the story of the summer 20 or so years ago that his mother beat a man to death with a hammer and became a feminist icon. It's the same summer he met the love of his life, Tess, and first struggled with mental illness. This is a book about the women in Joe's life– mothers and lovers, sisters and strangers– but it manages to be feminist, angry, and deeply moving. I was impressed with how well Maksik wrote the different women in this book and also how he charted Joe's own personal, feminist, and familial awakenings. Plus, the Pacific Northwest setting is a character in its own right and makes it perfect reading for cool, rainy autumn nights.
–Ashley Bowen-Murphy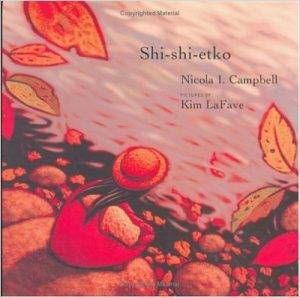 Shi-shi-etko by Nicola I. Campbell, Kim LaFave
I read a lot of picture books at work, and often I select a random interesting topic or theme and just grab a stack. Recently I've been working my way through as many recommended Indigenous picture books, and Shi-shi-etko is a standout selection. It follows a young girl as she prepares to go to residential school – where she will be forbidden to practice her family and tribal traditions and language. The illustrations alone make it outstanding, but the book is also a wonderful way to introduce a difficult topic. By focusing on the things she does before leaving, Campbell keeps the focus on the real people these things happened to.
–Amy Diegelman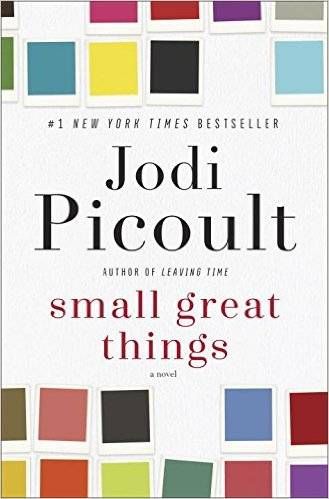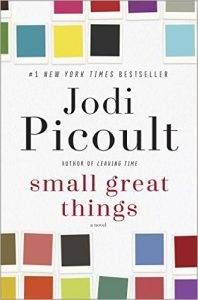 Small Great Things by Jodi Picoult
I'm a complete newbie to Picoult's work, but I've always had this impression–maybe from reviews and editorials I've read–that her books read like lifetime TV movies. That's probably why I've avoided them until now. The funny thing is that this book does remind me of a lifetime TV movie, BUT it works. The story: an African American labor and delivery nurse is prohibited from caring for the infant son of white supremacists. When the baby dies on her watch, she is indicted for murder and is appointed a well-meaning but somewhat clueless white public defender. The story is told from three perspectives: Ruth, the nurse, Kennedy, the public defender, and Turk, the white supremacist father. Writing from these radically differing perspectives allows for a nuanced exploration of racism in America–from outspoken hatred to unconscious bias. A book like this could go terribly wrong in the hands of a white author, but Picoult clearly spent a lot of time talking to people of color and listening to their stories. It's not perfect–sometimes she tries too hard to make her point and the ending is pretty unbelievable–but it's a solid contribution to the discussion of race this country is currently having. As a side note, I highly recommend the audiobook, narrated by Audra McDonald, Cassandra Campbell, and Ari Fliakos.
–Kate Scott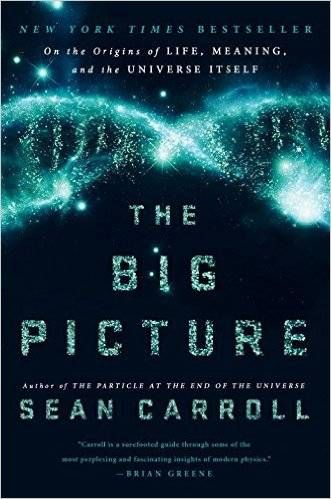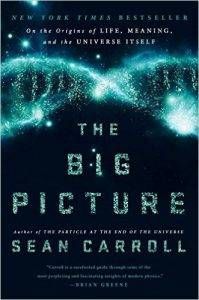 The Big Picture by Sean Carroll
When I started reading The Big Picture I assumed it would be about cosmology. Sean Carroll is a cosmologist and physicist at the California Institute of Technology, and his previous books dealt with that subject. Carroll's new book is about an even bigger topic – everything. What Carroll attempts to do is give the big picture of our existence, and he does a fine job. He combines science, philosophy, religion, psychology and other subjects, to show why no one explanation works. There can be no general theory of everything. Carroll explains how our understanding of how things functions depends on the domain of what we're describing. So, explanations of the unseen world quantum mechanics do not explain everyday human behavior. This book is for anyone who asks why.
– James Wallace Harris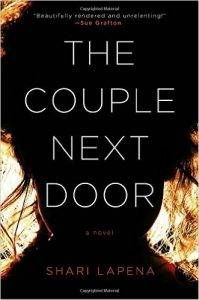 The Couple Next Door by Shari LePena
Are you ever just looking for something fun and gripping and twisty that won't break your brain in the midst of a crazy moment in the world? Yeah me too. LePena's thriller about a baby that goes missing while her parents are next door at a party is all of those things, plus more. You think that the title gives something away and you're waiting for whatever that thing is, and yet….You never ever see some of these twists coming. It's a fantastic, textbook thriller that still manages to be fresh and surprising.
— Rachel Manwill
The Good House by Tananarive Due
I like to read horror during October, and I've been meaning to catch up with Due since I read her stellar story collection Ghost Summer in 2015. I'm sad I waited so long! The Good House is simply one of the best horror novels I've ever read. It's thick and complex enough to satisfy fans of big, fat horror writers like Stephen King. There's a unique and well-built mythology around the supernatural happenings in the book that won't leave you rolling your eyes at the end. And the characters are rich and well-drawn, making it all the more difficult when so many bad things start happening to them. There are many bad things and they aren't pretty. This is not a novel about gore or violence, but there are so many deeply tragic happenings that it may be too intense for some readers. As Due isn't as well known as she should be, you may have a tricky time locating this book. Request it from your library if they don't have it! And you can also check out the audio, like I did, which is available on Audible.
–Jessica Woodbury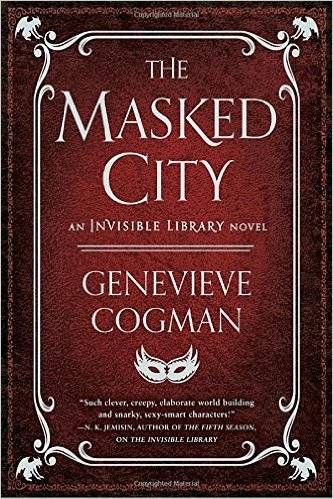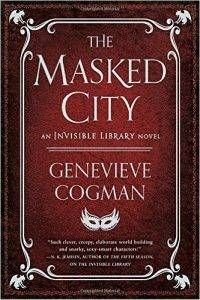 The Masked City by Genevieve Cogman
I enjoyed the first book in this series, The Invisible Library, but The Masked City completely won me over. The series centers around Irene, a librarian/spy who travels through different versions of our world collecting books to maintain the balance between chaos and order. The Masked City has a very straight-forward plot: Irene's apprentice, a dragon named Kai, is kidnapped by the Fae, the dragons' mortal enemies, and taken to a Fae-controlled Venice that's a mix of fantasy, dream, and nightmare. First of all, I love stories that take place in Venice, particularly a Venice where Piranesi's Prisons exist IRL. Secondly, Irene is a total badass. While she gets help from several characters, including a version of Sherlock Holmes, the book really shines when she's figuring things out on her own. The story is fast-paced, with a nearly exhausting amount of action, and is chock full of geeky literary allusions. The ending was abrupt, but left me wanting more. I can't wait for the next book!
–Tasha Brandstatter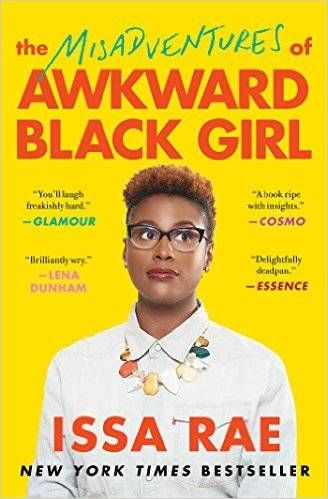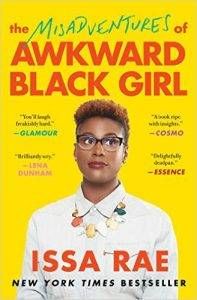 The Misadventures of Awkward Black Girl by Issa Rae
Celebrity memoirs and autobiographies tend to fall into the trap of leaving out the formative years: a couple of early-childhood stories segway directly into "then I met a producer/director and my career was set!" Rae is much more interested in describing her youth as, well, an awkward black girl. Her parents were protective. Her family moved a lot. She experimented with online dating at age eleven. She fumbled attempts to please her classmates. She could not coordinate an outfit or dance to save her life. These stories make the impact of her adult years and eventual success much more joyful than a dull timeskip (getting an audition request from a former bully and laughing, "B*TCH ARE YOU KIDDING ME?" won my heart).
— Thomas Maluck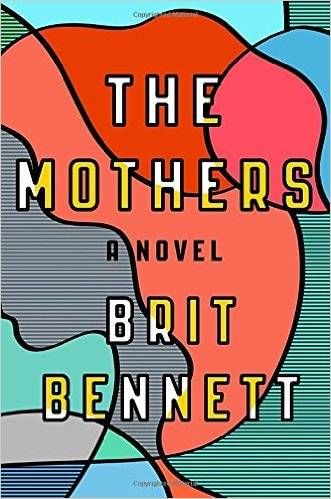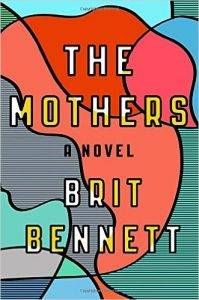 The Mothers by Brit Bennett
I'm so obsessed with this book and so glad I read it and didn't let it fall back on my TBR. It was quick and satisfying read, and it's written very elegantly. Though it tackles topics that could easily be handled preachily, they never come off that way. It never feels as if judgment is being passed on anyone, which is very important to me in narratives about abortion and religion. The characters are simply living and we're just matching them do it.
–Chelsea Hensley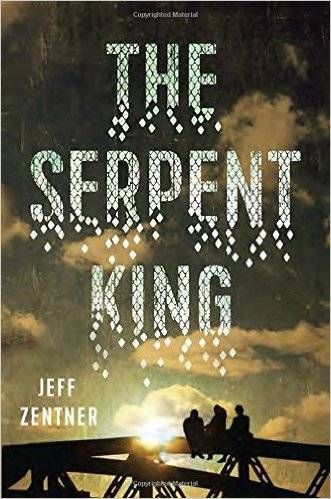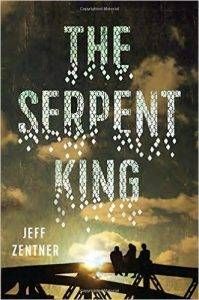 The Serpent King by Jeff Zentner
I read this in one day on a long train ride. Not only did it make sitting on an English train bearable, I was completely engrossed in this world. It's the story of Dillard Early, a teen living in the southern U.S. His father is in prison for a really, really bad crime. Dillard can't escape the ghosts of his family name, and feels like he's slowly going crazy because of it. His friend Travis has an even worse life. Travis' father is a homophobic racist monster that physically abuses him and his mother. Travis' only escape is through a Game of Thrones-esque book series. Then there's Lydia. Lydia has a supportive family, great grades, and hundreds of thousands of followers on social media through her fashion blog. Together, the three friends try to survive the suffocating and dangerous life that exists within their small town. If you've ever wanted to escape your small-town life, or if you've ever felt like you're alone in life, this is the book for you.
— Lucas Maxwell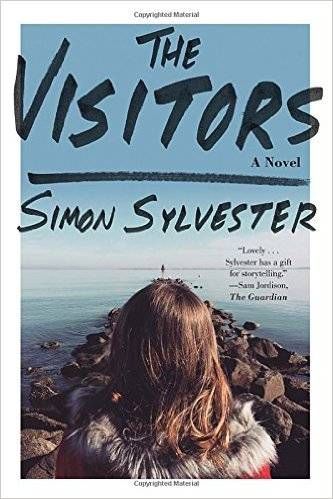 The Visitors by Simon Sylvester
I don't know why this book felt so perfect for autumn and cool weather and grey skies and my current melancholy, but it was perfection. Beautifully blending moody teenage angst, Scottish island life, mysterious disappearances, and selkie mythology, Sylvester's novel is the best new(ish) book I've devoured in months. I found myself angry that work and sleep were disrupting my progress. I wish there was more. I wish the story went on forever. I want to sink into Flo's life and never leave the comfort of her tales. Achingly, dreamingly stunning.
–Brandi Bailey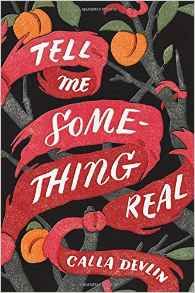 Tell Me Something Real by Calla Devlin
This story is so incredibly specific that it completely sucked me in. From the details about the characters to the time to the setting everything felt real and captivating. The story follows the three blond, beautiful Babcock sisters through a San Diego summer in 1976. Their mother is dying of leukemia and travels, with them, to Mexico often to receive an experimental treatment. I thought I'd fall in love with the story because of the sister relationship (definitely my genre kryptonite!), but instead the lyrical writing and tightly controlled plot twists became my favorite. There is also a very swoon-worthy romance. I'm not sure if you can call a book set in 1976 historical fiction, but I'm loving the trend in YA to tell stories in the more recent past.
–Alison Doherty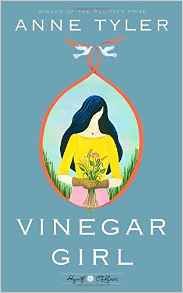 Vinegar Girl by Anne Tyler
I read a lot of books this month, and most of them were okay to good, but it was hard to pick a stand out. I'm naming this as my favorite because it was the perfect kind of palette cleanser. I breezed through it in a couple of days and really enjoyed the snarkiness of the narrator and the twists on a familiar plot. If you're looking to get out of a reading slump, this just might do it!
— Molly Wetta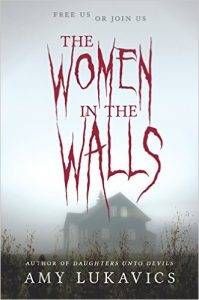 Women in the Walls by Amy Lukavics
Read a horror novel, I thought. It's close to Halloween, I thought. It'll be fun, I thought. Women in the Walls follows a girl on a giant, haunted estate who begins to hear voices in the walls after her aunt vanishes in the woods and her cousin goes mad. I spent the entire book hoping that Lukavics would surprise me with a quasi-happy ending, but nope. Slam the book shut before the final few pages and imagine your own happy ending, because Women in the Walls is terrifying and you will not sleep that night.

— Nicole Brinkley