Lists
Riot Round-Up: The Best Books We Read in June
This content contains affiliate links. When you buy through these links, we may earn an affiliate commission.
We asked our contributors to share the best book they read this month. We've got fiction, nonfiction, YA, and much, much more- there are book recommendations for everyone here! Some are old, some are new, and some aren't even out yet. Enjoy and tell us about the highlight of your reading month in the comments.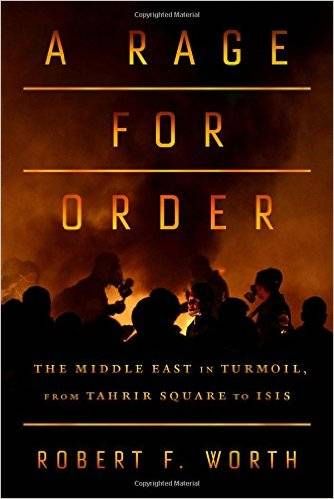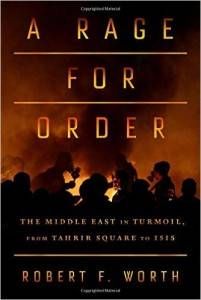 A Rage for Order by Robert F. Worth (Pan McMillan, 2016)
In the slew of books about the post-Arab Spring Middle East, rarely has anyone captured the humanity of the struggle within so eloquently. Worth is a former Beirut bureau chief for the New York Times who spent a decade reporting on the region, and this book isn't a historical study. Instead it captures the narratives of revenge, sectarianism, corruption and religious fervor that run through the wars and revolutions in Egypt, Libya, Syria and Yemen through the lives of ordinary people, from an interrogator with a Libyan militia who finds himself charged with the government torturer who killed his brother, to two women, one Sunni and one Alawite, in Syria whose friendship disintegrates with the uprising in Syria, to Tahrir Square in Egypt's brief promise of egalitarianism, and how it all fell apart.
– Kareem Shaheen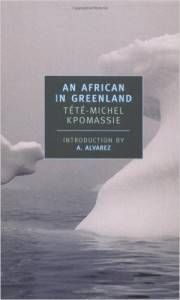 An African in Greenland by Tété-Michel Kpomassie translated by James Kirkup
Good bananas, I learned a lot from this book, which is the memoir of a man from a small African village who spends the better part of a decade getting to Greenland and then several years in Greenland, just generally be a badass and being 100% down for whatever adventures come his way. Like, I learned that if you go to Greenland and knock on a stranger's door they'll say, "What's up, come in and eat raw blubber and also live here now," and then you'll be like, "Sure, cool, thanks," and sleep in a bed with their entire family for several months, no big deal. An African in Greenland was just straight up fun and interesting and one of the better memoirs I've read in my decades on this planet.
– Tracy Shapley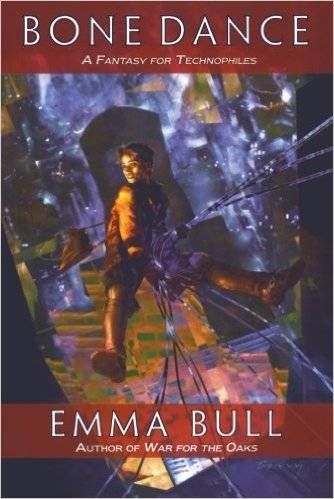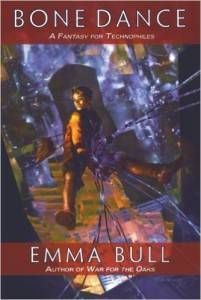 Bone Dance: A Fantasy for Technophiles by Emma Bull (Ace, 1991)

This book blew my socks off. I grabbed it on a whim, expecting some basic '90s sci-fi, and it was so much better than I anticipated. Bone Dance is your typical post-apocalyptic story, and a lot of the expected tropes are there, but there's so much more to it. The main character, Sparrow, survives in the gritty, deal-driven world of the Night Fair by tracking down books, movies, and audio recordings that have become precious (and sometimes forbidden) relics. But when a customer requests information about the Horsemen – the mysterious figures whose mind-control powers are rumored to have brought about the apocalypse – things quickly spin out of control. The plot is fast-paced and entertaining, and at the same time delves into issues of gender, sexuality, asexuality, morality, choice, and personal autonomy. This is a great pick for anyone who enjoys character-driven, thoughtful sci-fi.
– Zoe Dickinson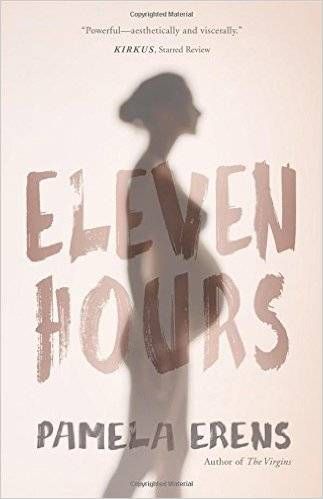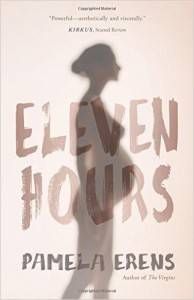 Eleven Hours by Pamela Erens
The currently pregnant should not read this book. Everybody else should at least consider it. It's a powerful portrayal of childbirth, about what happens when expectations don't meet reality and what it's like to face giving birth on one's own. With the exception of flashbacks that explain the lives of the two main characters — one woman in labor and another working as her nurse — the entire novel takes place in the hospital. It's the best, most-detailed depiction of labor I've ever read. I wish we had more books like these.
-Rebecca Hussey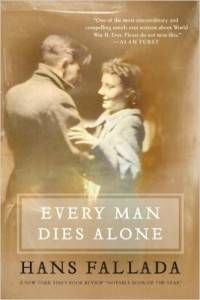 Every Man Dies Alone by Hans Fallada, translated by Michael Hofman
This is an absolutely devastating novel about Otto and Anna Quangel, an older working-class German couple during World War II who wrote anti-Nazi messages on postcards and left them around Berlin. The two work on their own, not part of any larger resistance movement, and they have no way of knowing whether their messages are having any effect. It gets off to a slow start, as the Quangels start their work and the authorities begin to take notice and sift through various suspects to find the culprits. But the later chapters, as the Quangels explain their actions and decide how to deal with the consequences are terrifying and wrenching. Based on the true story of Otto and Elise Hampel and first published in 1947, this book sends a powerful message about the importance of speaking up for good, regardless of the results.
-Teresa Preston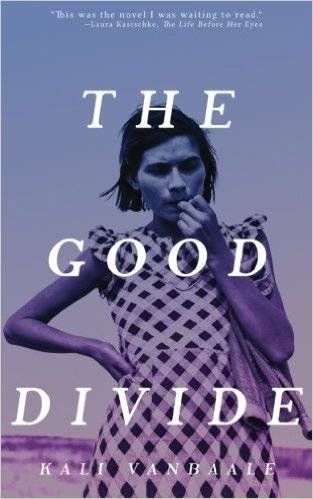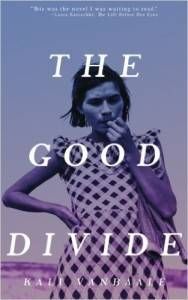 The Good Divide by Kali VanBaale
It's been a long time since I've read an adult novel that gave me the same kind of feelings that Ann Patchett's The Magician's Assistant — my all-time favorite book — does each time I read it. VanBaale's story, though, did that very thing.
Set in two time periods, one in the 1950s and one in the 1960s, this is the story of Jean Krenshaw, a young Wisconsin farmer's wife. It follows as she begins a relationship with her husband while longing for her husband's brother, Tommy. When Tommy marries a girl from the city of Madison with dark skin and who has never once lived on a farm, Jean has to come to terms with this long-standing crush . . . especially as Tommy and his wife occupy the house across the road, on the same farm, that they do.
VanBaale explores so many rich terrains in this book. Aside from family secrets and jealousy, she develops and incredible look at small-town farm life in Wisconsin, the challenges that women experienced acquiring medical care and abortion during this time period, and, perhaps the part that really struck me, the ways in which mental illness went unspoken and hidden.
This literary title from a small press is totally worth your time.
– Kelly Jensen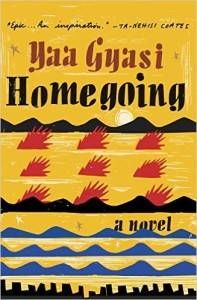 Homegoing by Yaa Gyasi
By now, you have heard several Rioters rave about this book, and you are sure to hear about it from several more. Possibly the best book of the year, this amazing novel stomped my heart flat with its wrenching story of sisters and slavery. Spanning three hundred years, Homegoing follows the stories of two half-sisters in Ghana – one made a wife, one made a slave – and the lives of their offspring in several countries, and throughout wars and jealousies, births and deaths. Gyasi's writing is astoundingly remarkable. The fact that this is her first novel is almost incomprehensible, because it's perfect.
– Liberty Hardy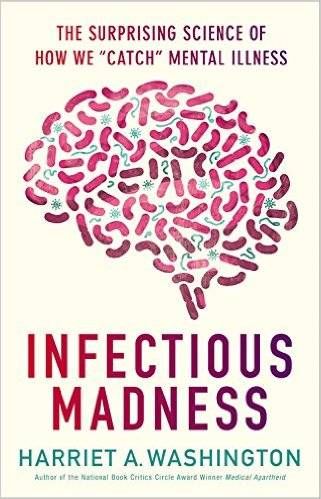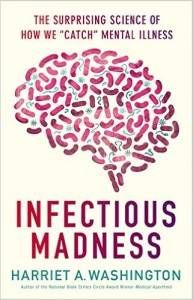 Infectious Madness by Harriet A. Washington
I have a longstanding interest in the biological underpinnings of mental illness and so couldn't resist checking out Harriet Washington's Infectious Madness: The Surprising Science of How We "Catch" Mental Illness from the library when I first learned of it earlier this month. As the title implies, the book delves into a large body of research pointing to an infectious cause behind many cases of so-called mental illnesses, including schizophrenia, bipolar disorder, and OCD. With cool rationality, Washington challenges the predominant psychiatric paradigm of talking cures and antipsychotics while providing readers with an entertaining and informative introduction to the microbes that like to mess with our heads.
-Kate Scott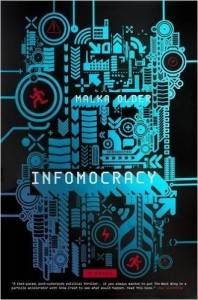 Infomocracy by Malka Older
This is exactly the kind of imaginative, speculative fiction we need more of. It is set in a weird future version of our world, and while Older has done all her homework—building a fully-fleshed world with technologies, subcultures, and political systems that are creative and plausible—but she mercifully doesn't force the reader to endure that homework. (Too many science fiction and fantasy authors display their worldbuilding like a badge, when in fact their books would be better off if they made that world a setting for an interesting story rather than the point itself. But I'll get off my soapbox now.) Older's book is set in a future where the management of information and the exercise of political power are intertwined in ways both deeply odd and oddly familiar, and its plot makes the most of that world by following two protagonists as they try to unravel a possible conspiracy (or maybe several). It's thrilling and thoughtful, ambitious and modest. And it's also a lot of fun.
–Derek Attig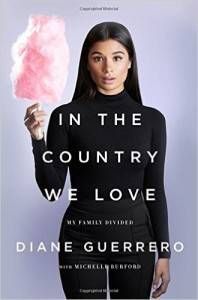 In the Country We Love by Diane Guerrero
Holy damn, this book is good. Guerrero tells the harrowing story of living in fear of her parents being deported, until one day, when she is 14, it finally happens. This book is raw, powerful, and so, so important. As a Latina sister (also from Colombia) I applaud Guerrero for having the courage to tell her story.
— Nicole Froio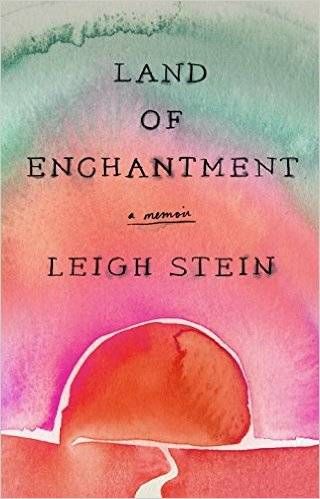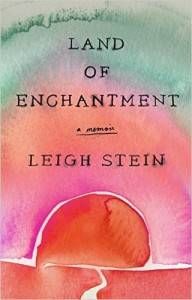 The Land of Enchantment by Leigh Stein (Plume / August 2, 2016)
Leigh Stein's The Fallback Plan resonated with me so much, I couldn't resist when I saw she wrote a memoir. Add that it's her way of sifting through an abusive relationship, and I'm all in. The story alternates among tales before, during, and after the relationship. They spontaneously move to New Mexico, the Land of Enchantment, and from there, it's a downward spiral. He's dangerous, can't hold a job, and tells her she needs to see a therapist because she's a bummer. Then he steals her anxiety medication and snorts it. Stein writes this story so beautifully and honestly. She knows her boyfriend is abusive, but she craves him anyway. She knows she's worth more, but she's afraid of taking a leap. Until she does. And then her life really begins.
— Ashley Holstrom
Let It Shine by Alyssa Cole
Really exceptional historical romance can remind us that love existed even in the times in our history that are darkest and most pivotal. In Let It Shine, Alyssa Cole's Civil Right movement-focused novella, Cole reminds readers once again that weighty topics and love stories are not mutually exclusive. The story considers anti-semitism, violence, feminism, religion, family, and love. Cole writes about the best and worst parts of human nature, and she manages to do it in about 150 pages. Let It Shine is excellent and significant because of the fact that it's a romance, not in spite of it.
— Trisha Brown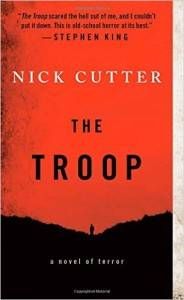 The Troop by Nick Cutter
I was in a bit of a reading slump, having experienced multiple false starts, where I realized what it was that I really needed: something fun that would fill me with creeping horror. Nick Cutter has gotten the job done for me in the past, with The Deep. The Troop—about a Boy Scout troop stranded on an island with something truly awful—was even more satisfying. I'm still having nightmares.
— Steph Auteri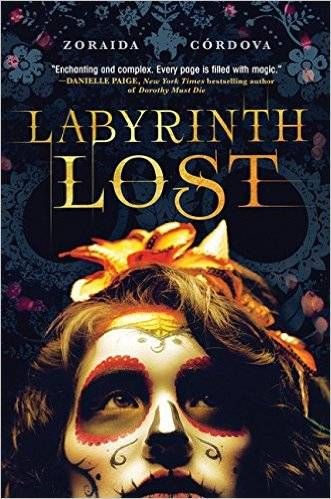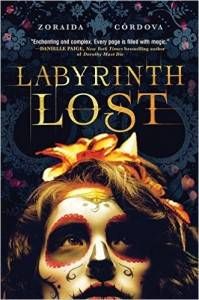 Labyrinth Lost by Zoraida Cordova (Sourcebooks / September 6 2016)
Brujas! Family love! Creepy monsters! Girls who love girls! A boy made of sunlight! Zoraida Cordova's Labyrinth Lost was a fun and fast-paced venture through another world. After trying to eradicate her magic during her Deathday celebration, bruja Alex is forced into Los Lagos to rescue her family. Alex's quest is as much a poignant discovery of herself and her place in the world as it is about saving her family, and combined with a beautiful splash of romance, made for the perfect summer fantasy read.
— Nicole Brinkley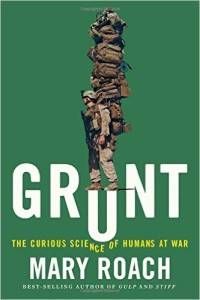 Grunt by Mary Roach
Mary Roach is one of the few writers that I just wait around, twiddling my thumbs, waiting for her to publish a new book. I don't even care what the book is about. In fact, I'm pretty sure when I pre-ordered my copy of Grunt, all I knew about it was the title. Mary Roach is a must-read for people like me… people who are fascinated about science but aren't necessarily knowledgeable on the topic. As in all of her books, Roach explained the science of how the military life impacts human beings in a way that was both hilarious and completely lacking in condescension. She holds her reader's hands through complex scientific explanations without them ever feeling as they're being talked down to. Grunt isn't my favorite Mary Roach (Stiff will always take that spot in my heart), but she didn't fail at bringing her particular brand of irreverence, humor and intelligence to a topic I previously found myself ambivalent about.
— Elizabeth Allen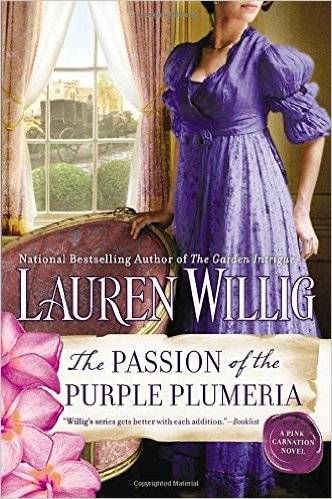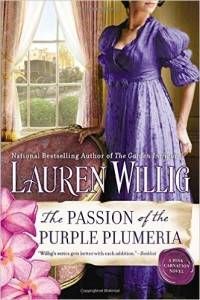 The Passion of the Purple Plumeria by Lauren Willig
A romp! A romp, I tells ye! This is the first Pink Carnation book I've read, and I was shocked by how easy it was to slip into this well-established series. It's filled with action, romance, and plenty of swashbuckling, as a modern-day scholar and two 18th-century spies try to find a cache of priceless jewels. Although there was a lot going on (modern-day storyline, Gwen's novel, the historical storyline), and I'm not sure 2/3rds of it was really necessary, it didn't detract from the central story at all. I'll definitely be picking up more books in this series, because swashbuckling ladies who meet their match and fall in love is my catnip.
–Tasha Brandstatter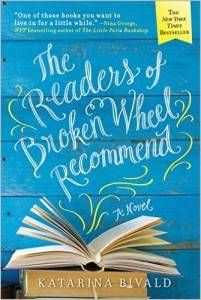 The Readers of Broken Wheel Recommend by Katarina Bivald
I kept putting this one off because the premise didn't really grab me, but holy cats, I wish I hadn't! This book about a young woman from Sweden who goes to Iowa to meet her bookish penpal (an old woman who we quickly learn has died) just sucked me right into its strange little world. Such a glorious, quaint, funny story. Probably will end up buying a print copy because I keep wanting to underline the beautiful little statements peppered throughout this one.
-Amanda Kay Oaks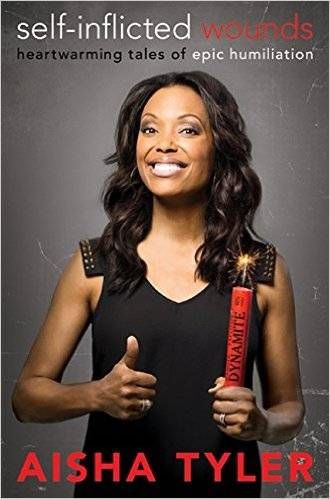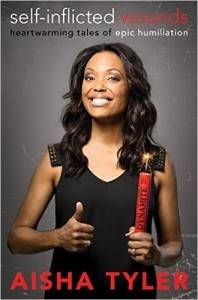 Self-Inflicted Wounds: Heartwarming Tales of Epic Humiliation by Aisha Tyler
Some people listen to their inner voice. Some people tell it to shut the hell up, hold my beer, and watch this! Aisha Tyler is one of the latter. A true comedienne, her book is one tale after another of bad decisions that make great stories. Tyler tells us what she learned through each experience, even if the thing she learned is that even though she may repeatedly make the same mistakes, she'll have a heck of a story to tell at the end of it. This book caused me to laugh, cringe, and then snort with laughter again.
— Patricia Elzie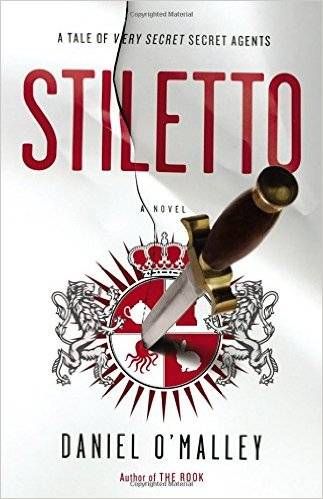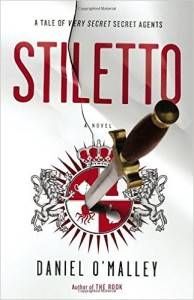 Stiletto by Daniel O'Malley (Little, Brown and Company)
I hadn't planned to pick this book up. Paranormal secret agents in London merging with their ancient enemies, a bunch of mad scientists from Europe? Eh, not my thing, I thought. I was so wrong. I haven't been able to put Stiletto down. It's funny, and gross, and imaginative, and weird, and it keeps me up late at night because it's such a page-turner. This is the sequel to O'Malley's first novel, The Rook, which I haven't read, so I can verify that it stands alone.
— A.J. O'Connell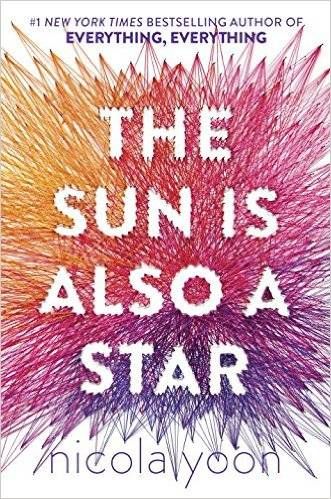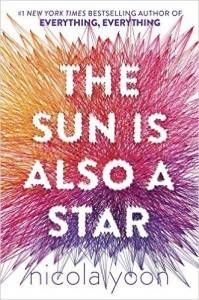 The Sun is Also a Star by Nicola Yoon (Delacorte Press, November 1)
I fell in love with Yoon's debut novel, Everything, Everything. It was just what I needed to read at the time that I read it. When I saw her next book at BEA, I couldn't wait to get my hands on it. I just wanted it around for a day when I needed a boost. It's a completely different kind of novel. There are two primary narrators, along with occasional breaks for backstory on peripheral characters. It takes place, mostly, in the course of just one day. For the two main characters, Natasha and Daniel, it's one of those life-changing days. It isn't all sunshine and rainbows, but I found it to be a much needed reminder in the power of hope.
–Cassandra Neace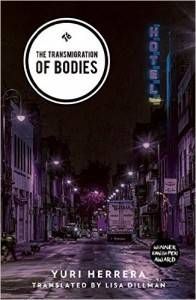 The Transmigration of Bodies by Yuri Herrera, translated by Lisa Dillman (& Other Stories, July 5, 2016)
I'd recommend this book for the nicknames alone: The Redeemer, Romeo, Neanderthal, Three Times Blonde and (my favorite) The Unruly. Every character gets one – because why the hell not? And what Yuri Herrera calls his characters is just one of the many details that had me falling hard for this book. A deadly disease, transmitted by mosquitoes, has the city under siege. The protagonist, known as The Redeemer, has been summoned by a local crime boss, a.k.a. the Dolphin, to arrange a hostage exchange. A rival family has the Dolphin's son and the Dolphin has taken their daughter in retaliation. Bad stuff is about to go down. But of course there's more to the story than what The Redeemer is being told. Herrera transforms elements of Shakespearean tragedy, dystopian fiction and hard-boiled crime into something truly original (and under 112 pages). My perfect read for a hot summer day.
–Tara Cheesman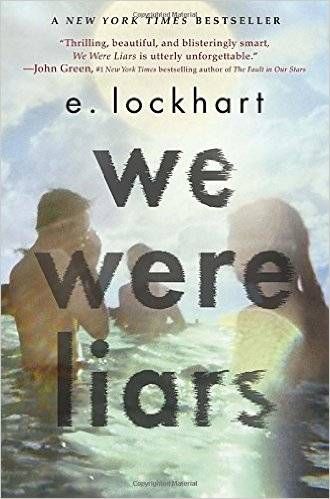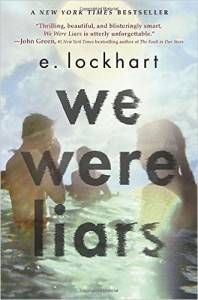 We Were Liars by E. Lockhart
I know I am way late to this bandwagon, but this book blew me away. I listened to the audiobook and frequently ended up sitting in my apartment parking lot for twenty or more minutes after arriving home because I couldn't stop. I am so glad I managed to avoid spoilers on this one, and I don't really know how to talk about it without giving too much away. This book is full of terrible and beautiful people and is wildly compelling with gorgeous, heartbreaking writing. It is a true experience that will leave you feeling hollowed out and loving it.
–Sarah Nicolas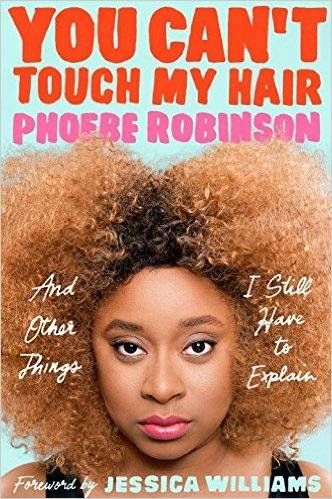 You Can't Touch My Hair: And Other Things I Still Have to Explain by Phoebe Robinson (Plume, Oct. 11)
An utter delight of a book, from Jessica Williams' forward to Phoebe Robinson's last page. You Can't Touch My Hair is a collection of essays dripping in humor, honesty, and pop-culture references that weaves effortlessly between important conversations about race/gender to silly conversations like ranking U2 members for bow-chicka-wow-wow purposes. And if Jessica Williams doesn't have a book deal yet someone needs to get on that.
–Jamie Canaves