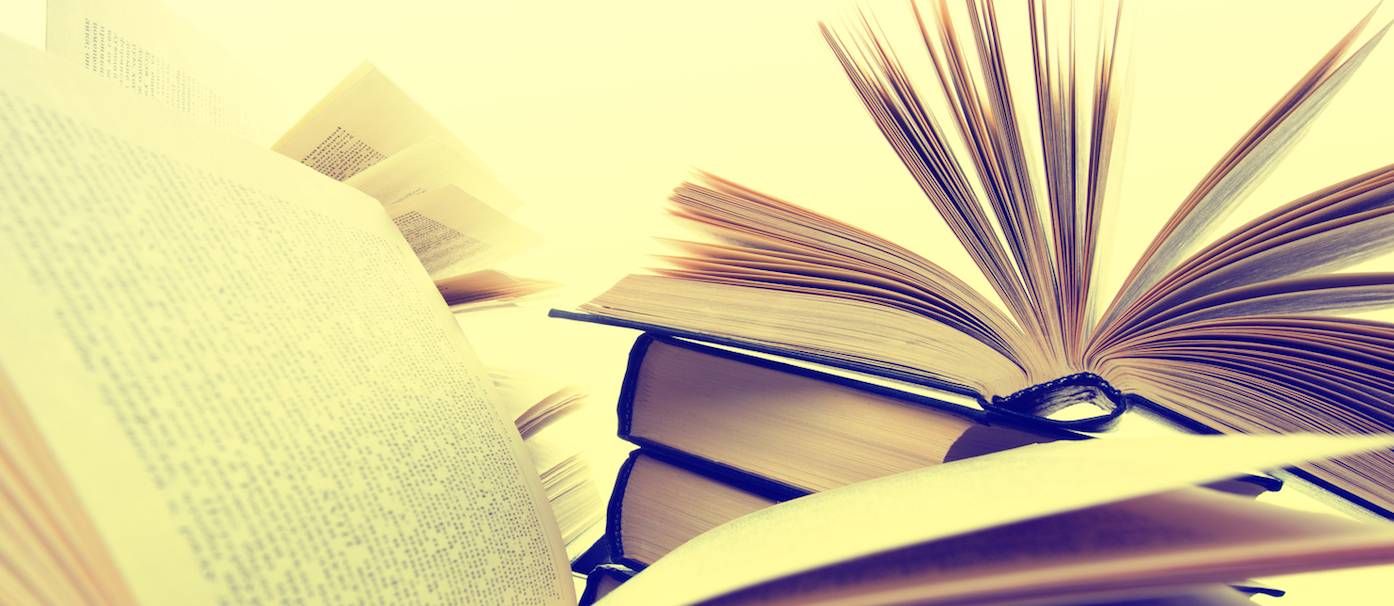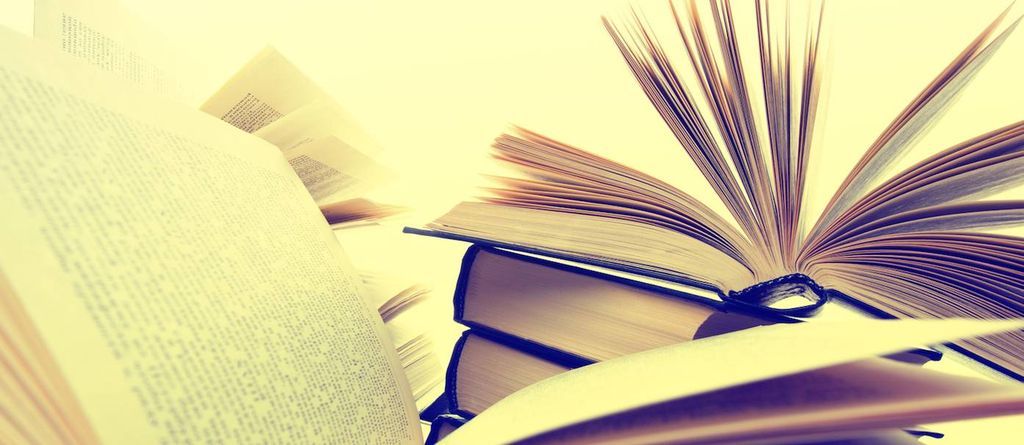 Riot Round-Up: The Best Books We Read in March
This content contains affiliate links. When you buy through these links, we may earn an affiliate commission.
We asked our contributors to share the best book they read this month. We've got fiction, nonfiction, YA, and much, much more- there are book recommendations for everyone here! Some are old, some are new, and some aren't even out yet. Enjoy and tell us about the highlight of your reading month in the comments.
____________________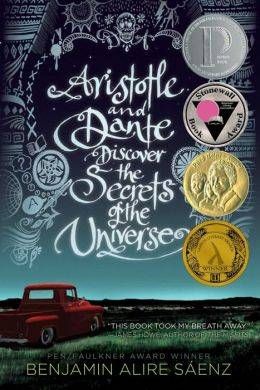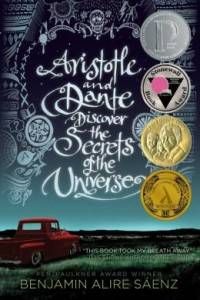 Aristotle and Dante Discover the Secrets of the Universe
by Benjamin Alire Saenz
The cover of this book is plastered with awards, and for very good reason. It's the kind of rich, fully realized story about friendship, identity (both cultural and sexual), and family that makes me happy for and jealous of teens today who get to grow up reading amazing young adult books. Aristotle and Dante are coming of age in the late-1980s, but their struggles and questions and out-of-control feelings are timeless. Saenz shows great care and empathy for his characters at a most tender time of their lives, and he reminds us that allowing others to love us is part of learning how to love. This is a sweet, funny, honest book and a worthwhile read for adults both young and old alike. — Rebecca Joines Schinsky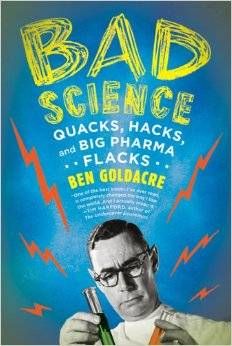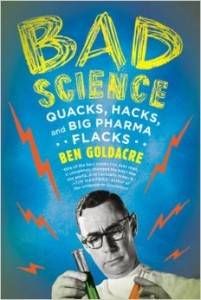 Bad Science by Ben Goldacre
Doctor Ben Goldacre is a wonderful British writer who has a long-running column in The Guardian newspaper about medicine, science and, most entertaining of all, pseudoscience. You know the stuff. Homeopathy, the magical healing power of having crystals laid on your body, that kind of jazz. He is immensely entertaining when debunking and poking fun at this stuff, and I adore reading about pseudoscience and bits of quackery. Best of all, he never seems sneering or unkind (which I have no tolerance for) except when it comes to the knowingly deceitful peddlers (unkindness to whom I have plenty of tolerance for). The book not only digs into the new madey-uppy science of our modern world, but also examines why it's so appealing, and also how it has to distort the way science actually works in order to make itself appealing. A wonderful read for anyone looking to further hone their critical eye when being told about alternative treatments, or reading dodgy articles on the internet. Also, then you can go look him up on Youtube and have fun watching him there. He's a fast-talking blast. — Peter Damien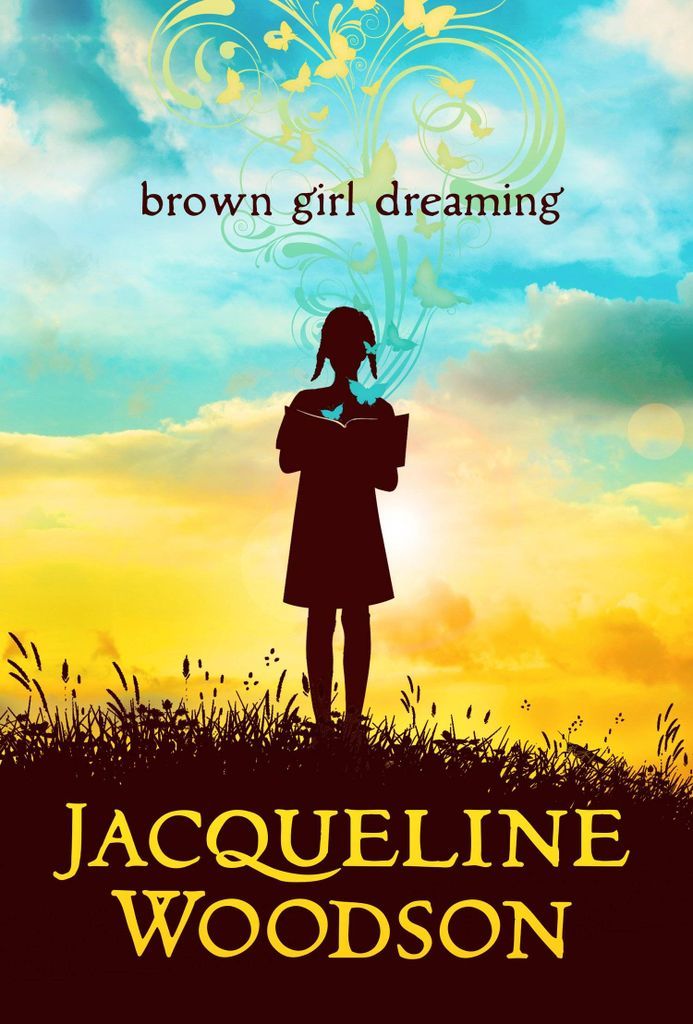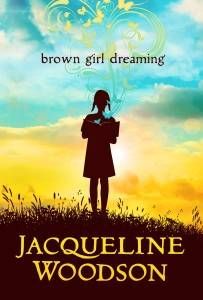 brown girl dreaming by Jacqueline Woodson
When I donated to the We Need Diverse Books Indiegogo campaign, I expected a copy of brown girl dreaming. What I didn't expect was for Woodson's book to be so good. I don't think I've read a book of poetry since I was in high school and was never the biggest fan. So either Woodson is that good, or I've finally grown into poetry. brown girl dreaming stitches together the story of Woodson's childhood through small, connected free-verse poems. Each poem is a snapshot of an important (or not-so important, but telling) moment in Woodson's life, and they tell the story of growing up brown in the America in the 1960s. My only complaint about brown girl dreaming isn't a complaint at all: It was too short. The book is over 300 pages, but I just wanted more. — Chris Arnone
The Buried Giant by Kazuo Ishiguro
I loved this latest Ishiguro novel for the same reasons I love everything he writes- you never know what's around the next corner, what secrets will be revealed, what new richness the English language has to offer. The Buried Giant brings together Arthurian legend, myth, and history, as well as meditations on identity and memory, and how the two are inextricably linked. Ishiguro follows an old married couple journeying to find their son, moving through the mists that have clouded their memory. In fact, a general forgetfulness has descended over this ancient land where Britons and Saxons have fought each other savagely and unceasingly for years. And while this clouded memory has helped heal many of the rifts that caused the fighting, it has robbed people of their most cherished memories and a knowledge of who they once were. Highly recommended. — Rachel Cordasco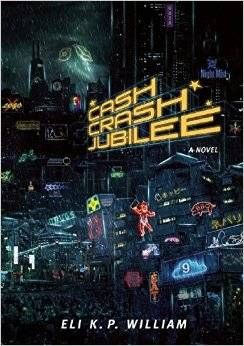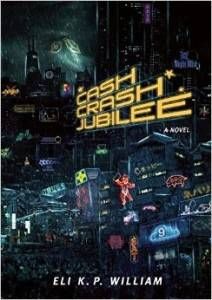 Cash Crash Jubilee by Eli K. P. William (Talos, May 5)
I'll be up front. I haven't finished this yet. But I've been in a real reading slump, and this is the first book to make me take notice in a very long time. I'm reading it slowly, and enjoying every page. It's always fun to read about other people's visions of the future and compare them to our current reality. I can see glimpses of what William is predicting – a world in which nearly every move we make is one that we must pay for and to be discreditable a cardinal sin- in our own lives. I may not have a body bank, but I can understand the apprehension associated with second guessing every decision on the basis of cost. What is truly phenomenal about Cash Crash Jubilee, and what has held my attention, is the world building. Everything is explained, described, or illustrated in a way that makes sure the reader is never confused, but that also doesn't hinder the development of the plot in any way. It's an action-packed techno thriller. And after reading it, I'll never take something as simple as staring up at the night sky for granted again. (P.S. It's the first in a series!) — Cassandra Neace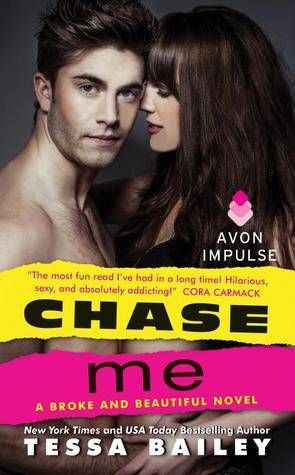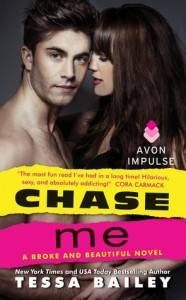 Chase Me by Tessa Bailey
I can't remember the last time I read a romance as funny as this one. From the first page, in which the heroine is given the humiliating task of performing a singing telegram for the hero (while clad in a bunny suit, I might add), it had me hooked and nearly doubled over with laughter. Roxy is one of the most hardworking heroine's in contemporary romance and she's so incredibly dedicated to making ends meet. And the hero, Louis! He's so incredibly earnest and sincere in his pursuit of Roxy. The book, for me, truly embodies what modern romance is all about. — Amanda Diehl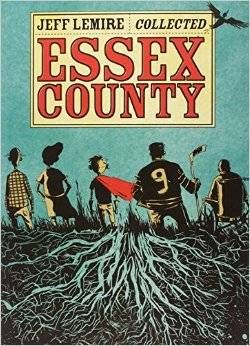 The Collected Essex County by Jeff Lemire
I'm rereading this for my Canadian comics class and I'm reminded, yet again, of what a masterpiece it is. This intergenerational story of life on a rural Ontario farm — and the dreams, be they of hockey or of superheroes, that sustain those lives — is moving and heartbreaking. Lemire's art style is deceptive: what looks rushed and sketched belies an incredible depth of emotion (you will never, ever forget the eyes in this comic). I have no problem labelling this The Great Canadian Graphic Novel and sliding it onto my shelf alongside all of the greats of literature, from Alice Munro to Robertson Davies. (The influence of Davies is, I think, particularly strong in the trilogy structure here.) Read this. I know you'll love it. — Brenna Clarke Gray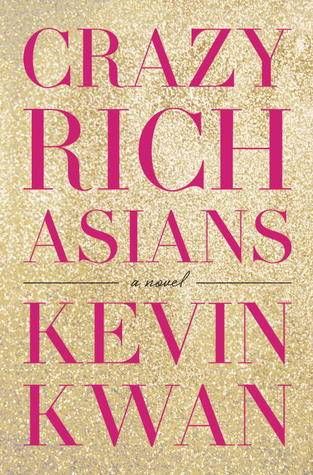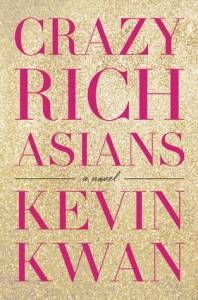 Crazy Rich Asians by Kevin Kwan
When Rachel Chu agrees to go on holiday to Singapore with her boyfriend, Nick, she imagines that this will just be a fun summer, a chance to meet his family and see Singapore, before returning to the simple life they live in New York. But Rachel has no idea that Nick is Nick Young (of the Youngs, one of Singapore's most established and wealthiest families). Rachel is thrown into a storm of gossip, money, interfering relatives, family secrets, and some seriously mean girls. The bonds of their love are tested, and Rachel must decide whether she can handle being in love with Nick, and therefore being tangled up in his family.
This book was so, so, so much fun. Kwan's writing style is snappy and electric, fizzing across the page and leading you ever further into this vivid world of designer clothes, exquisite architecture, amazing houses, and old family dramas. The characters in this book are the worst people, but I could not stop reading. I'm looking forward to the sequel, China Rich Girlfriend, due out in June from Knopf. — Dana Staves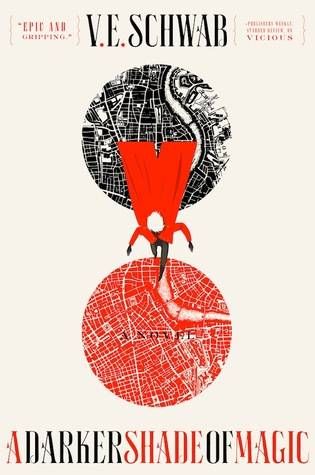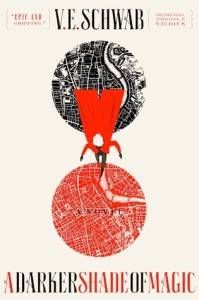 A Darker Shade of Magic by V.E. Schwab
As I wrote in my last Genre Kryptonite, I thoroughly enjoyed Vicious. So I was fairly certain I would enjoy VE Schwab's latest and it turns out I was right. A Darker Shade of Magic is a juicy, immediately-immersive fantasy that offers something for everyone to geek out about (parallel Londons! Magic! A pickpocket/aspiring pirate! Nifty fantasy fashion!) without ever feeling forced. Schwab has created an original, well-built world I can't wait to return to and a great cast of characters ranging from the prickly-yet-likeable to the out-and-out nasty. I absolutely blitzed through this fun, absorbing read. — Maddie Rodriguez
I bought this to read for class, and this month I finally plunged into this four thousand year old epic poem. Translated from it's original Akkadian and Sumerian, the Epic of Gilgamesh is one of the earliest known pieces of literature, but both the legend and the philosophy it contains are still fascinating. I am generally interested in mythology and history but what was particularly interesting here was seeing how closely Gilgamesh parallels other stories, legends, and areas of history, that I was more familiar with. — Rah Carter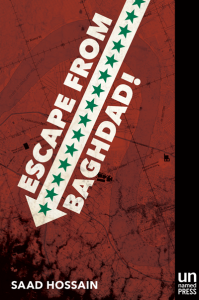 Escape from Baghdad! by Saad Hossain
I loved this book an unreasonable amount! Two black marketeer friends in Baghdad (one a former professor and the other a career criminal) come into possession of one of the area's notorious torturers. While trying to decide what to do with him – kill him? sell him to his enemies? set him free? – he proposes a different plan: He has a map that will lead them to a stash of gold, which he will share with his captors, in exchange for his life. They agree, because mad cash, yo. On their journey to find riches, they will cross paths with self-serving American soldiers looking to make few bucks, mad scientists, a secret underground library with a half-wild librarian, deadly militia, and possible immortals from an ancient religious sect. A madcap black comedy that doesn't downplay the dangers, desperation, and at times, preposterousness, of living in a war zone, this one is not to be missed. — Liberty Hardy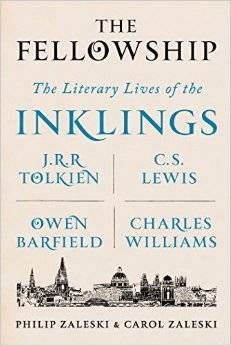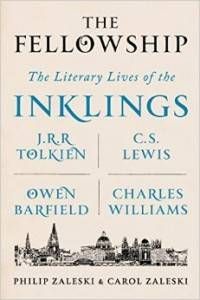 The Fellowship: The Literary Lives of the Inklings by Philip and Carol Zaleski (FSG, June 2)
For decades, C.S. Lewis, J.R.R. Tolkien, and their group of merry literary men met every week in Oxford to eat, drink, debate, and critique each other's work, and they called the group The Inklings. This new biography of four of the most famous of its members (Lewis, Tolkien, Owen Barfield, and Charles Williams) does more than pull the reader through the lives of these men (and yeah, they're all men)- it follows their intellectual evolution and the importance and impact their thoughts had on literature, philosophy, and culture in the pre-and post-war era. C.S. Lewis and Tolkien changed the course of children's and adult literature, but why? What were they trying to accomplish? Where did their obsessions with fairy stories come from? What was the contemporary critical backlash like? Why are modern readers still so loyal to their stories? This isn't just a biography of four literary greats- it's a biography of the life of their minds, one that reveals just how genius (though certainly not flawless) The Inklings were, and it's one I couldn't put down. — Amanda Nelson
Fifteen Dogs by André Alexis (Coach House, April 14)
This book is both a dog lover's dream come true- and their worst nightmare. Apollo and Hermes are hanging out and decide to have a bet on whether granting a group of dogs human intelligence would make them happy. Eventually the gods and the fates and pretty much everyone gets entangled in this story. But at its heart are the titular fifteen dogs. Poetic Prince, soulful Majnoun, gruff Atticus, and many more. It's one of those books that manages to make grand statements about the human condition but still works at its heart on a small character-based level. It's got kind of an Animal Farm vibe with less politics and more poetry. But to see the bet through, we must follow these dogs until their deaths, which also means that this is a tough read for a dog lover. Tough, but so worth it. — Jessica Woodbury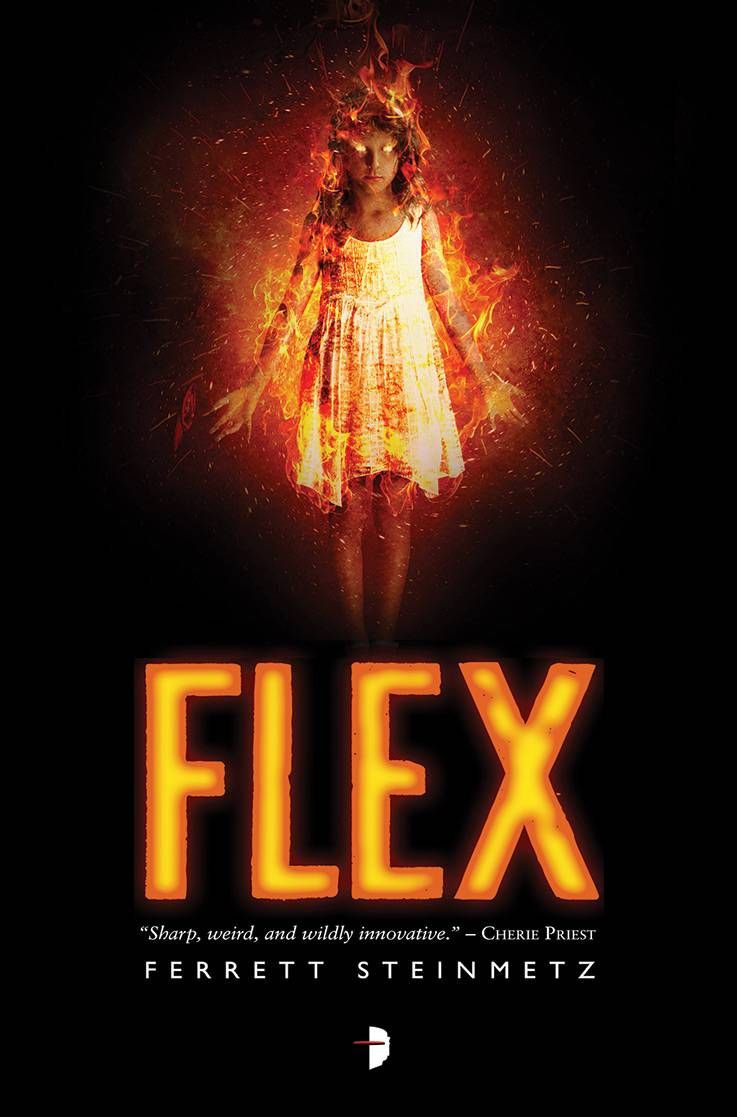 Flex by Ferrett Steinmetz
I can honestly say I've never quite read a book like this. I read a lot of good stuff in March, but this is the book that's stuck with me, for its originality, its insanity, its hilarity, and most importantly, its heart. In the world of Flex, when you love a thing with all your heart, so much so that the universe bends to that love, you can do magic through it. Paul Tsabo, a knight of the pen and a king of the manila folder, has just found out he's a bureaucromancer, and can do magic fueled from his love of paperwork and order. When a terrorist 'mancer causes his daughter to suffer terrible burns, Paul has to come up with money for her recovery, and quick. The only way to do it? Find a teacher to help him control his magic, edge in on the magic drug-trade of Flex (distilled 'mancy), and learn how to control the backlash of magic: the Flux.
Many have said that Flex is Breaking Bad with magic, and while that's a good indicator of the flavor of story you're in store for, it barely scratches the surface. Flex is a story about broken people filling the holes in their lives with love. It's about supposed second-stringers getting a chance to get up off the bench and show the world they're just as worthy, just as strong. It's a novel that had me rolling on the floor laughing, flipping pages with anticipation, losing hours at a time trying to figure out what would happen next, because I honestly had no freakin' clue. Steinmetz puts his prose together like a runaway roller coaster, full of emotional peaks and valleys, swerving from heartbreaking to funny to terrifying in mere moments, with characters so full of life, you can't help but root for them. If Flex has taught me anything, it's that magic is nothing but joy. And Flex is pure magic. Highly recommended. — Martin Cahill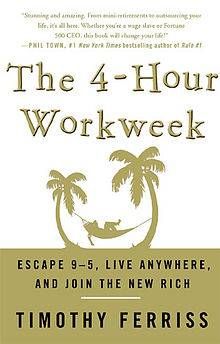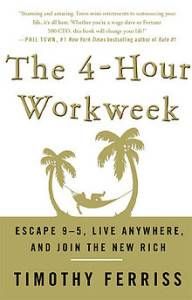 The 4-Hour Workweek by Timothy Ferriss
I read several excellent books this month, actually, but The 4-Hour Workweek is the one I'm pushing into everyone's hands and telling them they have to read. My parents, my friends, coworkers, people I don't even really know… I've been aware of Ferriss's classic time management book for some time, but assumed it was a book version of snake oil. When I first started reading it, it seemed like my fears were confirmed: Ferriss opens with a bunch of loosey-goosey, feel-good pep talks that promise the stars but give no diagrams on how to jump the moon. But then he DOES get into specifics, and it's really brilliant, especially for people who already don't work the normal 9-5. Not everything in The 4-Hour Workweek will be useful to everyone, but I think the central message about refocusing your life so you can spend your time doing what you enjoy and want to, as opposed to just filling your life with work, is important and essential. Also, work smarter not harder is something of my mantra, so anything that gives me ideas on how to do that is a win in my book. — Tasha Brandstatter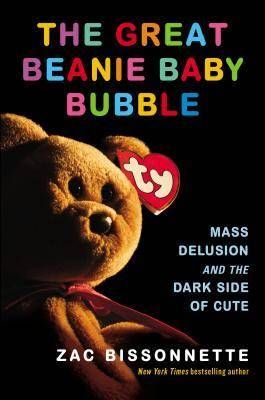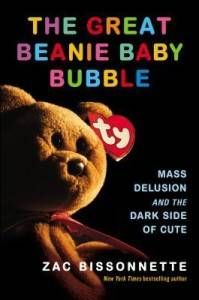 The Great Beanie Baby Bubble by Zac Bissonnette
I am a woman of a certain age who was, in my middle school years, obsessed with Beanie Babies. I particularly loved this little brown monkey, Bongo, and forced my mom to go to great lengths to find me one during what, I think, was the height of Beanie Baby madness. In The Great Beanie Baby Bubble, journalist Zan Bissonnette goes behind the Beanie Baby madness to look at both the enigmatic (and, to be honest, truly strange) creator of Beanie Babies, Ty Warner, and some of the economic forces that let to the rise and fall of Beanie Babies as valuable collectors items. I devoured this book in a single day and absolutely adored it, both for the nostalgia factor and for the smart, curious reporting that went into writing it. It's entirely delightful. — Kim Ukura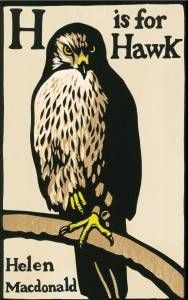 H is for Hawk by Helen Macdonald
This award-winning book is part grief memoir, part narrative about hawk-training, part biography of T.H. White. But that (admittedly odd) description doesn't really capture the tricky, surprising, utterly gorgeous text that Macdonald has produced. And no description really could. In fact, it was a single sentence, reproduced in a New Yorker review, that convinced me I had to read it. So, in an effort to tell you about the book, here's that sentence, in all its length and lushness and sadness and humor: "Maybe you've glanced out of the window and seen there, on the lawn, a bloody great hawk murdering a pigeon, or a blackbird, or a magpie, and it looks the hugest, most impressive piece of wildness you've ever seen, like someone's tipped a snow leopard into your kitchen and you find it eating the cat." Now you've read the sentence. Now I think you understand. — Derek Attig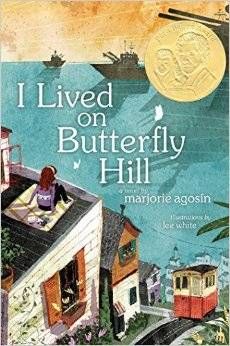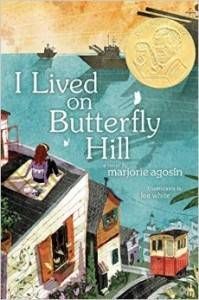 I Lived on Butterfly Hill by Marjorie Agosín with illustrations by Lee White
Color is what leaps out and demands attention from I Lived on Butterfly Hill by Marjorie Agosín with illustrations by Lee White. Eleven-year-old Celeste Marconi lives in the port city of Valparaíso, a city of hills in Chile that hangs over the Pacific Ocean. Inside her blue and yellow house at the very top of Butterfly Hill, her grandmother sucks on bright yellow lemons while she knits long blue scarves, her Nana Delfina sweeps the floor with a purple broom, flowering buganvillias grow outside the windows, and Celeste's room is painted a sky blue.
Although the target age range for this book is ten to fourteen years, this is no typical middle grade novel. At 455 pages, the story travels from Chile to Maine and back to Chile. It is set during a time when the progressive president of Chile is assassinated and a military dictatorship takes hold of the government, forcing Celeste's parents to go into hiding and Celeste to travel to Maine where her aunt lives. The language is lyrical and gorgeous, and the illustrations by Lee White connect the reader to the story perfectly. I highly recommend this lovely, inspiring novel to any reader age ten and beyond. — Karina Glaser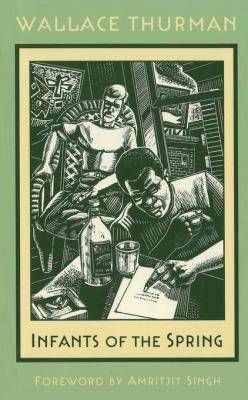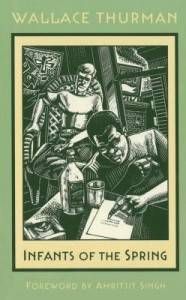 Infants of The Spring by Wallace Thurman
A powerful insider's account (and critique) of the waning years of the Harlem Renaissance, Thurman spares no one as trains his razor sharp gaze upon the motivations of those hoping to be part of the cultural moment. Often hilarious but ultimately tragic, profound disillusionment seethes through every scene as Thurman searches desperately for any sign of artistic integrity among the self delusion and shattered dreams. — Minh Le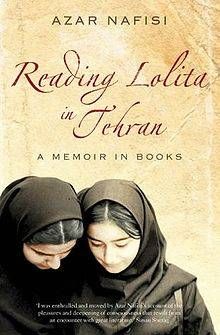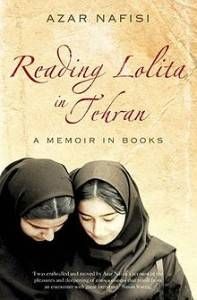 Reading Lolita in Tehran by Azar Nafisi
I bought this book years ago and let it sit on my shelf collecting dust until recently. I am so glad I finally picked it up! Aside from the one-sided reports I've seen on the news, I've always been ignorant of all things Iran. This book educated me on the history of the country and opened my eyes to the beauty and fortitude of the people (specifically the women) who call it home. Nafisi writes about her life before, during, and after her time in Iran through the lense of the Western classics she read and taught for so many years. Reading Lolita in Tehran is a beautiful testament to the human spirit and the transformative power of literature. — Kate Scott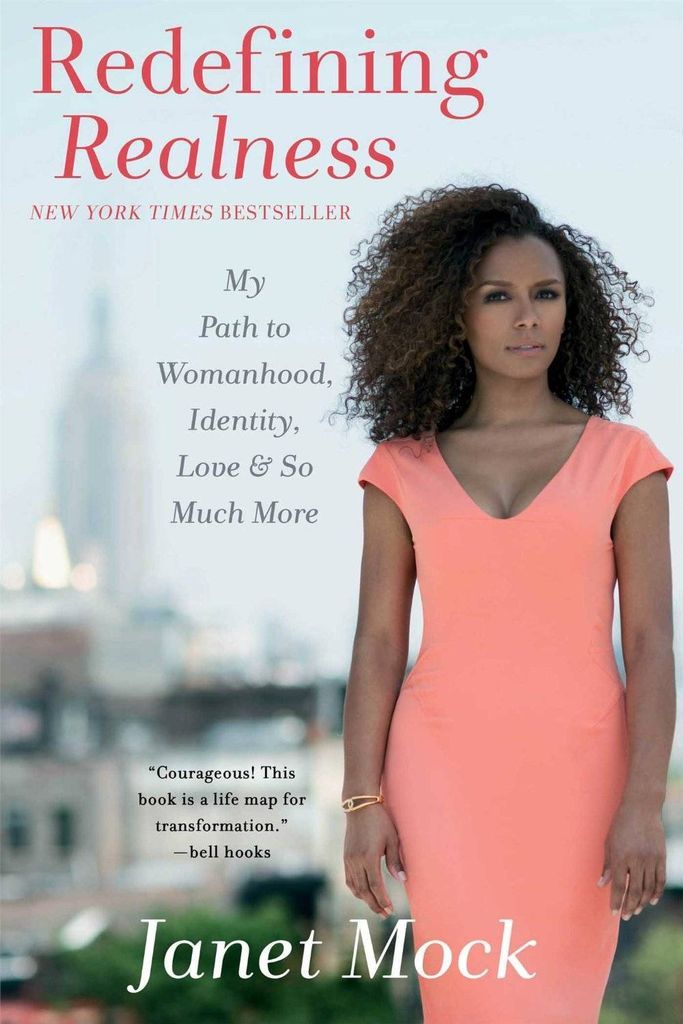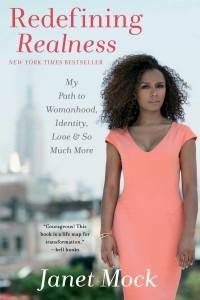 Redefining Realness by Janet Mock
Janet Mock lives for Beyoncé…and I live for Janet Mock! I'm the exact same age as Janet, and I had such a blast getting swept up the late '90s pop-culture backdrop of her memoir: Destiny's Child, Janet Jackson, Aaliyah, RuPaul, The Real World, TRL. But the real joy came from her frankness and openness about her experiences becoming the woman she is today — from her childhood spent in poverty and her family's struggles with drug addiction, to her sexual abuse as a child and her harassment when she came out as a proud trans woman to her high school teachers. Janet Mock's memoir is shockingly candid and beautiful, and her journey of reconciliation with her family made me sob. I also loved her references throughout to Toni Morrison, Zora Neale Hurston, Maya Angelou, and Oprah. I can't believe she's exactly my age and has already survived and accomplished so very much in her life. I'm a new fan, and I recommend this book to literally everyone! — Rachel Smalter Hall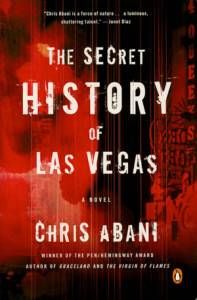 The Secret History of Las Vegas by Chris Abani
I am here to tell you that Chris Abani can WRITE. This man does sentence structure, character development, and plot like it's the simplest thing in the world — which, as we all know, is far from the truth. A troubled researcher teams up with an aging detective to crack a murder case that may involve a set of conjoined twins; what ensues is heartbreaking, funny, thoughtful, sensual, political, and page-turning to the extreme. I hesitate to even say it, but The Secret History of Las Vegas might be perfect. — Jenn Northington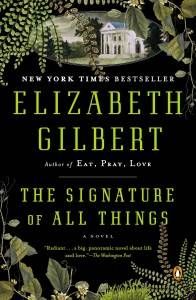 The Signature of All Things by Elizabeth Gilbert
This was a backlist read I've been meaning to get to for a while. And it's in the line of The Secret History as it was a book that I should have read sooo much sooner. I loved the long, windy tale of the fascinating Alma Whitaker and early exploration efforts into botanicals. And, somehow SOMEHOW, Gilbert makes mosses interesting. She's talented as all get out. A great read. — Nikki Steele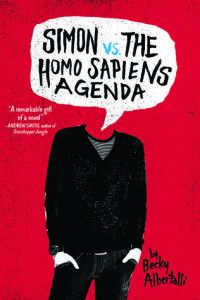 Simon vs. the Homo Sapiens Agenda by Becky Albertalli (Balzer + Bray, April 7)
This book was so, so great. It was fun and funny without being too frothy, and it has so much heart. Simon is sixteen and gay, but he's not-quite-out and not quite sure what being out is going to mean. He meets another boy from his class (anonymously, through a Tumblr where his classmates post secrets and gossip). They start emailing and falling in love, and it's just freaking adorable to watch. There's so much here about love: first love, friend love, parental love, fan love (for Harry Potter!) And of course there my undying love for this book, which I'll be talking about for ages and pushing into so many people's hands. — Jeanette Solomon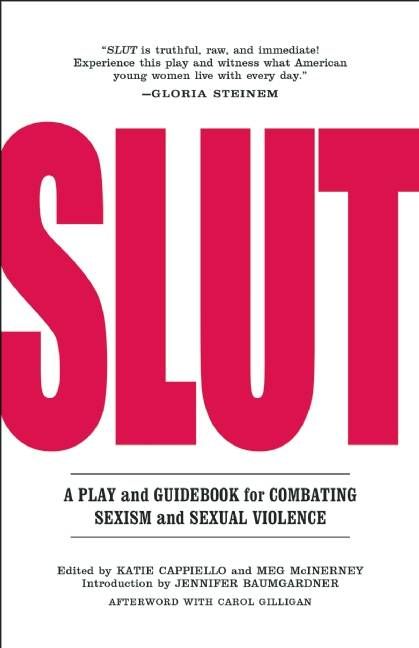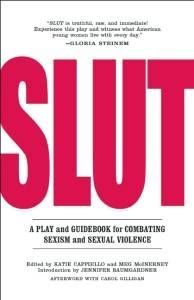 SLUT: A Play and Guidebook for Combating Sexism and Sexual Violence by Katie Cappiello & Meg McInerney
This book needs to be required reading in every high school across the country. If there was some way to ensure that every adult read and discussed it as well, then I would add it to that list, too. I want you to pop over to YouTube and watch the Talks at Google video that features a scene from the play and a discussion from many of the women and teens who are responsible for its creation. This book will break your heart and make you imminently hopeful all at the same time, because keeping "slut" in our collective lexicon is only fueling rape culture. And, yes, it's an incredibly loaded and uncomfortable conversation to have, but that doesn't make it any less necessary. I have already mailed copies to family and friends and have placed it on display everywhere in the bookstore where I work. I'll shut up about this one as soon as it stops being relevant, which won't happen as soon as we all would like, I'm sure. — Brandi Bailey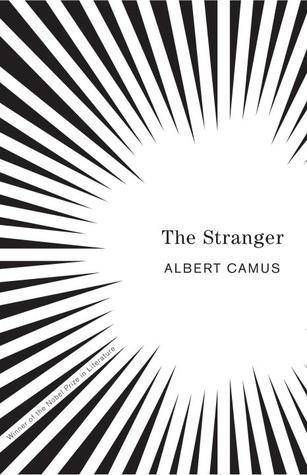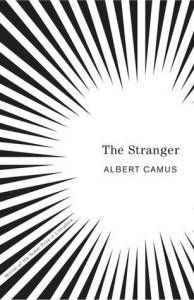 The Stranger by Albert Camus
This book, a classic of European post-war literature, was both the best and the most over-hyped book I read this month. I imagined it involving all at once spying, international intrigue, aliens, a man whose identity must remain hidden or the world will end. Alas, Camus' The Stranger has none of these things. The first half of the book is best described as the everyday banality of a man leading a lonely and uninteresting life in Algiers, Algeria. He goes to his mother's funeral and then back home. The first half ends, however, with the main character killing a man on the beach, with whom he had an altercation. The second half of the book centers around his trial, of which he himself seems mostly disinterested, even after being sentenced to death.
The Stranger, however, is a book made infinitely better by its introduction, where the themes are explained. The main character is a stranger only because he doesn't react to his environment in a manner expected of him (he doesn't seem to mourn the death of his mother, and this is the strongest part of the prosecution's case against him). He is a stranger to the times in which he lives. The book demands to be re-read, to have its first half scrutinized to see if the judge is indeed right.
I've found that there's a reason, most of the time at least, that classics attain their status. Often, these reasons are not readily apparent while reading the book. Getting a few gentle pointers often lifts them from the mundane to the remarkable. This was certainly the case with The Stranger, a book I read with disinterest (much like the main character during his own trial) but found remarkable after reading the introduction. — Johann Thorsson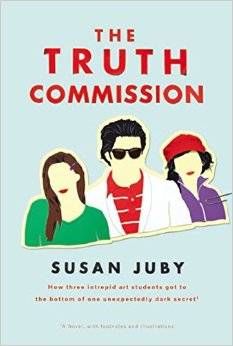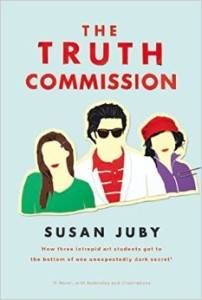 The Truth Commission by Susan Juby (Viking Books for Young Readers, April 14)
Told as "narrative non-fiction," Normandy Pale's story is about getting to the bottom of her famous graphic novelist sister's strange return home from college. This is a funny — at times out-loud-laughter — and clever, as well as deep and thoughtful, look at relationships, about the intricacies of families, and about truth and creative truth telling. Normandy and her friends attend an art school and it's as wild as you'd imagine an art school to be.
Juby's book is about who gets to tell your story and how they get to spin it, as well as what the implications of those things may be. Included in this book are footnotes, asides, illustrations, as well as knocks on James Frey, Greg Mortenson, and a self-aware main character who completely understands irony and situational humor. She can laugh at herself as much as she can laugh at the world around her. This little book has racked up a pile of glowing reviews for good reason, and I hope more readers pick it up as soon as they can. It's refreshingly witty. This book made me immediately request Juby's back list from the library. — Kelly Jensen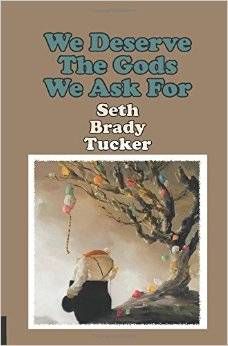 We Deserve the Gods We Ask For by Seth Brady Tucker
I'm a big fan of Seth Brady Tucker's first poetry collection, Mormon Boy, so this new book–released with too little fanfare late last year–immediately topped my Gotta-Get-It Gotta-Read-It list. As a former paratrooper with the U.S. Army's 82nd Airborne Division, Tucker wrote viscerally about combat in Mormon Boy (a fellow soldier dies in "a splash of bone and brain") and wistfully, wittily about love (see "Making Out in Cars with Bucket Seats and Other Tales of Woe"). In the new We Deserve the Gods We Ask For, love and war are still there, but we also get a healthy dose of superheroes and pop culture musings. There are poems about Wile E. Coyote (hooked on Percocet, Valium and Vicodin after too many falls) and an aging, heartbroken Popeye living in a shabby rental and watching old cartoons of himself on TV ("he sees himself flickering with spinach strength"). The language in Tucker's stanzas is fresh and vitally alive (ka-POW!) and deserves to be read by as wide an audience as possible. This one will burn your eyes and dazzle your brain, my friends. — David Abrams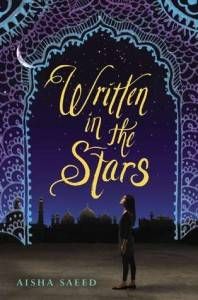 Written in the Stars by Aisha Saeed
Oh, I have a lot of feelings about this novel. The sort that are normally expressed using animated GIFs of children crying. This one kind of nails it.
In Written in the Stars, a young girl named Naila falls in love with a boy…and dating or even just being friends with a boy is forbidden. When her parents find out, they whisk her off to Pakistan, where, to her surprise and horror, an arranged marriage is waiting for her.
While it might feel like stories of forbidden love in YA books are…well, just about everywhere, Saeed's heartbreaking debut takes a cultural approach to the popular theme. Because this isn't some sci-fi dystopian thriller where love isn't allowed…it's real life. This happens. The book is intense and will open up the eyes of any young reader who picks it up. An important book that my future kids will definitely be reading. — Eric Smith
____________________
Book Riot Live is coming! Join us for a two-day event full of books, authors, and an all around good time.