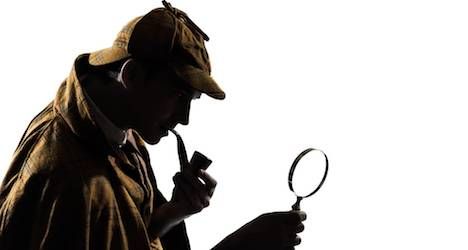 This Riot Recommendation is sponsored by A Study in Scarlet Women by Sherry Thomas.
Discover the new Sherlock Holmes inspired series from bestselling author Sherry Thomas.

While the inquisitive Charlotte Holmes has never accepted the demureness expected of women in London society, even she did not predict that she would become an outcast.

When the city is struck by a series of unexpected deaths, suspicion falls on her sister and father. Charlotte is determined to find the true culprits. She'll have some help, but in the end, it's up to Charlotte, a brilliant mind wrapped in a most feminine package, to challenge society's expectations and solve the mystery under the assumed name Sherlock Holmes.
---
From modern YA re-imaginings of the Holmes/Watson relationship (hello, A Study in Charlotte) to swager-tastic but period appropriate adaptations (Robert! Downey! Jr!), the Sherlock universe is ripe for retellings both on screen and on the page. So tell us in the comments: what's your favorite Sherlock Holmes retelling or adaptation? We're talking books, movies, TV shows, the whole shebang! And check back next week for a reading list.