This post is sponsored by Only Ever Yours by Louise O'Neill.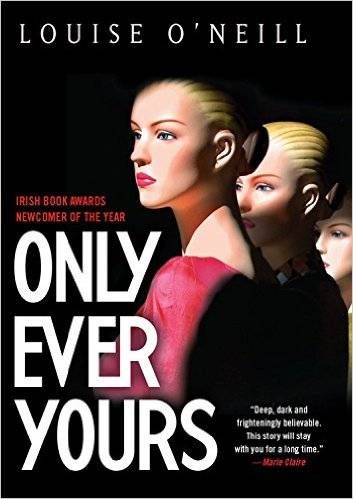 Where women are created for the pleasure of men, beauty is the first duty of every girl. In Louise O'Neill's world of Only Every Yours women are no longer born naturally, girls (called "eves") are raised in Schools and trained in the arts of pleasing men until they come of age. freida and isabel are best friends. Now, aged sixteen and in their final year, they expect to be selected as companions—wives to powerful men. All they have to do is ensure they stay in the top ten beautiful girls in their year. The alternatives—life as a concubine, or a chastity (teachers to endless generations of girls)—are too horrible to contemplate. But as the intensity of final year takes hold, the pressure to be perfect mounts. isabel starts to self-destruct, putting her beauty—her only asset—in peril. And then into this sealed female environment, the boys arrive, eager to choose a bride. freida must fight for her future—even if it means betraying the only friend, the only love, she has ever known.
____________________
Books have the power to change minds, create empathy, and explore situations and circumstances in which we'd never find ourselves otherwise. It's the nature of being born into a patriarchy that very few of us spring forth as fully-formed feminists from the forehead of Zeus, but books can help us along the path toward wanting equality for all genders. So tell us: what are your favorite feminist novels? Check back next week for a reading list!