Fiction
Riot Recommendation: Social Justice in Fiction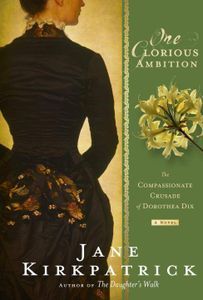 This week's Riot Recommendation is sponsored by One Glorious Ambition: The Compassionate Crusade of Dorothea Dix, A Novel by Jane Kirkpatrick.
Growing up in household full of pain and tragedy, Dorothea Dix thought she was destined for nothing more than teaching and to raising her two younger brothers. She opened her first school for girls when she was fifteen and by twenty-three, was a best-selling author living an orderly and disciplined Boston life. But a visit to a prison to teach Sunday School to women in 1841 launched a new path for Dorothea, one that would turn her personal hardships into great strides for the less fortunate. Dorothea fought for the lives of those with mental illness, the poor and prisoners. Her political savvy, rare amongst women in her time, challenged those who made the rules in the almshouses, debtor prisons and private homes where mentally ill people were often chained and forgotten. Those tragic souls changed Dorothea, too, illuminating the path of peace within her own suffering and bring her "a happiness which goes with you."
_________________________
I've heard it said that all fiction is in one way or another about how the world is broken. Some authors point to the broken places simply to make us take notice, some imagine how we might make ourselves whole again, and still others imagine entire other worlds in which to escape from this one. Today, we want to hear about stories in which the main characters recognize how the world is broken and decide to do something about it. What are your favorite works of fiction that feature social justice and characters who are deeply moved or take action to correct injustice?
_________________________
Sign up for our newsletter to have the best of Book Riot delivered straight to your inbox every two weeks. No spam. We promise.