Fiction
Riot Recommendation: Reputation Recovery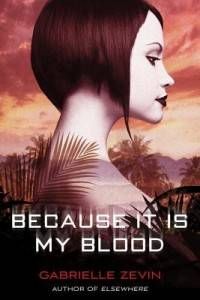 This installment of Riot Recommendation is sponsored by Because It Is My Blood by Gabrielle Zevin.
Since her release from Liberty Children's Facility, Anya Balanchine is determined to follow the straight and narrow. Unfortunately, her criminal record is making it hard for her to do that. No high school wants her with a gun possession charge on her rap sheet. Plus, all the people in her life have moved on: Natty has skipped two grades at Holy Trinity, Scarlet and Gable seem closer than ever, and even Win is in a new relationship.But when old friends return demanding that certain debts be paid, Anya is thrown right back into the criminal world that she had been determined to escape. It's a journey that will take her across the ocean and straight into the heart of the birthplace of chocolate where her resolve–and her heart–will be tested as never before.
_________________________
"Don't give a damn about my bad reputation" sure sounds nice, but it expresses a feeling that falls squarely into the "easier said than done" column. Fiction is largely about character arcs, presenting the changes characters undergo as a result of experiences or circumstances. But what happens when the story is about overcoming those changes in order to change again? In literature, we acknowledge man-versus-man, man-versus-nature, and man-versus-himself. What about man-versus-the past?
In today's Riot Recommendation, we want to know: what are the best books about characters trying to ditch their bad reps and make good with a new start?