Fiction
Riot Recommendation: Dangerous Liaisons — Madness & Obsessions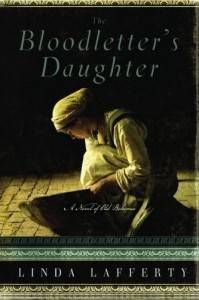 This installment of Riot Recommendation is sponsored by The Bloodletter's Daughter by Linda Lafferty.
In 1606, the city of Prague shines as a golden mecca of art and culture carefully cultivated by Emperor Rudolf II. But the emperor hides an ugly secret: His bastard son, Don Julius, is afflicted with a madness that pushes the young prince to unspeakable depravity. Desperate to stem his son's growing number of scandals, the emperor exiles Don Julius to a remote corner of Bohemia, where the young man is placed in the care of a bloodletter named Pichler. The bloodletter's task: cure Don Julius of his madness by purging the vicious humors coursing through his veins.
When Pichler brings his daughter Marketa to assist him, she becomes the object of Don Julius's frenzied–and dangerous–obsession. To him, she embodies the women pictured in the Coded Book of Wonder, a priceless manuscript from the imperial library that was his only link to sanity. As the prince descends further into the darkness of his mind, his acts become ever more desperate, as Marketa, both frightened and fascinated, can't stay away.
_________________________
'Tis the season of scary stories and monsters hiding in dark corners. A good fright is fun and all, but the most terrifying tales are the ones that feel like they could actually happen. A mad man gets loose. Affection becomes obsession. A dangerous situation beckons.
Today, we want to hear about your favorite "dangerous liasons" stories. What are the best books about dark and irresistible obsessions?