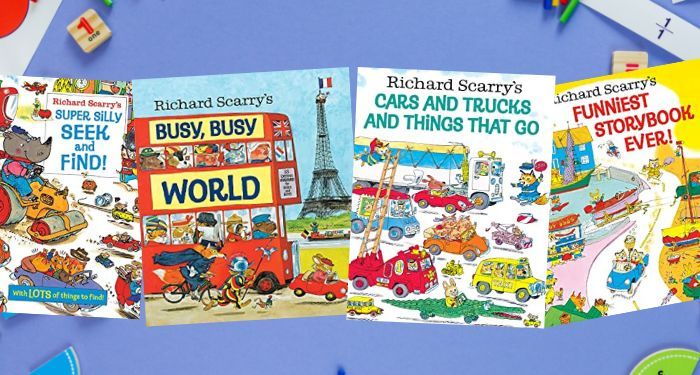 This content contains affiliate links. When you buy through these links, we may earn an affiliate commission.
Richard Scarry's books, particularly the Busytown series, are a beloved staple of many people's childhoods. Since the 1960s, generations of children have loved reading about this world inhabited by anthropomorphic animals, all with different jobs and roles in their little society. Readers past and present have their favourite characters, many of whom appear multiple times in different stories: the Cat Family, Lily Bunny, Hilda Hippo, and perhaps the most famous Busytown character, Lowly Worm.
Scarry's books are perennial favourites and a gentle, fun introduction to reading, counting, and many other concepts that form an important part of young children's learning. I remember reading and loving them after finding them in my primary school library, and the bright, busy illustrations are still beautiful to look at all these years later. However, while best-known for Busytown, Richard Scarry's life and work was far more extensive.
Scarry's art career was temporarily interrupted when he was drafted into the U.S. Army in 1942 to fight in the Second World War. While he was initially assigned to the radio repair school, his artistic ability soon became apparent to his commanding officers, and he was assigned to creative work as part of his service, becoming an art director and working on publications intended to boost soldiers' morale. This experience in publishing stood him in good stead after the war; he worked in magazines and advertising, and spent a short time at famous fashion magazine Vogue.
Scarry's career as a children's writer and illustrator began in earnest in 1949, when he began publishing with Little Golden Books, a line of children's books initially published by Simon and Schuster (the book line continues to this day, and is currently published by Penguin Random House). Many authors and illustrators have worked on Little Golden Books since their inception over 70 years ago, and the books themselves have covered a huge number of topics – but animals are always a favourite subject, and this is where Scarry shone.
Richard Scarry would go on to publish over 300 books in his lifetime, with sales of more than 100 million worldwide – a huge impact, particularly for a children's author. Many of these books were made into TV adaptations, such as the Busytown Mysteries, as well as educational videos.
Scarry's family shared his artistic traits and his love of children's books. Through his work, he met his wife Patsy, who wrote children's textbooks; they often collaborated on projects. Their son, Richard Scarry Jr, is also a children's illustrator. Scarry Jr often works under the pseudonym Huck Scarry, a name that Busytown fans will find familiar – Huckle Cat, a member of the Cat family, was based on the young Scarry Jr.
Developed to help children learn reading and spelling, and to broaden their vocabularies, Scarry's books have become popular ways to learn language and literacy around the world. Translated into around 30 languages, Scarry's stories have been beloved by young children from dozens of different countries, across many decades.
Several of Scarry's books were adapted for TV, the most famous being the Busytown Mysteries, an animated series following the adventures of Huckle Cat and his friends as they solve mysteries around their town. Following Scarry's focus on education through entertainment, the show revolved around the friends using evidence and logic to find the solution to each episode's central mystery.
Richard Scarry died in 1994 as a result of complications with cancer. Toward the end of his life, his eyesight began to fail, a devastating development for someone whose art style included such a focus on small details. However, despite these difficulties, he still completed his 1985 book Biggest Word Book Ever, with his inimitable style and trademark "busy" scene, full of plenty of details to spot.
This highly visual style, with such a strong focus on little details, may be one of the reasons that Scarry's work has endured, keeping its popularity well into the 21st century. Scarry's prolific nature and the cosy tone of Busytown makes his work eminently memeable, as we can see in this take on the contrast between Busytown's comforting aesthetic and reality. During lockdown, the widespread focus on arts, crafts and home projects reminded many people of Busytown, leading to parodies such as Steph Plant's What Do People Do All Day?: Quarantine Edition. In a world where visual shorthand and nostalgia are an important part of online communication, it's unsurprising that Scarry's world still is offering a wealth of content to readers of all ages.
Related Reading
20 of the Very Best Children's Authors: An Unscientific List