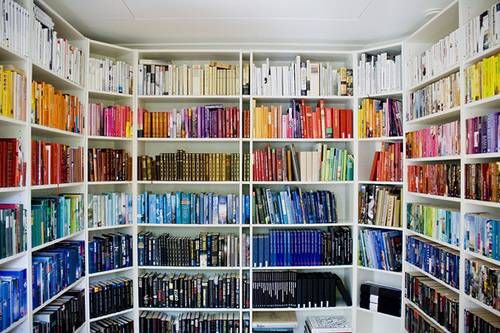 Is there a difference between rereading a book and rewatching a favorite television show or movie? For me, there definitely is.
I have absolutely no problem re-watching television shows: How I Met Your Mother, White Collar, Gilmore Girls, Veronica Mars, Firefly, Arrested Development, Community, The Office, Pushing Daisies, Friday Night Lights and The West Wing — I've spent time watching and rewatching them all. I'll also watch movies again, but not quite as often.
But I am not a re-reader. There are times when I've revisited a book or two when the next book in a series comes out — The Magicians before The Magician King or, most recently, Oryx and Crake and The Year of the Flood before MaddAddam — but that's an exception rather than a rule. I can't remember the last stand alone novel or nonfiction book that I've spontaneously reread simply for the joy of rereading.
I wasn't conscious about this pop culture inconsistency until just recently. It's probably because, right now, there are more books I know I want to read than television shows I know I want to watch. The boyfriend and I have dug deep into the Netflix instant archive over the time we've been together, to the point where we don't have many options left for shows we want to watch together (a good joint TV show needs to have some very particular qualities for both of us to stay interested).
Network television also hasn't been especially great lately; I've started and abandoned quite a few shows, even shows I enjoyed the season before. I know there are some big holes in my television watching history, but good television multiplies more slowly than good books… and there is a much shorter history to draw from.
But I think there's more than just the numerical difference in available books versus available television shows. Because I am "known" as a reader, it feels somehow deeply indulgent to spend time rereading books. There's a weird pressure to be up and familiar with a vast array of books — a quantity I couldn't manage if I spent time revisiting old favorites (this seems silly, but maybe others feel the same way?). Plus, I love to read new books and add favorites to my growing list. It's satisfying to finish new books too.
I wonder, though, what I miss out on not being a re-reader. I'm curious, fellow Rioters — do you reread books? Which books do you reread most and why to you reread them?
____________________________
Sign up for our newsletter to have the best of Book Riot delivered straight to your inbox every two weeks. No spam. We promise.

To keep up with Book Riot on a daily basis, follow us on Twitter, like us on Facebook, , and subscribe to the Book Riot podcast in iTunes or via RSS. So much bookish goodness–all day, every day.