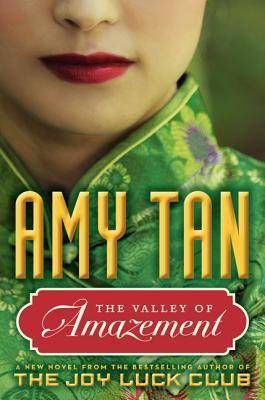 Fiction
Review GPA: THE VALLEY OF AMAZEMENT by Amy Tan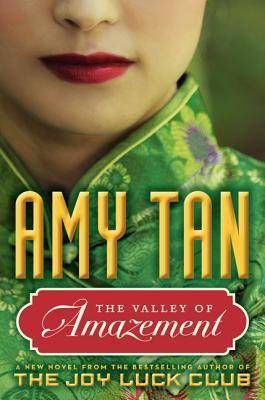 The Valley of Amazement by Amy Tan
Publication Date: November 5, 2013
Publisher: Ecco
Publisher's Synopsis: "Moving between the dazzling world of courtesans in turn of the century Shanghai, a remote Chinese mountain village, and the rough-hewn streets of nineteenth-century San Francisco, Amy Tan's sweeping new novel maps the lives of three generations of women connected by blood and history-and the mystery of an evocative painting known as "The Valley of Amazement."
Violet is one of the most celebrated courtesans in Shanghai, a beautiful and intelligent woman who has honed her ability to become any man's fantasy since her start as a "Virgin Courtesan" at the age of twelve. Half-Chinese and half-American, she moves effortlessly between the East and the West. But her talents belie her private struggle to understand who she really is and her search for a home in the world. Abandoned by her mother, Lucia, and uncertain of her father's identity, Violet's quest to truly love and be loved will set her on a path fraught with danger and complexity-and the loss of her own daughter.
Lucia, a willful and wild American woman who was once herself the proprietress of Shanghai's most exclusive courtesan house, nurses her own secret wounds, which she first sustained when, as a teenager, she fell in love with a Chinese painter and followed him from San Francisco to Shanghai. Her search for penance and redemption will bring her to a startling reunion with Flora, Violet's daughter, and will shatter all that Violet believed she knew about her mother.
Spanning fifty years and two continents, The Valley of Amazement is a deeply moving narrative of family secrets, the legacy of trauma, and the profound connections between mothers and daughters, that returns readers to the compelling territory Amy Tan so expertly mapped in The Joy Luck Club. With her characteristic wisdom, grace, and humor, she conjures a story of the inheritance of love, its mysteries and senses, its illusions and truths."
____________________
From Martha T. Moore for USA Today
Gold Star:
"The journey with Violet, her mother and her daughter is one of separate winding paths, each woman struggling to reach the light."
Demerit:
"No one is entirely likable: Violet first appears as a spoiled little girl, and Lulu is shown as the teenage daughter from hell. Sometimes they make decisions the reader is well aware are going to turn out very badly."
Grade: A-
____________________
From Barbara Hoffert for Library Journal
Gold Star:
"Tan blends the personal and the historical, showing us two women struggling to find themselves even as she presents vivid details of time and place that took years of research to get just right. "
Demerit:
None
Grade: A+
_____________________
From Stephan Lee for Entertainment Weekly
Gold Star:
"…[Tan] still sweeps you up in the wildly changing fortunes of a whip-smart courtesan"
Demerit:
"Tan isn't quite at the height of her storytelling powers here…"
Grade: B+
____________________
From Mike Fischer for the Milwaukee-Wisconsin Journal Sentinel
Gold Star:
"Again courtesy of Magic Gourd, we're also treated to astute observations on the relation between courtship and theater — particularly for women — with minutely detailed instructions and trenchant comments on costuming, gesture and expression."
Demerit:
"Valley sets out on this same well-trod path, but its plot is so clunky and unbelievable — and so much of this novel is given over to unspooling it — that there's little time or space left for Tan to flesh out and develop the women who are her ostensible subject."
Grade: C
____________________
From Ron Charles at The Washington Post
Gold Star:
"This is all exciting and harrowing — and sometimes even funny, in an exasperated "Oh, what fresh hell is this" kind of way."
Demerit:
"But don't forget about sex. There's a lot of it in "The Valley of Amazement" — most of it contractual, some of it violent, a little of it romantic and all of it slightly odd-sounding. At one point, Violet tells us, "He flayed against me, until our bodies were slapping, and he took me into the typhoon and geologic disaster." I didn't know whether to call Dr. Ruth or the Red Cross."
Grade: C+
Review GPA: B (3.06)
_________________________
Sign up for our newsletter to have the best of Book Riot delivered straight to your inbox every two weeks. No spam. We promise.
To keep up with Book Riot on a daily basis, follow us on Twitter, like us on Facebook, , and subscribe to the Book Riot podcast in iTunes or via RSS. So much bookish goodness–all day, every day.