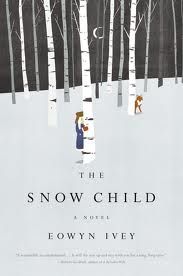 Fiction
Review GPA: THE SNOW CHILD by Eowyn Ivey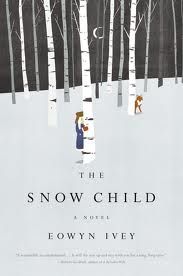 The Snow Child by Eowyn Ivey
Publication Date: February 1, 2012
Genre: Literary Fiction
Publisher: Reagan Arthur Books
Publisher's Synopsis:
Alaska, 1920: a brutal place to homestead, and especially tough for recent arrivals Jack and Mabel. Childless, they are drifting apart–he breaking under the weight of the work of the farm; she crumbling from loneliness and despair. In a moment of levity during the season's first snowfall, they build a child out of snow. The next morning the snow child is gone–but they glimpse a young, blonde-haired girl running through the trees.
This little girl, who calls herself Faina, seems to be a child of the woods. She hunts with a red fox at her side, skims lightly across the snow, and somehow survives alone in the Alaskan wilderness. As Jack and Mabel struggle to understand this child who could have stepped from the pages of a fairy tale, they come to love her as their own daughter. But in this beautiful, violent place things are rarely as they appear, and what they eventually learn about Faina will transform all of them.
____________________________
From The Washington Post review by Ron Charles:
Gold Star:
"Sad as the story often is, with its haunting fairy-tale ending, what I remember best are the scenes of unabashed joy. That isn't a feeling literary fiction seems to have much use for, but Ivey conveys surprising moments of happiness with such heartfelt conviction."
Demerit:
"As much as I loved falling under the spell of "The Snow Child," in colder moments I became aware that it's too long. The plot isn't really complex enough and Ivey's style isn't rich enough to support 400 pages."
Grade: A-
__________________________
From the Kirkus review:
Gold Star:
The book's tone throughout has a lovely push and pull—Alaska's punishing landscape and rough-hewn residents pitted against Faina's charmed appearances—and the ending is both surprising and earned.
Demerit:
None.
Grade: A-
__________________________
From The Cleveland Plain Dealer review by Sarah Willis:
Gold Star:
In "The Snow Child," first-time novelist Eowyn Ivey plays with theRussian tale "The Snow Maiden," turning it into a stunning and startling adult novel, full of wonder, longing, hope, pain and beauty.
Demerit:
None.
Grade: A

__________________________
From The Star-Ledger review by Sheila Anne Freeney:
Gold Star:
"Ivey's writing sparkles, and her plot and subplots ensorcell. Her prose is reminiscent of F. Scott Fitzgerald: seductive in its swift, punchy passages of dialogue and its depiction of the ferocious, shimmering wilderness as a vivid character in its own right.
Demerit:
None
Grade: A
__________________________
From the Slate review by Lydia Kiesling:
Gold Star:
"Ivey writes the landscape well, and there's lots of wilderness and log-cabin stuff here for people who like to fantasize about trapping critters from the comfort of their homes."
Demerit:
"The Snow Child is a totally unobjectionable novel with good pacing and a pretty set, but it is not a revelation of content or style or form.
Grade: B
__________________________
Review GPA: 3.68 (A-)