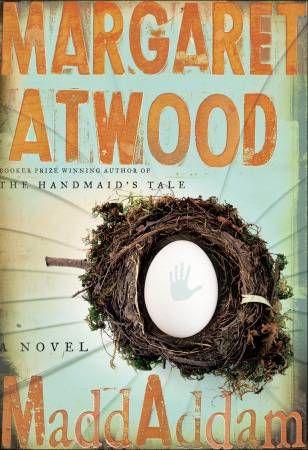 Fiction
Review GPA: MADDADDAM by Margaret Atwood
This post is part of our Margaret Atwood Riot Reading Day, a celebration of one of our favorite authors on the occasion of the publication of her new novel, MaddAddam. Check out the full line-up here.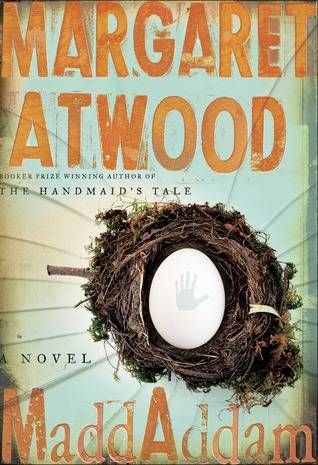 Publication Date: September 3, 2013
Genre: Speculative Fiction
Publisher: Random House
Publisher's Synopsis:
Bringing together Oryx and Crake and The Year of the Flood, this thrilling conclusion to Margaret Atwood's speculative fiction trilogy points toward the ultimate endurance of community, and love.
Months after the Waterless Flood pandemic has wiped out most of humanity, Toby and Ren have rescued their friend Amanda from the vicious Painballers. They return to the MaddAddamite cob house, newly fortified against man and giant pigoon alike. Accompanying them are the Crakers, the gentle, quasi-human species engineered by the brilliant but deceased Crake. Their reluctant prophet, Snowman-the-Jimmy, is recovering from a debilitating fever, so it's left to Toby to preach the Craker theology, with Crake as Creator. She must also deal with cultural misunderstandings, terrible coffee, and her jealousy over her lover, Zeb.
Zeb has been searching for Adam One, founder of the God's Gardeners, the pacifist green religion from which Zeb broke years ago to lead the MaddAddamites in active resistance against the destructive CorpSeCorps. But now, under threat of a Painballer attack, the MaddAddamites must fight back with the aid of their newfound allies, some of whom have four trotters. At the center ofMaddAddam is the story of Zeb's dark and twisted past, which contains a lost brother, a hidden murder, a bear, and a bizarre act of revenge.
Combining adventure, humor, romance, superb storytelling, and an imagination at once dazzlingly inventive and grounded in a recognizable world, MaddAddam is vintage Margaret Atwood—a moving and dramatic conclusion to her internationally celebrated dystopian trilogy.
____________________________
From The Guardian review by Theo Tait :
Gold Star:
MaddAddam is slightly crazed, usually intriguing and often great fun.

Demerit:
It is not simply a question of the broad outlines being well-worn, but of the numerous tropes deployed: the mad scientist releasing the virus; the millenarian cults and cannibal gangs; the survivors subsisting, ironically, on throwaway consumer items; the tech-noir and cyber-punk stylings; flooded cities; the vine-wrapped skyscrapers.

Grade: B
__________________________
From The Boston Globe review by Valerie Miner:
Gold Star:
While I've always enjoyed Atwood's earnestness, it's fun to see her living through her first childhood in this playful romp through the near future.

Demerit:
The self-consciously clever "MaddAddam'' doesn't offer much complex characterization, evocative setting, or deep insight, but the special effects are zippy.

Grade: A-
__________________________
From The Star-Tribune review by Ellen Atkins:
Gold Star:
Finally, there is something funny, even endearing, about such a dark and desperate view of a future — a ravaged world emerging from alarmingly familiar trends — that is so jam-packed with the gifts of imagination, invention, intelligence and joy.

Demerit:
None.
Grade: A
__________________________
From The Los Angeles Times review by Carolyn Kellogg:
Gold Star:
Yet the imaginative universe Atwood has created in these books is huge, encompassing hidden Internet chat rooms, beekeeping, the survivors' outfits (mundane patterned bedsheets) and penises that glow blue to signal sexual readiness. It's a dystopia, but it's still fun

Demerit:
"After thousands of pages of complex world-building, readers may be expecting a whiz-bang finale, something Atwood does not build into "MaddAddam." In fact, her storytelling choices and strategies leave "MaddAddam" feeling less urgent than the earlier novels."

Grade: A-
__________________________
From The Publishers Weekly review:
Gold Star
"Her vision is as affirming as it is cautionary, and the conclusion of this remarkable trilogy leaves us not with a sense of despair at mankind's failings but with a sense of awe at humanity's barely explored potential to evolve."

Demerit
None
Grade: A
__________________________
Review GPA: A- (3.68)
____________________________
Sign up for our newsletter to have the best of Book Riot delivered straight to your inbox every two weeks. No spam. We promise.

To keep up with Book Riot on a daily basis, follow us on Twitter, like us on Facebook, , and subscribe to the Book Riot podcast in iTunes or via RSS. So much bookish goodness–all day, every day.