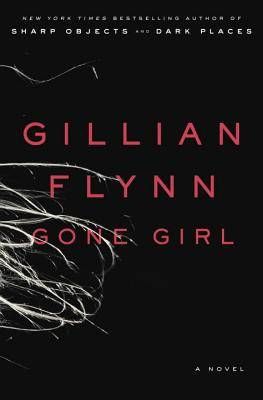 Fiction
Review GPA: GONE GIRL by Gillian Flynn
Publication Date: June 5, 2012
Genre: Literary/Suspense
Publisher: Crown
Publisher's Synopsis: On a warm summer morning in North Carthage, Missouri, it is Nick and Amy Dunne's fifth wedding anniversary. Presents are being wrapped and reservations are being made when Nick's clever and beautiful wife disappears from their rented McMansion on the Mississippi River. Husband-of-the-Year Nick isn't doing himself any favors with cringe-worthy daydreams about the slope and shape of his wife's head, but passages from Amy's diary reveal the alpha-girl perfectionist could have put anyone dangerously on edge. Under mounting pressure from the police and the media—as well as Amy's fiercely doting parents—the town golden boy parades an endless series of lies, deceits, and inappropriate behavior. Nick is oddly evasive, and he's definitely bitter—but is he really a killer?
As the cops close in, every couple in town is soon wondering how well they know the one that they love. With his twin sister, Margo, at his side, Nick stands by his innocence. Trouble is, if Nick didn't do it, where is that beautiful wife? And what was in that silvery gift box hidden in the back of her bedroom closet?
____________________________
Allison Flood, in The Guardian:
Gold Star:
"…an early contender for thriller of the year and an absolute must read."

Demerit:
None.
Grade: A
__________________________
Janet Maslin, in The New York Times
Gold Star:
"[Gone Girl] is wily, mercurial, subtly layered and populated by characters so well imagined that they're hard to part with…"

Demerit:
None.
Grade: A
__________________________
Jeff Giles, in Entertainment Weekly
Gold Star:
"…it's an ingenious and viperish thriller — and that no matter how smart you think you are, it's going to bite you."

Demerit:
None.
Grade: A (publication assigned)
__________________________
Michelle Wiener, in The Chicago Sun-Times
Gold Star:
But the brilliance of Gone Girl is the way in which it both embraces and upends the familiar "disappearing spouse" trope while at the same time allowing both partners in this marriage to wax philosophical about issues of identity and intimacy as well as the ways in which pop culture informs our behavior and emotional responses.

Demerit:
None.
Grade: A-
__________________________
Seth Harwood, in The San Francisco Chronicle
Gold Star:
Timely, poignant and emotionally rich, "Gone Girl" will peel away your comfort levels even as you root for its protagonists – despite your best intuition.
Demerit:
None.
Grade: A
__________________________
Review GPA: A (3.94)