Fiction
Review GPA: BINOCULAR VISON by Edith Pearlman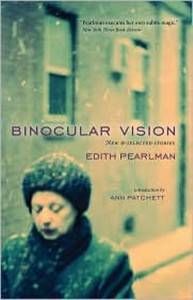 Binocular Vision by Edith Pearlman
Publication Date: January 11, 2011
Genre: Fiction (Short Stories)
Publisher: Lookout Books
Publisher's Synopsis:
In this sumptuous offering, one of our premier storytellers provides a feast for fiction aficionados. Spanning four decades and three prize-winning collections, these twenty-one vintage selected stories and thirteen scintillating new ones take us around the world, from Jerusalem to Central America, from tsarist Russia to London during the Blitz, from central Europe to Manhattan, and from the Maine coast to Godolphin, Massachusetts, a fictional suburb of Boston. These charged locales, and the lives of the endlessly varied characters within them, are evoked with a tenderness and incisiveness found in only our most observant seers.
No matter the situation in which her characters find themselves — an unforeseen love affair between adolescent cousins, a lifetime of memories unearthed by an elderly couple's decision to shoplift, the deathbed secret of a young girl's forbidden forest tryst with the tsar, the danger that befalls a wealthy couple's child in a European inn of misfits — Edith Pearlman conveys their experience with wit and aplomb, with relentless but clear-eyed optimism, and with a supple prose that reminds us, sentence by sentence, page by page, of the gifts our greatest verbal innovators can bestow.
Binocular Vision reveals a true American original, a master of the story, showing us, with her classic sensibility and lasting artistry, the cruelties, the longings, and the rituals that connect human beings across space and time.
____________________________
From The New York Times review by Roxana Robinson:
Gold Star:
"Pearlman's view of the world is large and compassionate, delivered through small, beautifully precise moments. Her characters inhabit terrain that all of us recognize, one defined by anxieties and longing, love and grief, loss and exultation. These quiet, elegant stories add something significant to the literary landscape."
Demerit:
"The collection, with a fine introduction by Ann Patchett, has one flaw: The stories are not dated, and so provide the frustrated reader with no context or chronology."
Grade: A
__________________________
From The Los Angeles Times review by David L. Ulin:
Gold Star:
"Of all the remarkable things about "Binocular Vision," this may be the most compelling, that it enacts a worldview in 34 precise and subtle movements, reminding us that if connection is elusive, there is nobility in perseverance, and that we are almost always greater than the sum of our parts."
Demerit:
None
Grade: A
__________________________
From The Washington Post review by Marcela Valdes:
Gold Star:
"What makes Pearlman so good? Like Didion, she's a master of the spare sentence, of the restrained emotion. "His eyes didn't sting, really; they remembered stinging," she writes of a father ambushed by memories of his children. And in the tear that doesn't fall, we find not only the father's tenderness but also his self-denial."
Demerit:
None.
Grade: A
__________________________
From The Christian Science Monitor review by Yvonne Zipp:
Gold Star:
"Pearlman writes with a kind of serene precision that would astonish any writer."
Demerit:
None
Grade: A (publication assigned)
__________________________
From The Rumpus review by Karen Rigby
Gold Star:
"Rare is the collection that rewards many divings; rarer still when all of the work, whether early or new, is confident in its artistry, when the hours spent reading escape notice in the way only complete absorption allows."
Demerit:
None.
Grade: A
__________________________
Review GPA: 4.0 (A)