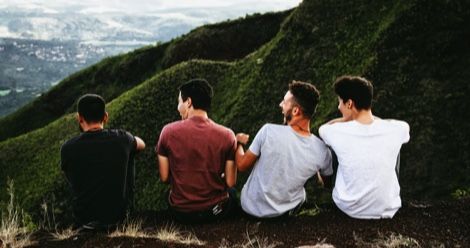 Romance/Erotica
Tom, Dick, and Harry: A Beginner's Guide to Reverse Harem Romance
This content contains affiliate links. When you buy through these links, we may earn an affiliate commission.
What are Reverse Harem Romance Novels?
Q: What do chameleons have in common with books about polyamory?
A: The ability to change and rebrand themselves, of course!
Here's what I mean. Books featuring a single heroine and multiple men, all of whom she is in a committed relationship with, are hardly new. You've probably come across them before: badly photoshopped covers, usually published by Siren, and without exception rated 'XXX Adult.'
Sometimes the writing was good; sometimes it was as awful as you'd expect from covers like that. These books didn't really have a specific genre name beyond plain old ménage. They certainly weren't mainstream. Their golden years were from roughly 2000 to 2010, give or take a few years.
So what changed?
From a sociological perspective, there are a couple of things I could discuss – the increasing acceptance of alternative lifestyles, the new ease with which indie authors can get themselves recognised, etc., etc. Manga of course gets an honourable mention. Harems are common there, and from that we get the shiny new genre name: reverse harem. Suddenly, these books have managed to rebrand themselves. They aren't smutty secrets anymore. They're actually so popular that they show up in USA Today articles. This is all a recent phenomenon; you won't see the term 'reverse harem' before about 2016.
One reason behind this sudden surge is that the reverse harem genre has managed to diversify. It isn't strictly adult anymore: YA and even that hard-to-pin-down NA have gotten involved. It's also no longer mostly contemporary, with fantasy and paranormal becoming common settings. In many books the men now have relationships with each other as well as the female. To put the cherry on the icing, there are sometimes other women in the harem too!
Reverse Harem Vocabulary
As the genre has gotten more complex, so too has the language involved. Gone are the days when a simple 'ménage' referred to any book where the heroine had more than one partner. Nowadays, it's taken back its original implication of à trois and is used exclusively to mean that she has only two partners. A reverse harem means that she will have more than two partners. Here are a couple of other definitions:
Polyamory: the technical term for reverse harem relationships.
Polyandry: the woman is married to multiple men.
Polyfidelity: the concept that sex is restricted to within the group – this isn't a free-for-all, and cheating can still exist within a reverse harem context.
Must-Read Reverse Harem Romance Novels
As with any genre, there are the absolute gems…and the non-gems. To help out anyone new to reverse harem, I present you with the following, all of which I highly recommend:
Trickery (Curse of the Gods #1) by Jaymin Eve & Jane Washington
This is my absolute favourite series, and well known to every reverse harem fan out there. You could say it's a genre classic. In this fantasy world, ultra-clumsy Willa Knight accidentally sends herself to Blesswood Academy, a school for sols: she, as a lowly peasant dweller, must serve the sols, who are training to be gods. All hell breaks loose when she's assigned to be the personal dweller-servant for the five sol Abcurse brothers.
Willa is absolutely hilarious. The brothers are all extremely well defined, and they have their own distinct personalities. (As you can imagine, making sure the heroes don't blur into each other is where some reverse harem authors fall short, but Jane and Jaymin are a winning combination). The series straddles the line between YA and NA, with the steam level increasing in later books.
Four Psychos (The Dark Side #1) by Kristy Cunning
Another gem. The heroine, as far as she can tell, is an invisible ghost: with no name or memory of her past life, she spends all her time watching the four men who live in her house. (Yes, she even watches what they do in the bedroom). But what happens when she suddenly turns visible?
The heroine is adorably sarcastic. The men are arseholes, but engaging ones. Even the underlying plot line is interesting. Steam rating: max. If you need extra inducement, Kristy Cunning is actually the pen name of popular contemporary romance author C.M. Owens.
The Vixen's Lead (Kit Davenport #1) by Tate James
Kit Davenport is a thief. Not just any thief – she's the Fox, an internationally renowned criminal. Her day job is being a demure boarding-school student. And then one day, a host of men show up, tasked with catching the Fox…
This is another very popular paranormal reverse harem series. I do think the later books slip a little bit in terms of plot quality, but the earlier books are great – the heroine is super sassy without being annoying.
Queen Takes Knights (Their Vampire Queen #1) by Joely Sue Burkhart
Shara is a lost vampire queen who's spent her life running from the monsters after her. One day, they catch up with her – only for her knights to appear and save her. She has to learn to control her powers in an effort to fend off all the people who want to kill her.
So this is obviously another paranormal, but it's the only one I've named so far which really makes full use of the whole 'polyamory' thing. Shara's harem consists of both men and women, and there is both MM and FF action. Warning: this is messy. They are vampires, after all.
This has got to be one of the most unique premises I've ever encountered.
Holly, a Korean-American, discovers that she's actually the heir to a K-Pop company; she's given a band of idols to manage, and falls in love with them in the process. This is definitely a new spin on the tried-and-tested trope of having a rock band harem! K-Pop has been taking off in the Western world lately, and the book has a plot line like a K-Drama too.
#WHYCHOOSE?
This is only a tiny selection of the vast number of great reverse harem novels out there. And there's more nearly every day! Check out some manga reverse harem recommendations here. And let us know of your favourites!