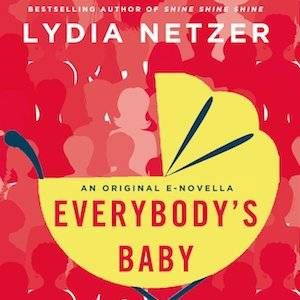 Giveaways
Revealed: The EVERYBODY'S BABY Baby Name!
In this giveaway sponsored by St. Martin's Press, you have a chance to name the baby in Everybody's Baby, a forthcoming ebook original novella by Lydia Netzer, author of the novels Shine Shine Shine and How to Tell Toledo From the Night Sky (coming in July).
Jenna and Billy are in love. He's an app developer, a hyper-plugged-in citizen of the internet, with a big Scottish family and winning smile. She is a yoga teacher, tuned in to the vibes of the spiritual universe, who was abandoned by her mother as an infant and orphaned by her father's recent death. When they meet, it's electric, and it is no time before they are married and eager to start their own family. But when they can't get pregnant, Billy devises a plan: they would raise funds for their in vitro fertilization on Kickstarter, offering donor perks like cutting the cord, naming the baby, and catching the baby when it takes its first steps.
_________________________
In keeping with the crowdsourcing theme of this story, we asked you to nominate and vote on baby names. There were some fun, weird, creative finalists, and now it's time to reveal the winner.
Jenna and Billy's baby will be named:
*drumroll*
WINTER FINNEGAN (WiFi)
Here's what author Lydia Netzer has to say about her newly named character:
When St. Martin's came to me with the idea that we could crowdsource the name of the baby in my novel about crowdsourcing a baby, I loved it immediately. When they offered me the option of getting to choose the final name from a list of finalists selected by the internet, I valiantly scoffed. "No, no," I said. "After all, my characters don't get to choose, so I shouldn't either. I'll just use whatever name the internet chooses." I think I said something about "the spirit of the thing" and I may have laughed in a careless manner.
The couple in my novella cannot get pregnant and cannot afford fertility treatments. So they decide to fund their IVF on Kickstarter, and to draw attention to the project, they add "perks" like cutting the cord, naming the baby, finding out the gender before the parents, feeding the baby its first meal. Of course they don't believe people will actually put money behind these more expensive perks. Of course people do. Madness ensues and everything spirals into disaster.
As soon as I agreed to use whatever name the Book Riot readers chose, I began to experience a sequence of sharp misgivings. What if the name chosen is just a regular name? I had already written my book, and already had a scene in which the baby backer demands to name the child after her two dying cats. While you can name a cat almost anything, and it's funny, I'd planned for madness to ensue and "Emily Grace" just isn't madness. My characters would actually like that, and I didn't want them to be happy. Happiness prevents the spiraling into disaster that's so essential to novels.
I also worried that the contest would produce a name that was too gender-specific. The gender of the baby in the book is a secret for half the story, but if readers knew the baby was Paul Alexander, that might spoil a subplot. I worried, as my editor predicted, that someone might suggest Microsoft Intel as a name, or Cthulhu Allspark, or Maggoty Pie, or Radagast Galadriel or something. I worried.
I needn't have. The name Winter Finnegan is perfect: gender neutral, easily believable as the names of two cats, and the proposed nickname "WiFi" led to a good piece of dialogue. The name even lends itself to a nickname that's thematically appropriate, one I never would have figured out had I named the baby myself. In all, I couldn't ask for better. Thanks to all who entered the contest and thanks to Book Riot for hosting. Looking forward to launching this novella, so you can all meet Winter Finnegan, the baby you named."