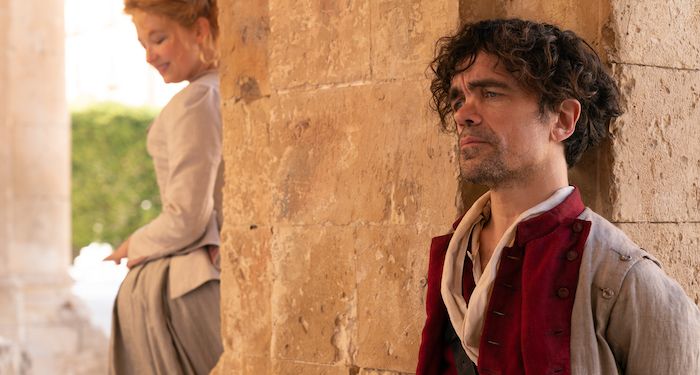 Lists
Letters & Longing: Retellings of Cyrano de Bergerac
This content contains affiliate links. When you buy through these links, we may earn an affiliate commission.
In 1897, Edmond Rostand published a play called Cyrano de Bergerac, a meticulously researched work about the life of Hercule Savinien de Cyrano de Bergerac (1619–1655) presented in 12-syllable rhyming couplets. Cyrano the person's life was short — he died at age 36 in what was likely a botched assassination — but fascinating. While the story of his romance is entirely fictional, he was known as a libertine, and some signs point to him having had a homosexual relationship with Charles Coypeau d'Assoucy, the burlesque poet. When the relationship — whatever kind it may have been — soured, the two resorted to the time-honored method of excoriating each other via satirical texts. Cyrano also wrote two pieces of early modern science fiction, including a piece in which he went to the moon using firecrackers — possibly the first example we have of space travel via rocket. These posthumously published works influenced Jonathan Swift, Edgar Allan Poe, and Molière, to name a few.
All of that said, it is now the fictional relationship with the beautiful Roxane for which Cyrano the author, libertine, and poet is best known. The romance hinges on what is called the Cyrano trope, which is when a nerdy person helps a physically attractive but less emotionally sensitive person gain the object of both their affections. The trope is widely used in film and books, with adaptations and gender-switching all over the place. In the play (spoiler alert, but it has been a few centuries!), Cyrano woos Roxane via letters, sent by the handsome Christian. Eventually Christian convinces Cyrano to confess his love to Roxane, but before he can do so, Christian is killed in battle. Cyrano decides to conceal his part in the relationship to maintain Roxane's vision of Christian. It is only when he comes to her 15 years later, dying from a blow to the head, to read her the last letter from the now-deceased Christian that she realizes the truth.
This week, a new adaptation of the story is coming out: Cyrano, starring Peter Dinklage in the title role. But there are lots of other retellings of this classic to choose from!
Because many of these these are all retellings in some form or another, I'm not going to summarize the plots in much detail. Instead, I'll give you the setting of the retelling along with the main characters so you can find the versions with your favorite setup.
---
Cyrano is definitely not the first hero to woo the object of his affection via letter, or to feature the "true love helping a friend win the object of affection" trope. The written word, as we are all aware, is deeply affecting. What I didn't expect, because my experience with Cyrano was limited to movies like Roxanne (1987) and She's All That (1999), was to find him a tragic hero who dies with his love not unrequited, but misidentified. Which means that when I see the new movie, I'm prepared to be heartbroken, but it won't stop the tears.