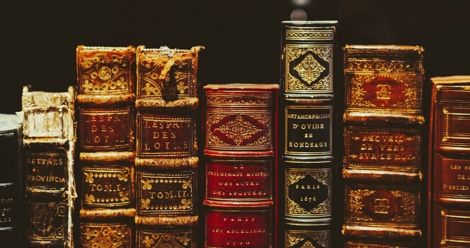 Fiction
Retelling the Classics: A Q&A With Authors Sonali Dev and Meg Donohue
This content contains affiliate links. When you buy through these links, we may earn an affiliate commission.
This is a guest post from Sonali Dev and Meg Donohue, both authors of retellings of classic novels set in San Francisco/Northern California. Award-winning author Sonali Dev writes Bollywood-style love stories that let her explore issues faced by women around the world while still indulging her faith in a happily ever after. Sonali lives in the Chicago suburbs with her very patient and often amused husband and two teens who demand both patience and humor, and the world's most perfect dog. Meg Donohue is the USA Today bestselling author of How to Eat a Cupcake, All the Summer Girls, Dog Crazy, and Every Wild Heart. Born and raised in Philadelphia, she now lives in San Francisco with her husband, three children, and dog.
---
DONOHUE: Hi Sonali! I absolutely love Pride, Prejudice, and Other Flavors. I'd love to hear what drew you to the idea of retelling Austen's classic novel in such a fresh, fun, and insightful way. Has Pride and Prejudice always been a favorite of yours?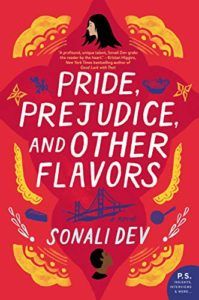 DEV: Thank you! I'm so excited you enjoyed it, because I absolutely loved You, Me, and the Sea. And yes, I've always been a fan of Austen's work. It all started with Pride and Prejudice, of course. I first read it in seventh grade after watching this Indian TV adaptation called Trishna. I was so taken up by the romance of a girl being wanted for exactly who she was, opinions and all, that I went straight to the library and checked out Pride and Prejudice and read it over and over and was lost forever.
Growing up in India in a culture that made a huge deal of getting daughters married off, there was just such a relatable quality to that story for me. I come from a progressive family that advocated hard for the belief that sons and daughters are equal. But ironically enough, the fact that such advocacy was necessary at all proved that they weren't considered so by the world we lived in. By the time I was an adult I had fought that fight within myself and with the world around me and the story of women needing marriage to secure their position in society was no longer relevant to me and I became obsessed with finding ways to translate the more deeply embedded themes in the novel, those of the power imbalances in society and the courage it takes to value yourself enough to break ranks in the face of those imbalances and get what you desire. That combined with the realization that we as readers give Mr. Darcy and other male heroes such a wide berth for arrogance without the pressure of being likable was where the seed for my story came from. I had to write a woman who owned her privilege and pride in her heritage that much.
I have a similar question for you. I think Wuthering Heights is such an atmospheric book. My favorite part of it is the moodiness and how that blurs the lines between the characters' inner selves and their physical world. And You, Me, And The Sea strikes that beautiful atmospheric moodiness from the very first page. Was that a deliberate choice? What drew you to this particular story?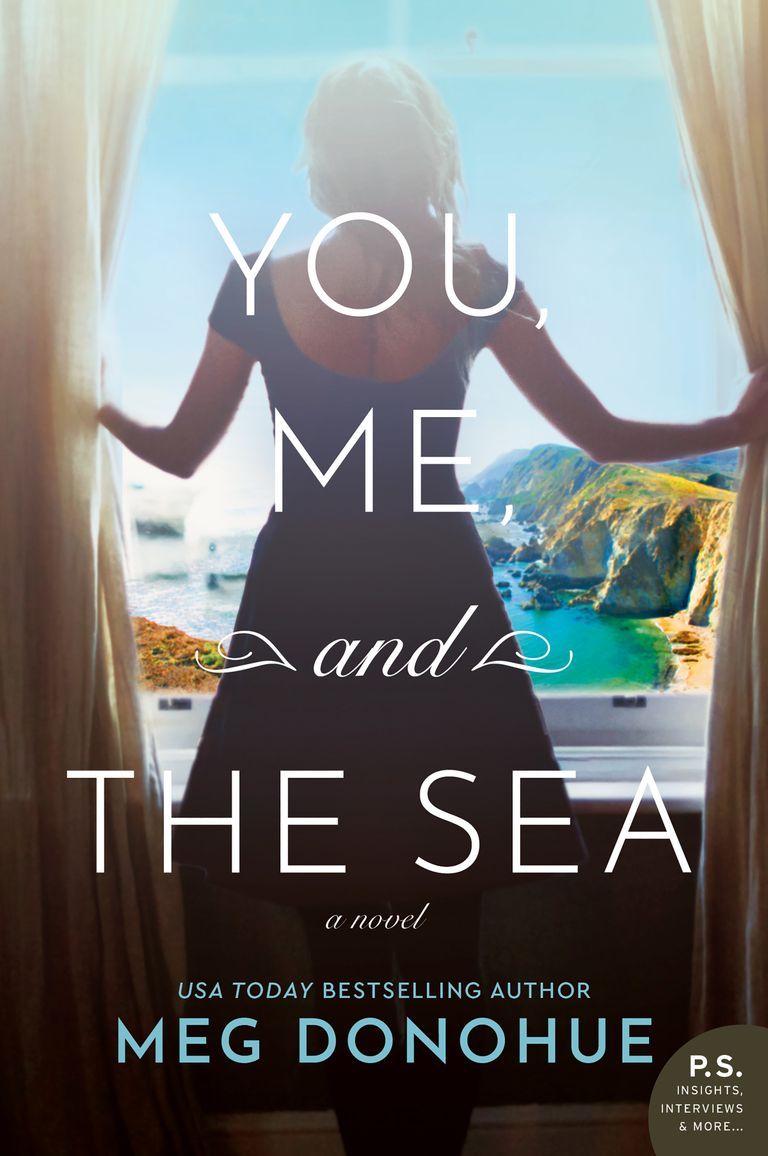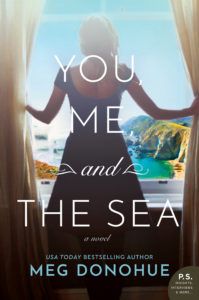 DONOHUE: I loved how you made Trisha, your female protagonist, just as prickly and flawed (and ultimately endearing) as Austen's Mr. Darcy. I hadn't considered just how many allowances we readers make for Darcy's arrogance, but you're absolutely right.
To answer your question, yes, the haunting atmosphere of Wuthering Heights, and the way that atmosphere reflects the inner lives of Bronte's characters, is absolutely my favorite thing about Wuthering Heights as well, and something I worked to recreate in You, Me, and the Sea. I'm so glad you felt that. Wuthering Heights, with its wild landscape of mist-strewn moors, has always felt like such a transporting reading experience for me. It's a novel I've loved since I was a teenager, but over the decade plus that I've lived in Northern California, I've found myself thinking back to it more than ever. The landscape here–the soaring cliffs, the pounding sea, the thick, ever-moving fog–is incredibly evocative; I can't help but be reminded of Bronte. The other piece of Wuthering Heights that has haunted me all these years is a particular plot point from the novel. When Heathcliff returns from a long mysterious absence, Catherine falls sick and dies before she is forced to choose between him and her husband. I've always wanted to know what would have happened if Cathy had lived. Who would she have chosen–the forbidden love of her childhood, or her patient, wealthy husband? What would have been the repercussions of that choice? Bronte is never going to answer these questions, so I thought it would be fun to answer them myself in a novel inspired by her work. Like your novel, mine isn't a strict retelling, but uses the classic as a springboard to create something new.
Setting also plays an important role in Pride, Prejudice, and Other Flavors. I loved reading all of the perfect little details that placed your characters so firmly in San Francisco and its suburbs. What made you decide to set your novel in the Bay Area?
DEV: I got goose bumps hearing you talk about Heathcliff's return and the fact that Cathy dies instead of making that choice. Which is so telling of Bronte's time. Now that we can make choices, it also means that we must make them in our stories. Such a sweet two-edged sword.
As for the setting of PPOF, a large part of our immigrant family has settled in the Bay Area and we visit at least a few times a year, and have for decades now. So, it feels very familiar to me personally. But in terms of story, I needed a place where the immigrant experience (specifically the Indian American experience) isn't entirely isolating. Indian Americans are just about 1% of the US population, and in most parts of the country growing up Indian American can come with being treated like an other in your own home. In parts of the Bay Area, because of the large Indian population that has settled there, that cultural foreignness isn't as palpable. The Raje children have been raised to own their Americanness and assimilate, but living in that part of California has made it feasible in a way that's unique to that place, and that has impacted their personalities and how they interact with their world. They feel an ownership of their home because their environment doesn't push back like it can in other parts of the country.
The setting of You, Me, and the Sea was one of my favorite parts. I felt entirely rooted in the land, both in Horseshoe Cliff and San Francisco, because the characters were one with the world they belonged too. You couldn't separate them from their world, which made the conflict at the center of the story immediate and immense. Actually, it's impossible to choose my favorite parts, your novel moved me so profoundly, I haven't been able to get it out of my system since I read it. It's just so achingly beautiful how you reach even the most deeply tucked away emotions. I can't imagine how hard accessing the pain of these two children was. How did you deal with it?
DONOHUE: Thank you so much for your kind words, Sonali. The darker scenes in my book were emotionally intense to write, but I always kept in mind the glimmer of light–the special, redemptive love the children share–that I wanted to shine through even in those troubling moments. I'm drawn to the idea that something so beautiful and strong as love can blossom even in dark circumstances, and this theme was always foremost in my mind when I was writing You, Me, and the Sea.
I adored the sprawling feel of the Raje family in your novel. There are so many of them–siblings, aunts and uncles, cousins, grandparents–and yet you did such a great job of differentiating each of them and making each feel vital to your multi-layered story. Dare I hope that we'll read more about the Raje family in future books?
DEV: The special redemptive love and light comes through beautifully in your writing and was so believable because it felt like a matter of survival in the darkness.
I'm so glad you enjoyed the Rajes. While the large tightly woven family is the fabric that held the story together for me, it was the individual characters who were the beating heart of it. I wanted the characters to be both challenged by the strength of their bonds with one another, and rooted in them so they could fly. Thankfully, the Rajes will be back. I'm currently writing Ashna's story, a two generational reimagining of Jane Austen's Persuasion set on a fictional Food Network show called Cooking With The Stars. Think, Dancing With The Stars but with a star paired up with a chef instead of a pro dancer. Ashna is on the show to save her failing restaurant and to prove herself to her super successful mother. The celebrity she gets stuck with is the legendary soccer star her family persuaded her into dumping years ago when they believed him to be a nobody. It focuses pretty overtly on themes of burning down the patriarchy.
DONOHUE: I am so excited we get to read more about the Rajes, and I love that it will be a twist on another Austen novel. I'm not sure we can end on a more exciting note than "burning down the patriarchy," so let me just say it has been a complete pleasure chatting with you. Thank you, Sonali!
DEV: It's been an utter pleasure, Meg. Thank you so much! I cannot wait for our books to be out in the world.