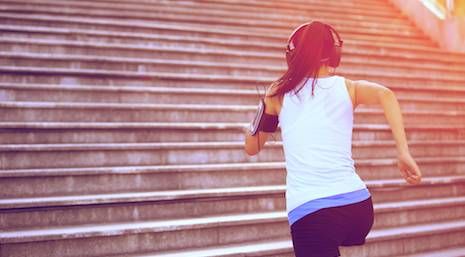 This content contains affiliate links. When you buy through these links, we may earn an affiliate commission.
Did you make any New Year's resolutions? Did any of those resolutions involve eating better, exercising more, or improving your general health? I did. There are things I would like to do, like eat less sugar, practice yoga regularly, and visit all fifty states. One way I articulate the things I would like to do is by writing them down. Sometimes (but not always) I write them in the form of a resolution. I don't expect to keep every resolution every day of the year. With regards to sugar and yoga, undoubtedly there will still be cupcakes and many hours spent on a couch. The resolutions simply serve as reminders of the direction I would like to move in. Resolutions won't be enough of course. I will also need books.
When I want to try something new or change something in my life, I turn to books for guidance, instruction, and inspiration. Fitness, nutrition, and general health are no exception. So in early January I went to the bookstore to look for inspiration. With 2017 still in its infancy, inspiration was easy to find. An array of fitness and diet books took up much of the space on the bookstore's front display tables. I picked up book after book, trying to decide which to get. Then it dawned on me – I already own a bunch of books just like this. And because I also resolved to be more mindful about spending, I decided to revisit the books already in my home library.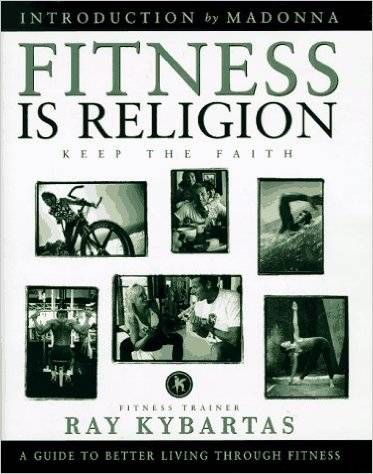 Two books I found helpful in the past are Fitness for Health by Matt Roberts and Fitness Is Religion: Keep the Faith by Ray Kybartas. Filled with several easy to follow exercise routines (each with a difference focus), Roberts's book provided the kind of specific and practical advice I needed. Kybartas's book also contained practical advice but what I mostly remember about it was its serious and yet relaxed approach to fitness. It valued health over beauty, suggested workouts but also said do what you enjoy, and was flexible. Both of these books seem worth revisiting in 2017.
Even though I have two books on exercise there's a third I'm excited about: Jessamyn Stanley's Everybody Yoga: Let Go of Fear, Get On the Mat, Love Your Body. Yoga is something I've tried on and off and would like to get better at. Most of the images I have seen of yogis showcase super thin and super flexible people. Being neither, yoga has always been a bit intimidating and my yoga practice could best be described as inconsistent. Seeing a picture of Jessamyn Stanley doing yoga inspired me to try again. Stanley is simply amazing. I admire her body positivity and flexibility. I'm hoping her book will contain the practical advice and inspiration I need to finally develop a consistent yoga practice.
The usefulness of books about food varies greatly in my experience. Years ago I picked up a book on food periodization. The whole idea is to vary your eating habits throughout the year in accordance with your training schedule. Eat more when training for an intense athletic event, and less at other times. Makes sense but it was way too daunting for me to keep up. In fairness, it was geared towards serious athletes. Even though at the time I was running marathons, at best I am a casual athlete.
This year, instead of a book of rules and science about food, I'm opting for cookbooks. The science or the "why" of any given way of eating is important of course, but ultimately that won't keep me on track. I'm hoping I'll have better success with a cookbook. My thinking is that cookbooks offer the benefits of being both fun (if you enjoy cooking) and helpful. If something is fun I am more likely to continue doing it longer.
The first cookbook I plan to try is Oprah Winfrey's Food, Health, and Happiness: 115 On-Point Recipes for Great Meals and a Better Life. Have you seen it? Even if I didn't cook I would get it just for the beautiful pictures. Between the pretty pictures and the new recipes Food, Health, and Happiness looks like it will be loads of fun and plenty helpful.
The second cookbook I can't wait to try is Tia Mowry's A Whole New You: How Real Food Transforms Your Life, for a Healthier, More Gorgeous You. It promises healthier versions of comfort foods, which sounds exactly like what I'm looking for. Unfortunately A Whole New You won't be available until March so it will be a few months before I can try Tia's recipes.
What books are inspiring you to tackle your New Year's resolutions? If not a book, is there a podcast, website, or other tool that is helping you eat healthier, move more, save more, travel more, or do something else? Tell me about it in the comments.