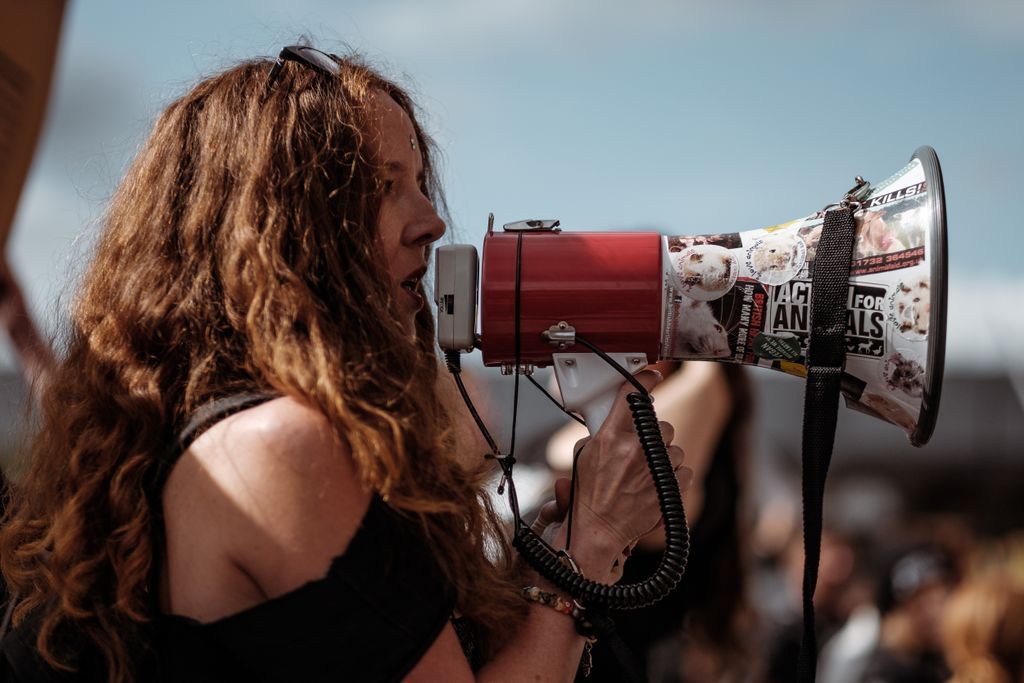 Poetry
23 Resistance Poems to Express Your Rage
This content contains affiliate links. When you buy through these links, we may earn an affiliate commission.
The world has been in rising turmoil over the past few years. More people have been turning to poetry to better express their anger and frustration. Resistance poems capture the speaker's rage at the modern world along with their desire to resist oppression. Many of these resistance poems, like Emma Lazarus's "The New Colossus," have been rallying cries at protests. Others have thousands of views and shares. The Langston Hughes poem at the beginning of this post was even printed in the New York Times.
*Content note: some of the embedded videos may contain expletives.*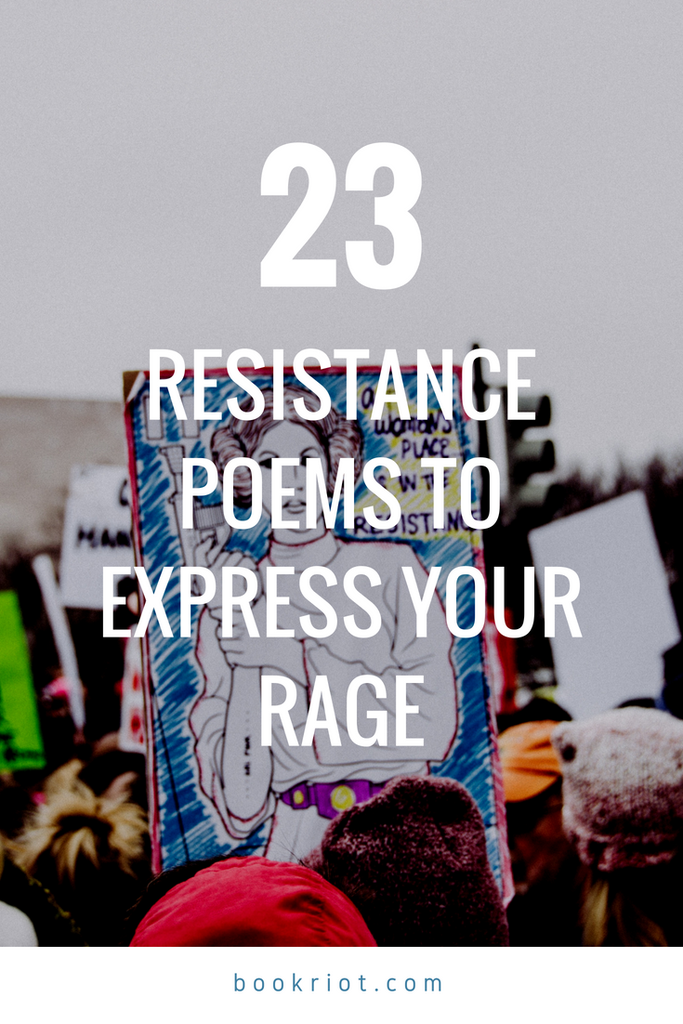 "O, let America be America again—
The land that never has been yet—
And yet must be—the land where every man is free."
Read it in The Collected Poems of Langston Hughes.
"One, the world is trying to kill you. It is trying to do this by stealing your voice. Kill it back!"
"and ever since then fire,
gunpowder ever since,
and ever since then blood
Bandits with airplanes and with Moors,
bandits with finger-rings and duchesses,
bandits with black friars making blessings,
… kept coming from the sky to kill children,
and through the streets the blood of the children
ran simply, like children's blood.
You will ask why his poetry
doesn't speak to us of dreams, of the leaves,
of the great volcanoes of his native land?
Come and see the blood in the streets,
come and see
the blood in the streets,
come and see the blood
in the streets!"
Read more in Neruda's Spain in the Heart.
"My older brother's really good at being older. He's the kind of brown to girls write poems about…I called my brother today just because I could, because he's still alive."
"I feel most colored when I am
the punch line. When I am the trigger."
Read more in There Are More Beautiful Things Than Beyonce.
"So, ask me why I'm mad. I'm mad cuz I'm paying attention."
"Young, I learned anyone born here could become
President. Older, I can point to any one of a hundred
reasons why this is a lie."
Read more from Hayan Charara in his book Something Sinister.
"You don't know my god. You and mine ain't on speaking terms."
Read more from Elizabeth Acevedo in her novel The Poet X.
"RIOT" BY GWENDOLYN BROOKS
"Because the Poor were sweaty and unpretty
(not like Two Dainty Negroes in Winnetka)
and they were coming toward him in rough ranks.
In seas. In windsweep. They were black and loud.
And not detainable. And not discreet."
Read more poetry from Gwendolyn Brooks in A Street in Bronzeville.
"The Type" by Sarah Kay
"Do not mistake yourself for a guardian.
Or a muse. Or a promise. Or a victim. Or a snack.
You are a woman. Skin and bones. Veins and nerves. Hair and sweat.
You are not made of metaphors. Not apologies. Not excuses."
Read more poetry by Sarah Kay in No Matter the Wreckage.
"Tonight, the police
have turned to their God for forgiveness.
Tonight, we bury nothing, we serve a God
with no need for shovels, we serve a God
with a bad hip & a brother in prison."
Read more of Danez Smith's poetry in his National Book Award Finalist book Don't Call Us Dead.
"Mad, 'cause 'education is the key,'
Yet they keep the poor locked out.
They get hand me down books
And hand me down chairs.
Hand me down teachers
Who give them hand me down stares."
"When Jeezy said that Jesus said the sky's
our only limit, rap asked God who deferred
it to the dirt interred around the incus,
the anvil of the ear's middle passage."
This is a book-length poem, and y'all, it's worth so much hype.
"The sharpest blade I have is where I place my body."
"You can't do it, I squeak from inside.
You can't make me feel at home here
in this time of siege for me and mine, mi raza.
Legalized suspicion of my legitimacy
is now a permanent resident in my gut."
Read more of Maria Melendez Kelson's poetry in How Long She'll Last in this World.
"Give me your tired, your poor,
Your huddled masses yearning to breathe free,
The wretched refuse of your teeming shore.
Send these, the homeless, tempest-tost to me,
I lift my lamp beside the golden door!"
Read more of Emma Lazarus's poetry in The Poems of Emma Lazarus.
"Today at the vigil, the native singer
said we are all connected
by water, la sangre de vida."
Read more of Emmy Pérez's poetry in With the River on Our Face.
"Ain't no reliable narrator attached to her name. She is always ghost before ever considered missing."
Read more of Mahogany L. Browne's poetry in Black Girl Magic: A Poem.
"Somebody go & ask Biggie to orate
what's going down in the streets.
No, an attitude is not a suicide note
written on walls around the streets."
Read Yusef Komunyakaa's Neon Vernacular: New and Selected Poems, which won the Pulitzer Prize in 1994.
"There is no telling my mama to be quiet.
She don't know quiet.
Her voice is one size better fit all,
and you best not tell her to hush.
She waited too many years for her voice to arrive
to be told it needed housekeeping."
"Is power, the enemy? (Destroyer
of dawns, cool flesh of valentines, among
the radios, pauses, drunks
of the 19th century. I see it,
as any man's single history. All the possible heroes
dead from heat exhaustion…"
Read more of Amiri Baraka's poetry in Somebody Blew up America & Other Poems.
"You may shoot me with your words,
You may cut me with your eyes,
You may kill me with your hatefulness,
But still, like air, I'll rise."
Read more of Maya Angelou's poetry in The Complete Collected Poems of Maya Angelou.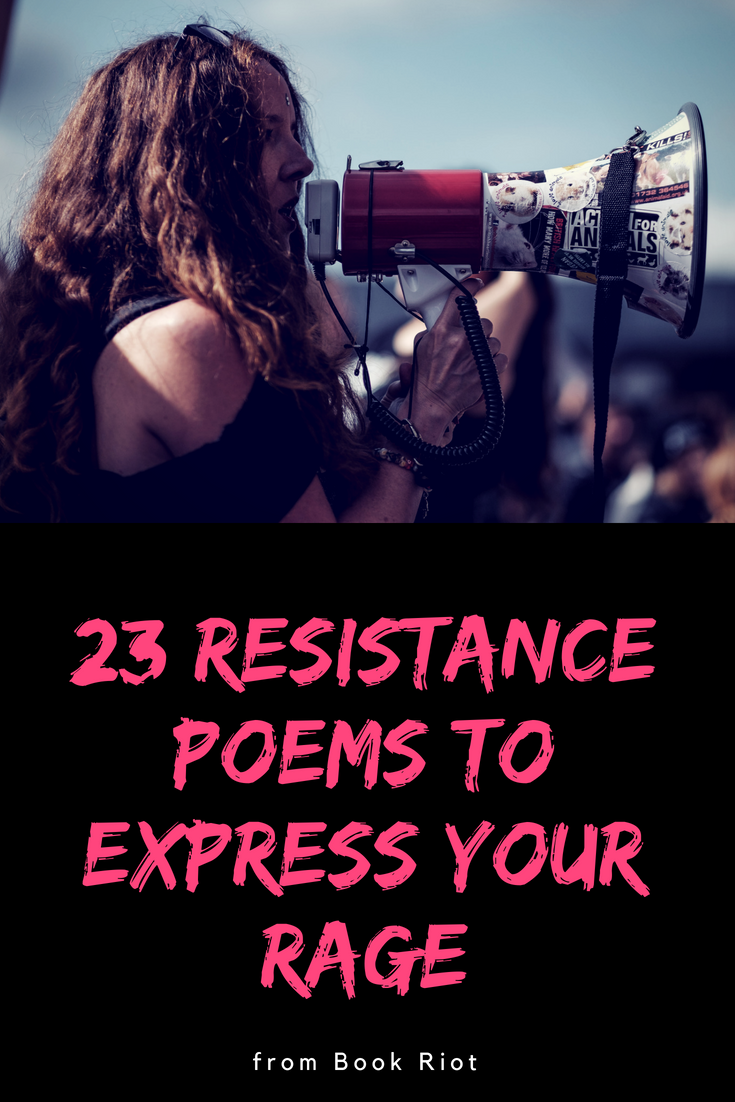 For even more resistance poems and other protest literature, check out these posts:
Feeling inspired for justice? Share links to your favorite resistance poems in the comments.