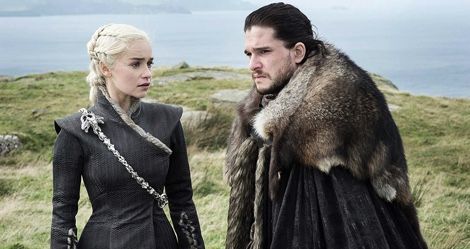 Critical Linking
Researchers Studied How To Survive On GAME OF THRONES: Critical Linking, February 20, 2019
Sponsored by Flatiron Books

---
Researchers (and "Game of Thrones" fans) Reidar Lystad and Benjamin Brown watched all 67 episodes of the hit HBO show for a study about characters' deaths and their chances of survival, published in the academic journal Injury Epidemiology.
The researchers, both affiliated with Macquarie University in Sydney, found that the probability of a character dying within an hour of being introduced on screen was about 14 percent. "Violent deaths" were (unsurprisingly) the most common kind of end for the show's important characters. It's important to note that the study covered human characters only, so no White Walkers or Children of the Forest.
I would die in 5 seconds and I am fine with this.
---
Inspired by rising literacy rates and advancing technologies, the nineteenth century saw the book transform from a largely hand-made object to a mass-produced product. In this new environment the book cover took on added importance: it was no longer merely a functional protection for the pages but instead became a key platform through which to communicate and sell the book. Prior to this covers had — bar a smattering of highly bespoke one-off creations (e.g. embroidered covers for personal libraries) — mostly been plain leather bound affairs. From the 1820s, with the rise of mechanical bookbinding, these leather covers of old gave way to new cloth coverings which, in addition to being inexpensive, were now also printable. A wide variety of cover printing techniques were employed over the decades: from embossing to gilt to multi-colour lithography. A totally new artistic space was opened up. As you can see in our highlights below it was one in which illustrators and designers flourished, producing a range of covers as eclectic in aesthetic approach as the myriad contents they fronted.
There are some gorgeous covers here selected from 1820–1914, and what appears to be a pinup sweet potato.
---
— Mental Floss (@mental_floss) February 16, 2019