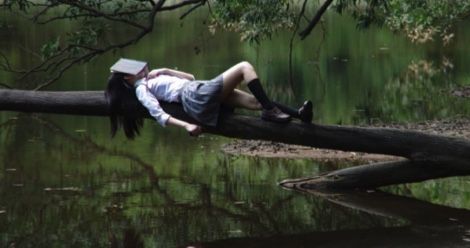 This content contains affiliate links. When you buy through these links, we may earn an affiliate commission.
This is a guest post from Julia Rittenberg. Julia is a professional nerd who can be spotted in the wild lounging with books in the park in Brooklyn, NY. She has a BA in International Studies from the University of Chicago and an MA in Media Studies from Pratt Institute. Her graduate work focused on theatrical adaptations of literary works with big fandoms. Her favorite activity is listening to fans about what they love. Tell her about your fandoms on Instagram @juliaobservateur and Tumblr.
---
I used to have a great deal of anxiety around keeping up with others' reading paces. Social media heightened my awareness of reading habits, and worries that my own were woefully behind. I would be unable to choose a new book to read, so my anxiety would continue to build. Consequently, I would stop reading altogether (outside of schoolwork) for months at a time.
The act of photographing and sharing recently released books, which were deemed important to the culture, continued to stress me out for a long time. I couldn't fathom how I would catch up on all the important books I was missing. However, I still love the Bookstagram, Goodreads, and reading social media communities because they do give me good recommendations. The notes application list of books grew steadily, but I made no effort to dent it. As I continuously documented the books I wanted to read, I fretted even more about my lack of commitment.
Sometimes, I would start a book that had made waves through social media, and put it down because it wasn't grabbing me. Stubbornly, I would refuse to start another book until I finished the one I did not like so much. This grew into a vicious circle as well: starting books that are important and being unable to finish them made me feel like my reading brain was broken. At the time, I did not know yet that it was less important to agonize about what I should read than to figure out what I wanted to read.
Sometimes, the culturally important books that are deemed Culturally Important begin to feel a bit like homework. While in school myself, or working at a school, I wanted the books I chose to feel like an invitation into another world, as opposed to another assignment. It is a personal anxiety, but I think it is helpful for all of us to pursue books on our own. Reading is personal, and every reader can decide if they want to engage in the public discourse or have an individualized experience with a book.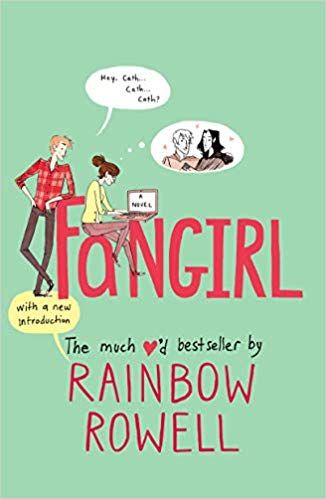 One of the most helpful books for kickstarting me back into my love of reading is Fangirl by Rainbow Rowell. Like the main character, Cath, I am also an identical twin with a fandom habit. Its essential themes are about the power of storytelling to connect people, and the necessity of embracing our own growth with and past our favorite stories.
It is unsurprising to me that I come back to this book about fans so often, as I reread the Harry Potter books so often as a kid that my parents attempted to hide them. They started picking up other books which would supposedly attract kids who liked reading Harry Potter. I remembered this method the last time I finished Fangirl again, and I went to the fabulous teen bookstore Books of Wonder in Manhattan and asked a member of their staff for recommendations. She led me to several books I ended up loving, including Dumplin' by Julie Murphy and Ship It by Britta Ludin. These discoveries could not have happened without rereading an old favorite.
Anxiety over being unable to read all the books in the world is nothing new for book-lovers. Rereading is not a lesser form of reading. If a podcast like Harry Potter and the Sacred Text proves anything, we can always find things we didn't expect in an old favorite. I have slowly lessened my own anxiety around rereading because rereading warms me up to seek out from the expert librarians, booksellers, and writers about what to read next.
I have an exciting stack of books I'm actually invested in waiting for me at the moment, but that won't stop me from a quick reread of Fun Home by Alison Bechdel.