Newsletter 1
Required Reading for Understanding WTF is Happening in Russia
This content contains affiliate links. When you buy through these links, we may earn an affiliate commission.
Prior to the 2016 presidential election, the majority of my "knowledge" about Russia came from the television show, The Americans. I peripherally followed the prosecution of Pussy Riot and had some general knowledge of the Cold War from Rachel Maddow's book, Drift, but I hadn't made an effort to learn more about the realities of Putin's Russia. Now that the CIA and FBI agree Russia interfered in our presidential election, I decided to brush up on my knowledge of Putin's rise and modern day Russia. This is by no means a complete list–-feel free to add suggestions for further reading in the comments.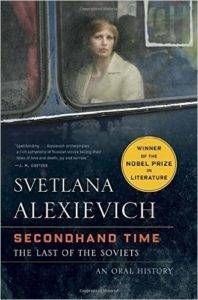 Secondhand Time: The Last of the Soviets by Svetlana Alexievich

Alexievich functions as a documentarian in this impressive work, transcribing interviews taken with subjects between 1991 and 2002. Alexievich has said that she wanted to depict "a history of emotions – a history of the soul" and that's certainly what she's done here. Though the oral histories of Alexievichs' subjects reach much further in the past than Putin's rise, it provides incredibly important context for that eventuality. The narratives Alexievich elicits from her subjects offer something I think North American audiences sometimes have difficulty understanding: how a deep connection to the country's history shapes the attitude and perspectives of its citizens. More than any other book I have read, Secondhand Time is nonlinear–-interviews with parents and children, lovers, neighbors all paint a multidimensional portrait of Russian citizens. Here, the subjects speak for themselves–less focused on historical incidents and more about surviving those events. Perhaps this is what makes the stories so relatable, even to people with minimal knowledge of the country–the humanity of these individuals comes through, not just geopolitics.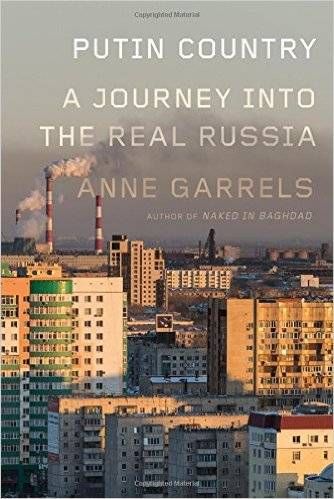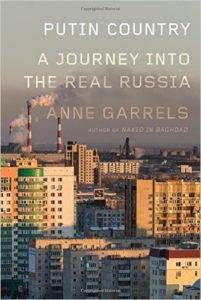 Putin Country: A Journey into the Real Russia by Anne Garrels
Former NPR correspondent Anne Garrels first visited Chelyabinsk almost 20 years ago. During the last decades of the Soviet Union, Chelyabinsk was the home of the nuclear program. Garrels wanted to cover how the area was doing in the wake of the collapse of the Soviet Union. She traveled back repeatedly, documenting "New Russia's" paradoxically growing economy and increased corruption; the sense of national security but individual danger.
Although it can be difficult for a foreigner to fully understand the political, historical, and social climate of a country, Garrels does an excellent job. The connections she formed over her many stays in Chelyabinsk give her the kind of access and trust necessary to this kind of reporting. She examines the changes of the political, economic, and social climate through a variety of different lenses: what it's like to be a gay person living in a country where who you love can land you in jail. What it's like to be a doctor, an addict, a teacher, and yes, a foreign (or domestic) journalist.
Most importantly, Gassen gives her Western readers much-needed insight into why Putin has retained his power–-how many people can both be terrified of him and supportive of him. How the choice between national security and civil liberties can have consequences beyond anyone's expectation.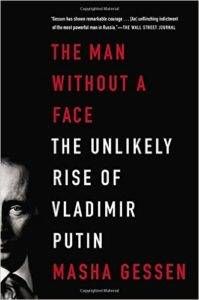 The Man Without a Face: The Unlikely Rise of Vladimir Putin by Masha Gessen
Before she wrote about the persecution of the band Pussy Riot, Masha Gessen wrote about the man who would imprison them. The appointment of Vladimir Putin as Yeltsin's successor was unlikely, as the subtitle suggests, not because the information Yeltsin and his inner circle had about Putin incorrect. According to Gessen, they didn't have much information about the former KGB agent at all. After a few key incidents, Yeltsin's team assumed Putin would be malleable–-a man without a face on whom they could project the continuation of Yeltsin's agenda. They were wrong.
Perhaps the most immediately upsetting part of Gessen's book is not what's in the book itself–-though there's plenty of harrowing information in its pages. It's how the book ends and what we know now that's especially chilling. In December of 2011, Russians staged the largest protest in their country since the early 1990s. The streets filled with Russians protesting the election results from a few days prior: United Russia, the party of Vladimir Putin, has won handily in what most believe was a rigged election. Gessen described, "As I get closer to Bolotnaya, I see people flowing into it from every direction: in groups, in couples, alone; young, old, middle-aged." The color of the resistance is white and Gessen says, "People [were] wearing white ribbons, white scarves, white hats, even white balloons and white carnations." This brave display of resistance gives Gessen hope.
In December of 2013, Gessen fled Russia for the United States. The Kremlin had begun talking about taking children away from gay parents. Consulting a lawyer about the security of her adopted son, she was told, "the answer to your question is at the airport." The note of possibility that sounds at the end of The Man Without a Face is a painful juxtaposition with the rest of Gessen's story.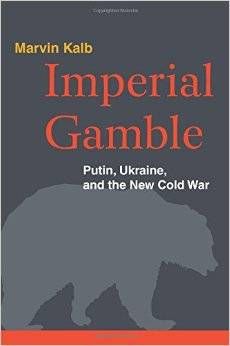 Imperial Gamble: Putin, Ukraine, and the New Cold War by Marvin Kalb
In 2014, Putin invaded Crimea and a new era in global politics began. In the following weeks, pro-Russian rebels staged uprisings in southeastern Ukraine. Russia's advances into Ukraine prompted the U.S. to impose sanctions and isolate Russia diplomatically. Kalb, a former journalist and Harvard professor, discusses how Putin had long planned the invasion of Crimea and offers insight into how Putin hopes to position Russia on the global stage. He also explores the complicated history between Russia and Ukraine. If and how the situation between Russia and Ukraine is resolved, Kalb argues, will have lasting implications for every country involved with Russia. And it is indeed safe to say the United States and Russia are "involved."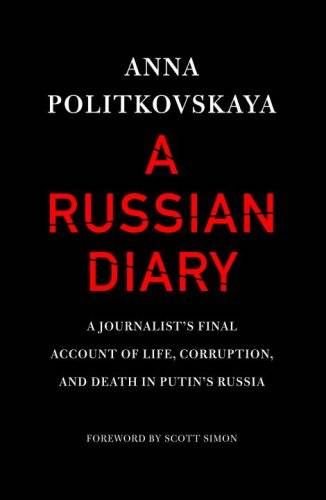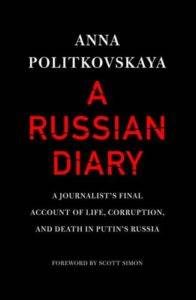 A Russian Diary: A Journalist's Final Account of Life, Corruption, and Death in Putin's Russia by Anna Politkovskaya
A Russian Diary was published in 2007, one year after Politkovskaya was murdered in an elevator in Moscow. A collection of her writing, both personal and professional, A Russian Diary offers the reader a window into the mind of this passionate human rights activist. A fierce and open critic of Putin, her 2004 book Putin's Russia, brought her international recognition as someone unafraid to speak out against violence and corruption, even when her life was in danger for doing so. Politkovskaya is a figure one will encounter repeatedly when reading about Russia and her words are as important to understand as her actions. Putin's Russia is excellent but A Russian Diary will linger in my mind for a very long time.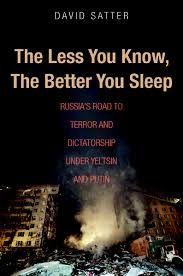 The Less You Know, The Better You Sleep: Russia's Road to Terror from Yeltsin to Putin by David Satter
If Garrels views Putin's Russia through the lens of people, Satter does it through bombings, hostage situations, and terrorist attacks. The book begins in September 1999, with the apartment bombings that killed 293 people, injured more than 1,000, and led to the Second Chechen War. Before getting into an analysis of the September '99 bombings, Satter makes a bold, ultimately justified assertion. "Understanding Russia is easy but to get oneself in the right frame of mind to do it requires something very hard: it requires believing the unbelievable." It requires believing that Russian leaders are capable of ordering an attack of flamethrowers on a gymnasium filled with innocent civilians, just to ensure the leadership retains its power. Satter discusses the Dubrovka Theater hostage crisis in 2002 and Beslan school siege of 2004–-convincingly arguing that the Russian government had a hand in orchestrating both events. By the end of the book, readers will not only believe the unbelievable but will, hopefully, begin to sharpen their own critical gaze.
Further Reading:
Winter Is Coming: Why Vladimir Putin and the Enemies of the Free World Must Be Stopped by Garry Kasparov
The New Tsar: The Rise and Reign of Vladimir Putin by Steven Lee Myers
The Invention of Russia: From Gorbachev's Freedom to Putin's War by Arkady Ostrovsky
Pussy Riot!: A Punk Prayer For Freedom by Pussy Riot