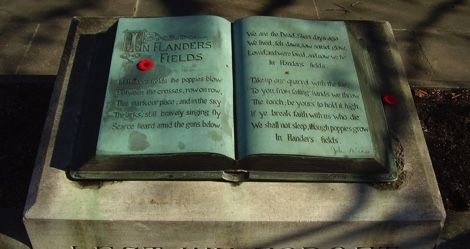 Remembrance Day Books to End War
This content contains affiliate links. When you buy through these links, we may earn an affiliate commission.
On Sunday, 11th November, 2018, much of the world observed Remembrance Sunday, a day set aside every year for the past hundred years to remember and mourn those members of the armed forces who have died in battle. This year, the day marked one hundred years since the end of the First World War. In the UK, almost every town and village, no matter how small, has a Memorial to those lost in that War, dozens of names inscribed in the stone. The War to end all Wars. Except it didn't. And the horrors of war have continued, unabated. But in honour of those who desperately hoped that that War would end all wars, here is a collection of books that share that vision of a demilitarised future.
On Specific Wars
This is a memoir of serving as a nurse in the First World War. One of the foremost texts telling a firsthand experience of the utter horror of war and the irrevocable change it brings. Further anti-war writings can be found in One Voice: Pacifist Writings from the Second World War.
An account of both the immediate and decades-long devastation afflicted on Hiroshima by the bombing. Providing a human face to the terrible reality of nuclear weapons.
Examining the specific effects war and occupation of Iraq has had on women. Unsurprisingly, occupation has not brought the liberation the propaganda claimed it would.
I Am Malala
by Malala Yousafzai
The memoir of the youngest ever winner of the Nobel Peace Prize and campaigner for girls' education. The backdrop of this memoir shows the terrible effects of war for children, with girls usually suffering most of all.
Glenton became a conscientious objector and anti-war campaigner after his experiences serving in Afghanistan in the British Army. Refusing to serve a second tour, he was accused of desertion and spent time in prison.
General Anti-Military Sentiment
We Have Not Been Moved: Resisting Racism and Militarism in 21st Century America edited by Elizabeth Betita Martinez, Matt Meyer, and Mandy Carter
A collection of writings from the 1960s civil rights era to the present day examining the intersection between white supremacy and the military industrial complex. They explore the possibility of radical social change through revolutionary nonviolence. Voices include Audre Lorde, Dr King, Dorothy Day, and Bayard Rustin.
Published in 1934 by the beloved children's author and WWI veteran, this book calls us to see how wrong war is, and in seeing this to ensure we never fight again.
Deemed a threat to Church and State in Russia, this work is a commitment to Jesus's message of turning the other cheek and the rejection of violence, even violence encouraged by that Church or State. Another of Tolstoy's works on pacifism and anarchism is Government is Violence.
In this passionate essay, Woolf expertly links up the rise of fascism and war with the patriarchy and oppression of women. It questions whether it's possible to prevent war without also working to raise women up to an equal position to men, that has yet to be achieved.
Fiction and Poetry
This is a novel that makes no attempts to hide the absolute brutality of war. The pictures it paints of the bombing of civilians is a mirror into the wars being fought today. A part of the plot is also dedicated to the treatment of conscientious objectors.
First World War poetry is my go-to for anti-war sentiment. The depraved horror of that war is vividly told in these poems, written in the trenches. Particularly recommended is the poetry of Wilfred Owen, who died in battle just one week before the end of the war.