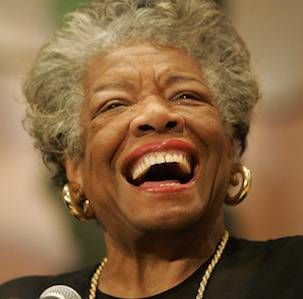 News
Remembering Maya Angelou
I hesitate to write this, because I anticipate a flood of Maya Angelou postings, but I just couldn't get past the idea of not posting something. My first memory of poetry comes from Dr. Angelou. I don't exactly remember what grade I was in; I know I was in middle school and Bill Clinton had made the decision to have Angelou read "On the Pulse of Morning" at his inauguration. Surely I had read poetry before middle school, but evidently it never registered until then.
My English teacher told us about Angelou's childhood, and how she fell silent for years. I can remember clearly thinking well of course poetry makes sense. I don't know why I thought this; I wasn't a poet. Sure, I loved writing, but I didn't yet know I would be a writer. We watched the inauguration on television, and that voice — oh, that voice — washed over me and covered me in its deep velvet sound. I had never heard anything so beautiful in my life.
A few years later, when my cousin graduated from college, Maya Angelou was the keynote speaker at his graduation. I was beyond thrilled. I was going to see this woman in person, hear that voice live. My cousin took a backseat while Angelou spoke. She spoke, even then, about being a rainbow to other people. I remember that because I went out and bought a rainbow ring to remind me of her message. She had a voice, a spirit, that made you believe you could make a difference, that you could do good in the world.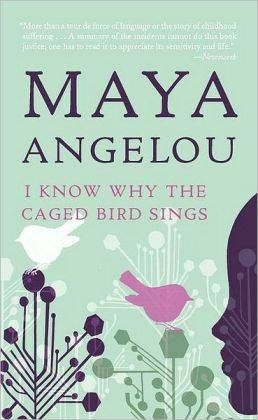 Embarrassingly, I did not read I Know Why the Caged Bird Sings until college. And when I did, I wondered why it had taken me so long. For me, I love Angelou's poetry, but I love her prose more. It feels more like a conversation.
When I read on Facebook that she had passed away, I was just about to leave my apartment for a job interview. I was stunned. How could Maya Angelou die? She had always seemed so…immortal to me. I was so unnerved that I got lost on my way to the interview, in a neighborhood I know well. It might seem funny that I, and many others, had such strong reactions to Dr. Angelou's passing. After all — I didn't know her personally, never took a class with her, never even met her at a book signing. I heard her speak and read her words. That was enough.
In her own words, from "On the Pulse of Morning,"
"Here on the pulse of this new day

You may have the grace to look up and out

And into your sister's eyes, into

Your brother's face, your country

And say simply

Very simply

With hope

Good morning."
Save