Children's
Refreshing Children's Books for Grown-Ups
One of the unexpected side effects of becoming a parent was that I ended up with 13,423 copies of Goodnight Moon and Guess How Much I Love You. If this also happened to you, all the saccharine sweetness may eventually make you loathe to pick up children's books. To remedy this, I recommend this handful of slightly dark and edgy children's books that are probably (some definitely) more appropriate for grown ups.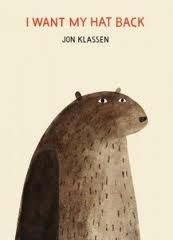 I Want My Hat Back by Jon Klassen
This is a book about street justice. The main character is an expressionless and polite bear that has lost his hat. He questions other animals in the forest, all who deny having seen his hat. The bear then realizes that the rabbit he questioned a few pages back (who was pictured wearing the headgear in question) STOLE his hat. The bear hunts the rabbit down. On the next page, the plants show signs of a scuffle, the rabbit is gone, the bear denies that he eats rabbits and tells you to stop asking him questions. While most parents I've talked to don't actually like the moral of the story and won't read it to their kids, it's hilarious and the polite bear is pretty badass.
It's A Book by Lane Smith

Bookavores who refuse to surrender their paper books in exchange for e-readers will love this. It's about a monkey who is sitting quietly, trying to enjoy a book, and the donkey that keeps interrupting him with questions about what the book can and cannot do. Does it Tweet? Does it require a password? Can you scroll? Does it need to be charged? The monkey patiently answers the donkey with, "No, it's a book," until the questions become too annoying. He finally admonishes the donkey with the line, "It's a book, JACKASS." You may not be comfortable reading that out loud to little ones, but dang. That's some funny stuff. (There's also a more child-friendly version called
It's a Little Book
that is tongue-in-cheek-name-calling free.)
Go the F*ck to Sleep by Adam Mansbach
I'm thirsty. I want a hug. I'm hungry. I heard a noise. I'm thirsty again. I have to potty. I *insert excuse because I don't want to go to sleep.* Parents of small children (or anyone who babysits) will be familiar with the agonizing and infuriating things kids say when they don't want to go to bed. Mansbach's parody of Goodnight Moon features sweet rhymes and super cute drawings, juxtaposed with lines like, "I know you're not thirsty, that's bullshit. Stop lying. Lie the f*ck down, my darling, and sleep." The best way to experience this book is Samuel L. Jackson's audio version. It is perfection.
The Princess and the Pig by Jonathan Emmett

This book is the perfect answer to all those Disney princess stories you're tired of reading- and unlike the other books I've mentioned, I definitely encourage people to read this to their children. In the story, a piglet and a baby princess accidentally switch places. The pig is raised to be a princess and the baby is raised by a poor-but-loving farmer and his wife. The farmer eventually realizes what happened and tries to tell the royals, but the King and Queen refuse to believe that their little pig (who exhibits all the manners and looks of a real pig) could possibly be an animal. The pig is then forced to marry an unfortunate prince, and the princess grows up happy with her adopted family and makes a life for herself in the country. The book is funny and refreshing- it directly contradicts the traditional "princess" story where pink dresses, money, social status, and finding a husband are the keys to happiness (it's also a great adoption story).
What are your favorite kid's books? Do you have any reserved for grown-ups only?