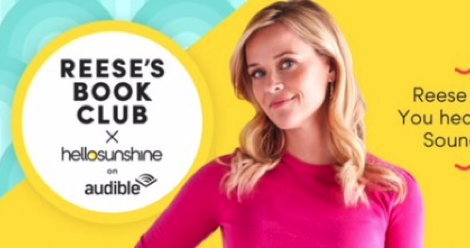 Reese Witherspoon Brings Female-Driven Media Brand to Audible: Critical Linking, May 23
Today's Critical Linking is sponsored by Fierce Reads.

---
This new audio component is an extension of the popular Reese's Book Club x Hello Sunshine, an online community where Witherspoon makes a monthly book pick and, in tandem, the site shares author Q&As, giveaways, and book discussion opportunities. Under the new arrangement, Audible will make available to its subscribers the coordinating audio edition of Witherspoon's monthly book club selection. Beginning in June, Audible subscribers will be able to access previous Reese's Book Club titles as well.
Of interest to audiobook listeners and Audible subscribers!
---
"My eyes scanned the barren white lands for Frankenstein's creature, crossing the glacier at 'super-human speed'," she writes in the introduction to her new photo book, In Search of Frankenstein – Mary Shelley's Nightmare. "I imagined catching a darting figure in my peripheral vision or coming across a makeshift cabin that had sheltered the fugitive for the night."
On British photographer Chloe Dewe Mathews's search for Frankenstein in the Swiss Alps.
---
The new Brooklyn home of the Center for Fiction will open in January 2019, the nonprofit organization announced Friday.
Construction on its 17,500-square-foot space in Downtown Brooklyn began in late April. When it is complete, the three-story facility at 15 Lafayette Avenue will include a bookstore, a cafe, a library, classrooms and a 160-seat auditorium.